Award winning Large Format graphic arts printers to be among the portfolio of impressive technologies to be showcased by OKI Europe at FESPA 2018, 15-18th May
Egham, 3rd May 2018 – OKI Europe Ltd will be exhibiting its award winning Large Format printers at FESPA 2018, stand 3.1 - A22. The leading supplier of printers and printing solutions for 'print for profit' businesses will be showcasing an innovative and exciting range of diverse indoor and outdoor applications at the event taking place in Berlin, 15-18th May.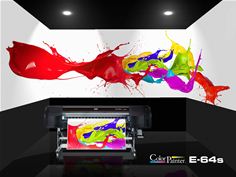 OKI E-64s
OKI's Large Format ColorPainter range offers superior quality, colour density and additional revenue streams for businesses in the 'print for profit' sector. Visitors to the show can experience for themselves the ColorPainter M-64s which was recently awarded the Outstanding "Enhanced" CMYK Eco-solvent/Latex 54"/64" Printer Pick Award 2018 by Keypoint Intelligence's Buyers Lab (BLI). The ColorPainter E-64s, similarly an award winner, will also be available on the OKI stand. This recent addition to the portfolio offers sign makers, exhibition services providers, screen printers and others the potential to progress from low-margin vinyl and banner printing into more profitable applications, enabling businesses to continuously evolve and build upon their success.
OKI's large format inkjet printers are built to produce high quality creative printing and address the diverse requirements of the outdoor signage and indoor graphics industries, all with the same premium ink, making them the perfect solutions for print businesses looking to do more from a single device.
These highly durable graphics printers offer unrivalled image quality and thanks to GREENGUARD Gold and Nordic Eco labels certification the same ink can be used for both outdoor or indoor applications including banners, backlit, fleet and vehicle graphics as well as wallpaper, pop displays, floor and exhibition graphics and more.
This year's event will enable OKI to highlight the unique features of its range of large format printers, including the highest pigmentation of ink on the market, providing colour that stays solid and strong when powerfully backlit. Even black ink that typically appears thin and saturated when backlit remains strong, solid and dark – "the blackest black".
What's more, OKI's large format printers are able to print from 64" to 104", from small production up to high volume, clear and sharp text, even at 2-point font, that is still easy to read. Typically, this is difficult to achieve and this capability is unique to OKI's product and not currently offered by any competing printer manufacturer.
"We are very excited to once again attend FESPA as a Gold Partner. At this year's event we will present our innovative technologies on the unmissable OKI Europe stand which will be ALIVE WITH COLOUR. Alongside our celebrated Large Format ColorPainter portfolio, we will be showcasing a wide range of print technologies that help businesses across the sector increase their creative output and grow their revenues," says Pamela Ghosal, General Manager, Marketing Communications, OKI Europe Ltd.
For further information, visit www.okieurope.com/events
-End-
Notes to Editors:
About OKI Europe
OKI Europe Ltd is a division of OKI Data Corporation, a global business-to-business brand dedicated to creating cost effective, professional in-house printers, applications and services which are designed to increase the efficiency of today's and tomorrow's businesses.
The company is well-established as one of Europe's leading printer brands, in terms of value and units shipped. For over 60 years OKI Europe has been delivering advanced printing solutions worldwide, introducing ground-breaking technologies that support the needs of businesses large and small. Our pioneering development of digital LED printing technology has placed OKI at the forefront of the market in delivering high-definition, eco-friendly printing devices.
Since the acquisition of the globally-deployed wide format printer business of Seiko I Infotech Inc. a subsidiary of Seiko Instruments Inc. OKI distributes precision-engineered wide-format printing systems specifically for the sign, graphics, CAD and GIS markets that provide industry-leading productivity and image quality. With an EMEA wide network of authorised distributors and dealers OKI Europe Ltd provides complete printing solutions including wide format printers, inks, media, software, installation, support, knowledge and training.
In addition to a vast portfolio of award-winning printers and MFPs, OKI offers a range of services to help optimise print and document workflows. This, together with an integrated suite of software technologies and tools, can help businesses take control of their print and document costs in a secure environment, whether office based, mobile or in the cloud.
Today OKI Europe employs over 500 staff in 21 locations (sales offices and production sites) and is represented in 60 countries throughout the EMEA region.
OKI Data Corporation is a subsidiary of Tokyo-based Oki Electric Industry Co. Ltd., established in 1881 and Japan's first telecommunications manufacturer.
For further information visit www.oki.com/eu
OKI Europe Ltd: Pamela Ghosal: pr@okieurope.com + 44 (0) 208 2192190
Whiteoaks: Rebecca Bushnell: rebeccab@whiteoaks.co.uk +44 (0) 1252 727313