ES9541 offers Graphic Arts based businesses a lucrative new revenue stream with pioneering print technology and outstanding media flexibility
Egham, 24th September 2013 – OKI Europe today unveiled the industry's first 5 colour, A3 digital LED printer, the ES9541, at Viscom Paris. Targeted at the specialist graphic arts market, the ES9541 offers affordable spot colour in white or clear gloss, at a highly competitive price point, for short-run, digital, print-on-demand performance.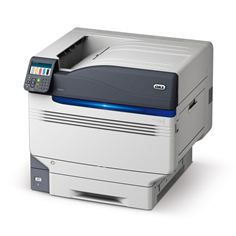 OKI ES9541
Providing brilliant solutions to old problems
"OKI is extremely excited about the introduction of this pioneering new digital LED print technology which reinforces OKI's focus on developing innovative technology to benefit businesses." says Harry Takahashi, managing director, OKI Europe Ltd.
"The new ES9541 is an affordable, high definition printer that enables you to not only print the full range of process colours using CMYK, but also offers an additional fifth, spot colour, in white or clear gloss. Previously these processes could only be achieved through the use of expensive digital or lithographic printing equipment; now it is available to any creative business or reprographics studio, on demand, offering endless opportunities" Takahashi continues.
The ES9541 builds on the revolutionary and highly successful A3 and A4 white toner printers launched by OKI in 2012, introducing versatile and high volume toner-based solutions for the first time into the previously specialist 'white print' sector.
The ES9541 features print speeds of up to 50 pages per minute and a consumables capacity of up to 38,000 pages – the highest in its class, to support high volume production grade printing. Thanks to OKI's proprietary single-pass, flat paper path and digital LED technology, the ES9541 can handle media of up to 360gsm (single sided) or 320gsm (duplex), heavier than any comparable printer. Add to this media sizes from A6 to SRA3, banner lengths of up to 1.3m and transparent media and you have the most versatile printer in its price range.
An optional EFI Fiery® XF server, enables advanced colour management including spot and process colours, optimising the colour depth and print quality needed in the graphic arts industry.
The ES9541 marks a decisive step forward in the colour printing market, with the following market-leading functionality and features:
High-speed printing: 50ppm colour/mono, plus 45ppm (white) and 18ppm (clear)

Media flexibility: up to 360gsm media weight, with 320gsm duplex capability

Media types: including gloss paper, film, transfer paper and waterproof paper

Highest-in-class consumables capacity (38,000 pages – CMYK only)

Easy to use with 10.9cm colour LCD and numeric keypad

Separate toners and drums for optimum usage

Robust multi-purpose trays providing flexible media configuration options up to 2,950 sheets

LED-based engine for superior print quality

Optional EFI Fiery® XF
The future of digital LED printing
The ES9541 is primarily targeted at the specialist graphic arts market offering print shops the ability to produce short-run digital print tasks at a very high quality, combining unique features and low running costs, in a single device.
The white toner option enables a wide range of applications, including on-demand print on colour paper, POP/signage printing on transparent film, T-shirt print with transfer paper, proofing for design review, promotional merchandise and marketing documents. The main usage of clear toner will be for on-demand printing of high quality catalogues, manuals and photobooks, similarly for proofing and design reviews and spot colour 'gloss' for stunning and impactful marketing documents.
"The provision of an A3 digital LED colour printer that prints in five colours and handles media weights and sizes beyond the capabilities of comparable printers in its class, really is a game-changer in this important market" confirms Takahashi. "OKI's flexible class-leading printing technology will create highly lucrative new revenue streams for graphics and creative based businesses that were previously unattainable except via very high cost niche printing solutions."
For further information on the ES9541 visit www.okieurope.com

-ends-
Notes to Editors:
About the ES9541 - A3 CMYK plus white or clear gloss printer
Product specification/features
A4 Colour/mono speed: 50ppm

A4 Spot colour speed: 45ppm (white), 18ppm (clear)

Print Resolution: ProQ.1200dpi

Paper input: 530 sheet tray standard, (up to 5 trays max: 2,950 sheets) and 300 sheet multipurpose tray (MPT). Including MPT up to 6 inputs for media flexibility

Max paper weight: 52-360gsm, including duplex up to 320gsm from MPT

Max paper size: SRA3

Media type: gloss paper, film, transfer paper, waterproof paper, etc.

Consumables: 38,000 page toners / 40,000 page drums (CMYK only)
About OKI Europe
OKI Europe is a division of OKI Data Corporation, a global business-to-business organisation dedicated to creating professional in-house printed communications products, applications and services which are designed to increase the efficiency of today's and tomorrow's businesses.
The company is well-established as one of Europe's leading printer brands, in terms of value and units shipped. OKI Europe's award winning, product portfolio comprises six distinct segments: Colour and mono printers, multifunctional devices, which combine printing, copying, scanning and faxing functionalities, as well as Serial Dot Matrix printers, faxes and specialty printers for point-of-sales and manufacturing. Established in 1990, today OKI Europe employs approximately 1,000 people in 21 production sites and sales offices and is represented in 60 countries throughout the EMEA region. Visit www.okieurope.com for further information.
OKI Data Corporation is a subsidiary of Tokyo-based Oki Electric Industry Co. Ltd., established in 1881 and Japan's first telecommunications manufacturer.
Media Contacts:
OKI Europe Ltd: Pamela Ghosal: Pamela.Ghosal@okieurope.com, +44 (0) 208 2192127
Whiteoaks: Simon Moss/Simon Reeves: simonm@whiteoaks.co.uk +44 (0)1252 727313