Up to €300 cashback available on selected High Definition Colour printers until 31st July
Egham, 3rd May 2017 – OKI Europe Ltd is offering businesses unmissable cashback deals when they buy select A4 High Definition Colour printers from 1st May until the end of July.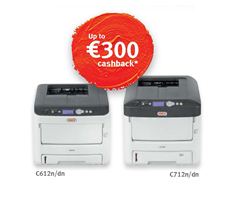 Up to €300 cashback available on selected High Definition Colour printers until 31st July
The deal covers two of its must-have printers that enable businesses to make a big impression from the comfort of their offices, producing professional quality, duplex colour printing on a wide range of media from A6 to 1.3m banners. With up to €300 cashback available on a maximum five printers, businesses could save themselves up to €1,500 (RRP).
Included in this spectacular offer are OKI's C612 and C712 A4 colour printers. Both devices are Google Cloud Print 2.0 ready for printing on the move, and powered by OKI's legendary digital LED technology and deliver top quality results alongside high levels of security and cost-saving energy efficiency. Gigabit Ethernet connectivity allows for fast transfer of large colour files, while Private Print ensures documents remain confidential.
"OKI's portfolio of colour printers provides businesses superb functionality, enabling them to achieve new levels of cost-effective, professional quality printing in house. This cashback promotion – with the opportunity to save up to €300 on a single device – offers advanced print capabilities to any business that wants to make a big impression at a low cost per page," says Tetsuya Kuri Vice President Marketing, OKI Europe Ltd.
The promotion is available on up to five purchases per customer made between 1st May, 2017 and 31st July, 2017 and comprises:
€200 cashback on the C612 – a highly flexible, A4 colour printer with robust security and low costs of ownership that are superb for small-to-medium-sized businesses. The C612 can handle everything from day-to-day printing to high quality marketing materials.
€300 cashback on the C712 – a fast and powerful A4 colour printer that delivers top quality output in everything from everyday mono documents to high-end marketing collateral. With exceptional media handling and a high level of security, these are ideal printers for workgroups within an enterprise.
The last claim date for this promotion is 14th August, 2017.
For further information visit www.okieurope.com/promotions
-End-
Notes to Editors:
About OKI Europe
OKI Europe Ltd is a division of OKI Data Corporation, a global business-to-business brand dedicated to creating cost effective, professional in-house printers, applications and services which are designed to increase the efficiency of today's and tomorrow's businesses.
The company is well-established as one of Europe's leading printer brands, in terms of value and units shipped. For over 60 years OKI Europe has been delivering advanced printing solutions worldwide, introducing ground-breaking technologies that support the needs of businesses large and small. Our pioneering development of digital LED printing technology has placed OKI at the forefront of the market in delivering high-definition, eco-friendly printing devices.
Since the acquisition of the globally-deployed wide format printer business of Seiko I Infotech Inc. a subsidiary of Seiko Instruments Inc. OKI distributes precision-engineered wide-format printing systems specifically for the sign, graphics, CAD and GIS markets that provide industry-leading productivity and image quality. With an EMEA wide network of authorised distributors and dealers OKI Europe Ltd provides complete printing solutions including wide format printers, inks, media, software, installation, support, knowledge and training.
In addition to a vast portfolio of award-winning printers and MFPs, OKI offers a range of services to help optimise print and document workflows. This, together with an integrated suite of software technologies and tools, can help businesses take control of their print and document costs in a secure environment, whether office based, mobile or in the cloud.
Today OKI Europe employs over 500 staff in 21 locations (sales offices and production sites) and is represented in 60 countries throughout the EMEA region.
OKI Data Corporation is a subsidiary of Tokyo-based Oki Electric Industry Co. Ltd., established in 1881 and Japan's first telecommunications manufacturer.
Media Contacts:
OKI Europe Ltd: Pamela Ghosal: Pamela.Ghosal@okieurope.com, + 44 (0) 208 2192190
Whiteoaks: Rebecca Bushnell: rebeccab@whiteoaks.co.uk +44 (0) 1252 727313