Print wirelessly from iPhone, iPad and iPod touch with OKI's recently launched MC300/MC500 Series and MB400 Series
Egham, 3 July 2013 – OKI Europe Ltd, announces the strengthening of its mobile printing portfolio with the addition of Apple's AirPrint support to its range of A4 colour and mono multifunctional printers (MC300/MC500 Series and MB400 Series[1]).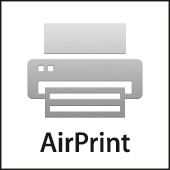 Apple Air Print
AirPrint wireless printing for iPhone, iPad and iPod touch allows users to conveniently print a wide variety of documents to any AirPrint-enabled printer, without the need to download confusing software or install drivers. This Apple technology, combined with OKI's powerful LED technology and OKI printers with support for AirPrint, gives busy professionals the flexibility to print high quality business documents, when they need them, wherever they may be.
The addition of AirPrint enables OKI to offer a variety of mobile printing options to its customers.
"With the increasing number of mobile workers, it is essential that OKI provides a comprehensive mobile printing offering to its customers to help them drive efficiency gains even when their staff are in the field" advises Harry Takahashi, managing director, OKI Europe Ltd.
"Adding support for AirPrint to some of our key devices, and allowing users to print from an iPhone, iPad and iPod touch, is necessary to meet this growing market need." concludes Takahashi.
Moving forward, OKI will expand its range of AirPrint compatible MFPs and printers and continue to strengthen its mobile printing offering as part of its strategy to provide optimised solutions to its SMB customers.
For further information, please visit www.okiprintingsolutions.com
[1] An upgrade of MFP's firmware may be necessary depending on model purchased.
NB:
iPad, iPhone and iPod touch are trademarks of Apple Inc., registered in the US and other countries.

AirPrint and the AirPrint logo are trademarks of Apple Inc.

All other company names or product names appearing in this press release are company trademarks or registered trademarks.
-End-
Notes to Editors:
About OKI Europe
OKI Europe is a division of OKI Data Corporation, a global business-to-business organisation dedicated to creating professional in-house printed communications products, applications and services which are designed to increase the efficiency of today's and tomorrow's businesses.
The company is well-established as one of Europe's leading printer brands, in terms of value and units shipped. OKI Europe's award winning, product portfolio comprises six distinct segments: Colour and mono printers, multifunctional devices, which combine printing, copying, scanning and faxing functionalities, as well as Serial Dot Matrix printers, faxes and specialty printers for point-of-sales and manufacturing. Established in 1990, today OKI Europe employs approximately 1,100 people in 21 production sites and sales offices and is represented in 60 countries throughout the EMEA region.
OKI Data Corporation is a subsidiary of Tokyo-based Oki Electric Industry Co. Ltd., established in 1881 and Japan's first telecommunications manufacturer.
For further information, please visit www.okiprintingsolutions.com