Integrates with ES9476 series for highest quality, non-diagnostic images
Egham 12 October, 2017 – OKI Europe Ltd has launched a new software solution which when integrated seamlessly with its recently launched, sophisticated ES9476 MFP will transform this multifunction printer (MFP) into a medical image printing device. OKI's DICOM RIP Pro software enables hospitals and healthcare clinics to add value to their services by providing patients with their medical images in the form of a high-quality saddle-stitched finished booklet, printed in-house and on-demand. This new package complements OKI's existing range of DICOM-embedded devices.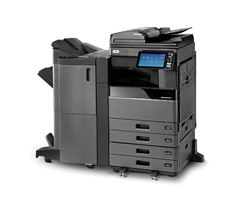 ES9476 MFP
Whereas images for diagnostics are usually stored on a PACS system or burnt on to a DVD to be seen by clinicians only, these non-diagnostic medical images provide referring doctors with a tangible way to explain to their patients the results from x-ray, MRI, CT and ultrasound scans. An A3 colour booklet may, for example, show progress of treatment – or a proposal for treatment, helping patients make an informed decision. When the images are of an ultrasound scan of mother and unborn baby they will provide a lasting keepsake.
"Despite the growing use of digital communications these just don't match the immersive and permanent nature of ink on paper and the trust and authority the printed page engenders, especially when the images are sharp, clear and of high quality colour," says Javier Lopez, General Manager, Vertical Industry Propositions, OKI Europe Ltd. "A booklet of this kind will help raise patient satisfaction, establish the highest brand values and demonstrate a truly personal service."
With a 9" tablet-style colour touch screen, OKI's ES9476 MFP includes advanced security features making the device ideal for use with even the most confidential of documents. Sophisticated user authentication prevents unauthorised access to the device, increasing security and privacy, therefore patient documents are safe.
"Using OKI's DICOM RIP Pro software the device will integrate with clinical systems and document workflows. The software provides up to twenty-five (25) booklet design options to enable personalisation and to ensure brand consistency," says Patrick Rabel, Managing Director, Medical Solutions Department, OKI Data Corporation.
The ability to integrate OKI's new DICOM RIP PRO software with the ES9476 MFP enhances OKI's already established DICOM portfolio. A first in digital printer technology, OKI's range of medical printers combine the cost effectiveness and high quality output of an LED printer with embedded DICOM software, allowing medical and health organisations to print directly from medical equipment.
To find out more visit www.oki.com/eu
-End-
Notes to Editors:
About OKI Europe
OKI Europe Ltd is a division of OKI Data Corporation, a global business-to-business brand dedicated to creating cost effective, professional in-house printers, applications and services which are designed to increase the efficiency of today's and tomorrow's businesses.
The company is well-established as one of Europe's leading printer brands, in terms of value and units shipped. For over 60 years OKI Europe has been delivering advanced printing solutions worldwide, introducing ground-breaking technologies that support the needs of businesses large and small. Our pioneering development of digital LED printing technology has placed OKI at the forefront of the market in delivering high-definition, eco-friendly printing devices.
Since the acquisition of the globally-deployed wide format printer business of Seiko I Infotech Inc. a subsidiary of Seiko Instruments Inc. OKI distributes precision-engineered wide-format printing systems specifically for the sign, graphics, CAD and GIS markets that provide industry-leading productivity and image quality. With an EMEA wide network of authorised distributors and dealers OKI Europe Ltd provides complete printing solutions including wide format printers, inks, media, software, installation, support, knowledge and training.
In addition to a vast portfolio of award-winning printers and MFPs, OKI offers a range of services to help optimise print and document workflows. This, together with an integrated suite of software technologies and tools, can help businesses take control of their print and document costs in a secure environment, whether office based, mobile or in the cloud.
Today OKI Europe employs over 500 staff in 21 locations (sales offices and production sites) and is represented in 60 countries throughout the EMEA region.
OKI Data Corporation is a subsidiary of Tokyo-based Oki Electric Industry Co. Ltd., established in 1881 and Japan's first telecommunications manufacturer.
Visit www.oki.com/eu for further information.
OKI Europe Ltd: Pamela Ghosal: pr@okieurope.com + 44 (0) 208 2192190
Whiteoaks: Rebecca Bushnell: rebeccab@whiteoaks.co.uk +44 (0) 1252 727313