Pioneering printer and printing solutions firm looks back on a strong legacy of product development, including a string of European firsts
Egham, 26th November 2014 – OKI Europe Ltd is celebrating three decades of innovation in the EMEA printer market, including the ground-breaking launch of Europe's first LED printer in 1989 and several more 'industry firsts'. Looking to the future, the company has pledged to continue their strategy of customer-led innovation, driven by a strong network of European staff and channel partners.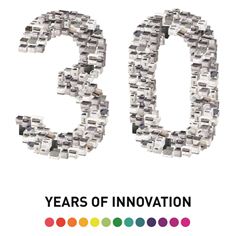 30 Years of Innovation logo
This significant anniversary was celebrated by OKI employees from across the EMEA region who came together in Athens to mark this historic occasion. OKI staff had the opportunity to relive the past 30 years of OKI's technology innovations from OKI's first printers to the latest launches.
Tributes were paid to employees who have worked for the organisation since it was established in Europe 30 years ago. OKI's partner in Greece, CPI, was also honoured for their dedication and 25-year-long partnership with OKI.
Today, the major global brand has offices in 23 European countries and operates in 60 countries within EMEA. The first office in the region was established in 1984 in Dusseldorf, Germany. OKI Europe went on to pioneer many industry firsts, building a strong reputation for quality and market changing technology.
"We are incredibly proud of OKI's significant contribution to the EMEA printer market over the last 30 years and the major product breakthroughs we have achieved," said Terry Kawashima, managing director, OKI Europe Ltd. "Our continued roadmap of innovation and strong European partner links have been fundamental to our success and will doubtless help us to accomplish our vision for future growth."
By the late 1980s, robust and stable serial impact dot matrix (SIDM) printers remained the most commonly used and popular print technology. However, there was also clearly a growing need for fast, quiet, high-quality printers for a new generation of office PC users. This need was met by OKI in 1989 with the launch of the first LED desktop office printers – the OL400 and OL800 – to the European market.
In 1990, the acquisition of Technitron – one of the biggest European multi-national distributors – proved to be a defining moment for the EMEA organisation, creating a network of sales offices in Europe, driving business growth in the region and building the foundations of OKI Europe today.
Through this acquisition, the OKI Europe group expanded its geographical coverage to include Technitron's sales subsidiaries in seven countries – the UK, Ireland, the Netherlands, Denmark, Norway, Sweden and Italy alongside Germany, tripling printer sales in the region.
Other significant milestones in OKI Europe's 30-year history include:
1995: The OKIPage 4w, the world's smallest printer with a footprint the size of a piece of A4 paper
1998: The OKIPage 8c, OKI's first digital LED colour printer with print speeds two times faster than its competitors
1999: OKIFAX5750/5950 the world's first real-time internet fax
2003: OKI C5000 Series – a ground-breaking portfolio of small workgroup colour printers
2004: OKI C3000 Series – bringing fast, affordable desktop colour to European users
2005: C5500 MFP the world's first A4 colour MFP
2006: C8600 – Europe's smallest and most affordable A3 colour page printer at half the size and half the price of its competitors
2009: OKI Europe introduces the industry's first standard three-year warranty
2012: C711WT and C920WT – the world's first digital LED White Toner Printers
2013: ES9541 – the industry's first digital LED 5 colour A3 Printer is launched, followed by the OKI MB700/MC700 with embedded open platform for improved document management and Smart Managed Document Solutions, OKI Europe's MPS programme
2014: Launch of the Shinrai Partner Programme, OKI's first pan-European partner programme
"OKI has a fantastic heritage of product innovation," confirmed Kawashima "We have always placed the customer at the forefront of our innovations and developed technology to address issues they may not realise they even had. Our latest white toner LED printers and 5 colour printer – the ES9541 – are recent examples of how we continue to exceed customers' expectations.
"Over the past 30 years, OKI Europe's dedicated team, along with our strong partner network of distributors and resellers, has helped the business overcome some tough challenges and grow to become a market leader. The fact that they have continued to drive OKI's product innovations has been key to our ongoing success."
For further information on OKI Europe's 30 years of innovation, including our innovation video and history board, visit www.okieurope.com/30Years-Innovation
-Ends-
Notes to Editors:
About OKI Europe
OKI Europe Ltd is a division of OKI Data Corporation, a global business-to-business organisation dedicated to creating professional in-house printed communications products, applications and services which are designed to increase the efficiency of today's and tomorrow's businesses.
The company is well-established as one of Europe's leading printer brands, in terms of value and units shipped. OKI Europe's award-winning product portfolio comprises six distinct segments: colour and mono printers, multifunctional devices, which combine printing, copying, scanning and faxing functionalities, as well as Serial Dot Matrix printers, faxes and specialty printers for point-of-sales and manufacturing. Established in 1988, today OKI Europe Ltd employs approximately 1,000 people in 23 production sites and sales offices and is represented in 60 countries throughout the EMEA region. For further information visit www.okieurope.com
OKI Data Corporation is a subsidiary of Tokyo-based Oki Electric Industry Co. Ltd., established in 1881 and Japan's first telecommunications manufacturer.
Media Contacts:
OKI Europe Ltd: Pamela Ghosal: Pamela.Ghosal@okieurope.com, + 44 (0) 208 2192127
Whiteoaks: Clarah Filtness: clarahf@whiteoaks.co.uk +44 (0) 1252 727313