Latest awards follow top reviews and recognition, including Editor's Choice from Print IT Reseller and Five-Star rating from TechRadar
Egham, 12th December 2019 – OKI Europe's award-winning OKI C844dnw may be the smallest A3 colour printer on the market but it's making a big impact in the retail industry, garnering two prestigious awards — a Golden Innovation FMCG & Retail 2019 Award and the RetailShow's Trade Innovation 2019 Award.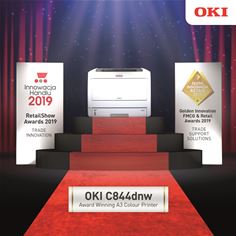 OKI C844dnw Retail Award
The Golden FMCG & Retail Awards recognise the most innovative solutions and products in the retail sector. Winners are evaluated through an online poll of consumers and a board of jurors. OKI's C844dnw was selected from among 40 other entries in the Trade Support Solutions Category and the award was presented at the annual ceremony sponsored by Hurt & Detal in Poland.
The RetailShow's Trade Innovation Award evaluates the best equipment, products and services dedicated to the retail industry. OKI's C844dnw was recognised for the versatility it offers retailers, enabling them to produce striking visual communications in-store, on-demand, thanks to its superb media handling capabilities and professional quality colour.
Ultra-compact, OKI's C844dnw is perfect for retailers, helping them improve in-store customer experience and increase customer loyalty through high impact in-store signage and personalised communications. Part of OKI's award-winning C800 Series, the C844dnw delivers eye-catching, colourful, engaging signage on-demand, empowering retailers of all sizes to produce visual communications quickly and easily in-store. Featuring OKI's pioneering digital LED technology, the C800 Series handles a wide range of media types, sizes, formats and weights.
OKI's C844dnw is compact enough for use in small retail spaces. The printer delivers fast print speeds for everyday office use and sharp, High Definition Colour print quality up to 1200x1200 dpi on media as small as A6, right up to 1.3m banners. Versatile and reliable, it can be used to create shelf wobblers, price-tags, labels, bottle collars, self-adhesive floor stickers, eye-catching posters, promotional displays, gondolas, double-sided banners, waterproof media applications and more. Retailers no longer have to rely on external print resources or pre-printed material.
"We are extremely pleased that the OKI C844dnw A3 colour printer has been recognised for the opportunities it offers in the retail sector," says Javier Lopez, General Manager, Business Development, Industry Verticals. "Retailers are using it to produce professional quality in-store advertising and signage and personalised customer communications as and when needed, without waiting for external partners. The C844dnw enables retailers to react quickly to local demands, trends and competition, giving them a clear advantage in the market, while increasing customer loyalty and basket value."
These latest awards are not the first time OKI Europe has been recognised for the C844dnw. Launched in April 2019, the C800 Series received an Editor's Choice Award from Print IT Reseller for its compact size, versatile media handling and energy-efficient fusing technology. The online technology magazine TechRadar also commended the OKI C844dnw for its "innovative design" and its media flexibility citing it as "one of the most flexible printers we've come across", which all contributed to its Five-Star rating.
To find out more about OKI Europe's award-winning C800 Series A3 colour printers, visit www.oki.com/eu
-End-
Notes to Editors:
About OKI Europe
OKI Europe Ltd is a division of OKI Data Corporation, a global business-to-business brand dedicated to creating cost effective, professional in-house printers, applications and services which are designed to increase the efficiency of today's and tomorrow's businesses.
The company is well-established as one of Europe's leading printer brands, in terms of value and units shipped. For over 60 years OKI Europe has been delivering advanced printing solutions worldwide, introducing ground-breaking technologies that support the needs of businesses large and small. Our pioneering development of digital LED printing technology has placed OKI at the forefront of the market in delivering high-definition, eco-friendly printing devices.
Since the acquisition of the globally-deployed wide format printer business of Seiko I Infotech Inc. a subsidiary of Seiko Instruments Inc. OKI distributes precision-engineered wide-format printing systems specifically for the sign, graphics, CAD and GIS markets that provide industry-leading productivity and image quality. With an EMEA wide network of authorised distributors and dealers OKI Europe Ltd provides complete printing solutions including wide format printers, inks, media, software, installation, support, knowledge and training.
In addition to a vast portfolio of award-winning printers and MFPs, OKI offers a range of services to help optimise print and document workflows. This, together with an integrated suite of software technologies and tools, can help businesses take control of their print and document costs in a secure environment, whether office based, mobile or in the cloud.
Today OKI Europe employs over 500 staff in 15 locations (sales offices and production sites) and is represented in 60 countries throughout the EMEA region.
OKI Data Corporation is a subsidiary of Tokyo-based Oki Electric Industry Co. Ltd., established in 1881 and Japan's first telecommunications manufacturer.
Visit www.oki.com/eu for further information.
OKI Europe Ltd: Pamela Ghosal: pr@okieurope.com + 44 (0) 208 2192190
Whiteoaks: Ella Thompson: ellat@whiteoaks.co.uk +44 (0) 1252 727313