A national study has found that the average person in the UK will listen to more than 13 years' worth of music before they die.
Audio-Technica, one of the world's finest manufacturers of music equipment, commissioned the study into music habits to ascertain what effect technology was having on our daily uses of music and media as part of its "Music Reviewer Of 2012" campaign.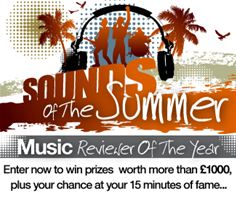 Music Reviewer of the Year
Audio-Technica, which is celebrating its 50th Anniversary in 2012, has seen the huge advances in mobile technology significantly change the demographic of customers looking to purchase high quality headphones and microphones.
Audio-Technica senior UK marketing manager Harvey Roberts said, "It's no secret that we love our music in this country and the growth of mobile and tablet devices has seen the headphones market explode in recent years. We have found that music is much more engrained in our daily lives than it was only ten years ago. Our research has identified a seismic shift in the amount of time people are spending listening and sharing their music and experiences with friends."
The music company's research, which questioned more than 1,000 people, identified that the majority of people in the UK actively listen to four-hours of music a day, which equates to more than 60 days per year.*
Following the revelation that music lovers are spending more of their lives listening to and sharing their tunes, Audio-Technica has decided to tap into this national passion by launching a search for its Music Reviewer of the Year. To make this music led competition more fun and accessible it is being run across several social media platforms and simply asks entrants to share an interesting picture of a gig they have attended and write an entertaining review whether it is positive, negative or neutral. The winner of the competition will be revealed later in the year and will receive a goody bag packed with Audio-Technica's latest goodies and will also win tickets to Reading Festival. For further details on how to enter visit: http://www.facebook.com/AudioTechnicaUK
Roberts continued: "The research really brought it home that we love songs now more than ever before, so we launched this search because we believe the real music loving experts are still out there in the crowds with nowhere to show off their talent. People are so used to sharing their opinions online and telling their friends which band is brilliant or terrible and now we want people to tell us too. All of the team are hoping we can find a star critic out there who can write interesting music reviews that we all want to read."
Audio-Technica's research also asked respondents how long they would be willing to queue to get tickets for a summer show and despite the huge increase in online ticket sales more than a quarter said they would wait an hour and almost one in five (16%) said they would be prepared to wait four hours. Respondents in Scotland and Wales were prepared to wait the longest with more than one in ten (10%) and (11%) being prepared to wait overnight in the cold.
Ends
* The average life expectancy of a female is now 82.3 years according to the latest figures from the Office of National Statistics. When the average life expectancy is multiplied by the amount of musical days per year it almost reaches a staggering 5,000 days per lifetime.
About Audio-Technica
Established in 1962, Audio-Technica is a worldwide group of companies devoted to the design, manufacture, marketing and distribution of problem-solving audio equipment. Initially known for state-of-the-art phonograph cartridges, Audio-Technica now creates high-performance microphones, headphones, wireless systems, mixers and electronic products for home and professional use.
For more information, visit www.eu.audio-technica.com/en
Audio-Technica, which has its UK office in Leeds, sells microphones, headphones and high fidelity equipment across the world.
Company Contacts:
UK: Harvey Roberts
Audio-Technica Ltd
Technica House
Royal London Industrial Estate
Old Lane
Leeds LS11 8AG
Tel: +44 (0) 113 277 1441
Press Contact:
Chris Norton or Christian Lawley
Prohibition PR
Tel: +44 (0) 845 519 6942