9th February 2015: Olive Communications' digital safety management platform, Safetybank, has been shortlisted for three awards – including SaaS Solution of the Year and Vertical Solution of the Year - at the upcoming European IT & Software Excellence Awards 2015 (www.iteawards.com).
The awards are the leading pan-European awards for ISVs, Solution Providers and Systems Integrators and their vendor and distributor partners. Companies from 32 European countries have made the finals, with the winners announced at an Awards Dinner at the Lancaster London Hotel, on 25th March 2015.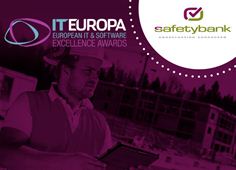 Safetybank
With record numbers of entrants this year and the highest quality of projects submitted, the European IT industry is demonstrating a new-found confidence and a widening range of abilities. These European nominations also follow hot on the heels of a record breaking 2014 for Olive Communications in terms of awards. The firm received 11 awards and accolades at many of the UK's most prestigious Software and IT Award ceremonies, including the UK IT Industry Awards, the Comms Business Awards, the CRN Channel Awards and the TechWorld Awards.
Chair of the judges and Editor of IT Europa, John Garratt says, "There is some truly impressive work being undertaken here. The judges' scores were among the highest we have seen in the seven-year history of these awards. And the projects encompassed every type, from government-wide multi-year, multi-disciplined major schemes to really innovative ideas for small vertical markets. I would like to thank all the entrants, and I think we can use the quality of what is presented here as a confirmation that IT across Europe is vibrant and able to take on the challenges posed by all types of demands from customers."
Martin Flick, Chief Executive, Olive Communications, said: "We're delighted to have received these nominations, as we see them as validation of the innovative nature of the Safetybank platform, as well as the significant benefits it provides. We believe it's a very special business application, as not only does it improve business processes and increase efficiency, but it helps to reduce lost time through injury and save lives in the construction sector."
Contact Details
T: 0203 675 3112
E: pr@olive.co.uk
About Olive Communications
Olive is the UK's fastest growing business communications provider and consultancy, operating across the four cornerstones of IT infrastructure: voice, data, mobility, and applications.
One of the Sunday Times' Hiscox Tech Track 100, Olive provides innovative and integrated communications solutions for some the UK's best-known businesses including Lastminute.com, Swiss Re's Admin Re, Mace and National Geographic. www.olive.co.uk