Monday 25th Jan 2016: The UK's fastest growing business communications provider, Olive Communications (Olive), has secured a £15.25m funding package to further scale up its operations. BGF (Business Growth Fund) has invested £10m growth capital while Barclays has provided £5.25m in new debt facilities.
Headquartered in High Wycombe, Olive provides unified communications solutions which help corporate and small and mid-sized organisations in Britain to improve the way they run their IT infrastructure across voice, data, applications and mobile devices.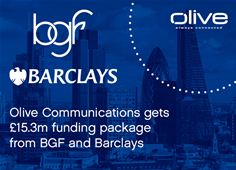 BGF Barclay Funding
As a result of significant growth – which has seen revenues climb from £11m in 2012 to close to £30m at the end of this financial year – Olive has featured in the Sunday Times Tech Track for the past three consecutive years, and has emerged as a leader in the growing market for unified communications solutions.
Olive is strategically partnered to the UK's major network operators, carriers, IT vendors and infrastructure providers. In addition to being awarded Vodafone Platinum Partner of the Year 2015, it holds long-standing partnerships with Microsoft, Mitel, Virtual 1 and others. The business consolidates and manages these networks and services for more than 7,000 businesses across the UK, providing customers with a single, unified IT & communications infrastructure which delivers cost efficiencies and improves workforce accountability, security and flexible working.
Olive was founded in 2003 by Mark Geraghty and Rob Saffman, who appointed Martin Flick as CEO at the start of 2013.
The new £15.25m funding package will be used to expand its customer base and further develop the range of services available to existing clients. The business also plans to grow its 150 strong team with appointments across its three sites High Wycombe, Hatfield and Towcester. Roger Flynn will remain in post providing ongoing support and guidance to this growth strategy as non-executive chairman and Olive has recently appointed Vim Vithaldas as non-executive director to help with operational planning, growth development and M&A activities.
Martin Flick, CEO, Olive said: "Over the past few years, we have experienced continued growth as a result of the exceptional talent and hard work of the Olive team. Results have been very impressive on a self invested basis but we have ambition to develop our product offering for customers and partners even further."
"BGF's minority, long-term funding model gives us the flexibility to do this. At the same time, we keep control of the business. We are excited about this partnership, and about leveraging the huge network that BGF has built over the past four years."
Mark Nunny, an Investor at BGF who will also take a seat on the board of Olive Communications said: "Over the last three years, Olive Communications has emerged as a leading business communications provider for SMEs with particularly impressive growth in the fast-growing converged enterprise space. The team has achieved exceptional growth and we are looking forward to working with Martin Flick and his team to continue this trajectory.
"Our flexible equity will give Olive the headroom to invest organically for growth and consider acquisitions as part of its strategy."
http://olive.co.uk/GrowthInvestment
The investment was led for BGF by Mark Nunny and Matthew Singh.
The advisers to the transaction were:
For Olive:
Wyvern Partners (Corporate Finance)
George Green (Legal)
For BGF:
Stevens & Bolton (Legal)
PWC (Financial)
GT (Tax)
--End—
Notes to editors:
About Olive Communications: Olive has emerged as a market leader, featuring for the past three years in the Sunday Times Hiscox Tech Track 100. This growth has been attributable to the development and delivery of cost effective and increasingly integrated Managed Communication Services across the four cornerstones of communication; Voice, Data, Mobility and Applications that provide workforce efficiency and increased productivity to around 7,000 UK based Organisations. These solutions bring together often disparate legacy communications infrastructure to deliver cost efficiencies whilst improving accountability, security and flexible working.
About BGF: BGF (Business Growth Fund) is the UK's most active provider of growth capital to small and mid-sized businesses. The companies it backs are privately-owned or listed on AIM, and typically have revenues of between £5m and £100m. BGF makes initial investments usually of between £2m-£10m and can provide additional funding to support further growth. The investment provided is typically in the form of equity in return for a minority equity stake.
BGF Ventures is the largest UK dedicated venture capital company for earlier stage technology related businesses.
BGF is an independent company with capital of up to £2.5 billion and is backed by five of the UK's main banking groups - Barclays, HSBC, Lloyds, RBS and Standard Chartered.
www.bgf.co.uk
Twitter: @bgf_team