8th September 2014: Olive Communications, the UK's fastest growing business communications provider, has appeared for the 2nd consecutive year in the Sunday Times Hiscox Tech Track 100. Olive has made a significant move 42 places up the table to number 49 in 2014.
The Sunday Times Hiscox Tech Track 100 measures the fastest growing privately owned UK technology firms and bases its rankings on revenues from the last three years.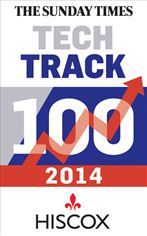 2014 Tech Track 100
Martin Flick, CEO, Olive Communications, said: "It's been a fantastic year for Olive – we've won long term contracts with prominent enterprise customers such as Lastminute.com, Chelsea FC, Murphy and The Royal Household to name a few. At the same time we have enhanced and expanded customer operations including a large new customer contact centre at Hatfield, we have revitalised our brand and won a number of top industry awards, which has all contributed to a strong increase in revenues and profitability. We are delighted to be recognised again in the Sunday Times Hiscox Tech Track 100 as being one of the 50 fastest growing Tech companies in the UK and being recognised for a second year in succession demonstrates our sustained growth. In the last few weeks we have continued our investment into our future success with the acquisition of SafetyBank, an exceptionally innovative business, which gives Olive an unrivalled product and service portfolio that should see our organic growth trend continue next year and beyond."
About Olive
Olive provides innovative and integrated communications solutions for UK businesses, across the four cornerstones of IT infrastructure: voice, data, mobility, and applications. We work with our customers to build and implement the right solution for their unique requirements, making use of existing infrastructure where possible.
Contact Details
Chloe Deadman
Marketing Executive
E: chloe.deadman@olive.co.uk
T: 0203 675 3112