Olive Communications were honoured to win the 'Good to Great' category for the second consecutive year at the esteemed Comms Business awards, which took place at the Lancaster Hotel, London. With guests from the Comms, IT and Mobile Channel, the night was a great success, featuring Celebrity host Lenny Henry as a particular highlight.
As specialists in cloud delivered unified communications, contact centres and enterprise mobility, Olive has shown exceptional success in the Convergence category for both 250-500 employees and over 500 employees. Alongside illustrations of our optimal cloud proposition and efficient operating models which are tailored to suit our clients' specific needs, we have illustrated through case studies how we have helped transform the way our clients operate.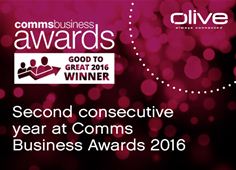 Olive CBAwards 2016
This in turn has delivered true workforce mobilisation; creating a confidently connected environment which enables users to work seamlessly together from the office or in the field, any time and using any device.
This need for constant advancement has first and foremost translated into an incredible 69% growth in turnover on last year, and also delivered industry leading customer satisfaction and retention.
Click on the following for more information about Remote Working, Converged Solutions and Cloud Telephony.
Martin Flick, Chief Executive commented: 'It's a great achievement for Olive to win the Good to Great award as well as be finalists in three categories of the Comms Business awards this year. The story of Olive's continued success is one that makes us very proud, and we look forward to achieving more fantastic results and continuing to grow in what promises to be a successful remainder of 2016 and 2017.'
-Ends-
Contact Details
Shayne Cuffy
T: 0203 675 3180
E: pr@olive.co.uk
About Olive Communications
Olive holds the highest partner accreditations with the UK's leading network operators, carriers and IT vendors, whose technology we manage on your behalf. We implement and guide you through the evolution from disparate communications services to an integrated infrastructure. This convergence allows you to improve the productivity, accountability and flexibility of your workforce, in a secure and cost-effective manner.