It's Valentine's Day, and if you've been stressing about what to buy your other half, the results of the latest survey from the folks at InternetRetailing EXPO, Europe's leading event for digital and multichannel retail (21st-22nd March 2018, NEC), may be of interest to you.
To help celebrate, it's pre-released a couple of statistics from its upcoming Future of Shopping survey, which asked 2000 UK consumers a range of questions about experience of and attitudes towards online v instore shopping habits. One of the areas studied was artificial intelligence and its potential future role in easing the stress of gift selection.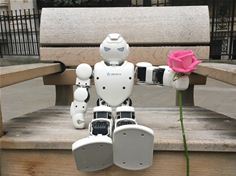 UBTECH Valentine's Robot
The results showed that overall 37% of people found it stressful choosing gifts online for loved ones. More women (43%) found it stressful than men (34%). Overall 31% were baffled by the amount of choice online, 21% put off by the hassle of delivery and 14% by having to buy in advance.
In fact, it appears choosing the right gift is so stressful that 13% of men would use an artificial intelligence–powered gift generator, which analysed the online profile of the person they were buying for, if it were available. Only 8% of women would consider this…
When asked about specific occasions that they would use an AI automatic gift generator 19% would consider using it for Valentine's gifts!
However, be careful if you're thinking about getting a robot to help select a gift; 41% think it would spell the end of human intuition and gifts would become meaningless (36% men v 46% women). 20% of our female respondents claim they would offended if someone used an AI-powered gift generator to choose a gift, with 5% claiming they would break up with a partner if they couldn't choose the perfect gift for them! Rather ironically more men than women (8%) would consider this a relationship deal-breaker!
For further information and to register free for InternetRetailing EXPO and eDelivery EXPO, please visit internetretailingexpo.com. Get involved on Twitter by following @etailexpo and with the hashtags #IRX18 #EDX18.
About InternetRetailing EXPO
InternetRetailing Expo (IRX) 2018 is an unmissable two days of essential, thought-provoking content for 5,000+ visitors (75% retailer) to learn, network and discover the latest multichannel retail trends and innovations all for free!
Now in its eighth successful year; IRX features over 100 hours of industry-researched interactive content, 100+ visionary speakers, 300+ industry-leading multichannel exhibitors, day 1 after party for retailers only, eight free conferences, excellent networking opportunities and is co-located with our eDelivery Expo.
eDelivery Expo (EDX) 2018 is Europe's only dedicated fulfilment event covering (S.O.L.D) – Supply Chain, Operations, Logistics and Delivery for multichannel retail. EDX delivers two specialist conferences: Final Mile and Operational Excellence plus expert led one-to-one clinics and hands-on workshops all for free.
Speaker or exhibitor enquiries:
Speaker carl.goodman@internetretailingevents.com
Exhibiting, sponsoring or partnership enquiries info@internetretailigevents.com
02073847802
Media Contacts:
Annabelle Macgregor
Annabelle.macgregor@kaizo.co.uk
Kaizo
0203 176 4715