Former Head of Computer Vision for Robotics at Amazon will help Identity Verification provider further develop market-leading Machine Learning system
Onfido has been named to the CB Insights AI 100 List of Most Innovative Artificial Intelligence Startups
6th February 2019, LONDON and SAN FRANCISCO: Global identity verification provider Onfido today announces that it has hired Mohan Mahadevan as its VP of Research. The former Head of Computer Vision and Machine Learning for Robotic Applications at Amazon will lend his extensive expertise to Onfido's 250-strong team of technologists across San Francisco, New York, London, Lisbon, Delhi and Singapore and Paris.
Onfido's vision is to create a more open world where identity is the key to access. Its AI-based identity verification software sorts true IDs from false, and then compares them against the user's facial biometrics. A global leader in machine learning, Onfido was also today named one of CB Insights AI 100 - a list of the most innovative artificial intelligence startups globally.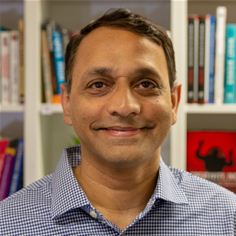 Mohan Mahadevan
An expert in computer vision, machine learning, AI and data and model interpretability, Mohan previously led research efforts at Amazon and KLA-Tencor. He has over 15 patents in areas spanning optical architectures, algorithms, system design, automation, robotics and packaging technologies.
Mohan will lead Onfido's team of specialist machine learning scientists and engineers, based out of London. As the company continues its rapid global growth, Mohan's focus will be on building out the system around machine learning and continuing to improve its performance in production. Key to this will be increasing the level of fraud detection and the granularity of results. This will deliver a more holistic service in order to provide Onfido's 1500 global clients more confidence in their decision making processes.
"I am passionate about solving challenging problems while working with creative, competent, adventurous and authentic people, in an open and fun environment. I was drawn to Onfido because of the unique ways in which it is applying its technologies in a complex and evolving space. I look forward to an exciting period of innovation and research, and creating a strong pipeline of products and growth at Onfido."
Husayn Kassai, CEO at Onfido, said: "Onfido's hybrid AI and human approach is what makes our offering so strong – we're already recognised as a market leader in AI. As we expand into new global territories, our technology is continuing to evolve, and so we're thrilled to have Mohan on board to help guide our research programs. His extensive experience from Amazon especially will be vital as we build towards our vision of creating an open world where identity is the key to access."
About Onfido
Onfido verifies the world's identities. We develop AI that sorts true IDs from false, and then compares them against the user's facial biometrics. That's how we help businesses onboard more customers, more securely. Our technology brings more users onto your platform, driving down fraud risk at onboarding and beyond. Recognised as a global leader in machine learning, we're backed by Salesforce and Microsoft.
As a team of 250 technologists spread across 6 countries, we've raised $60m in funding. We power verification for 1,500 customers including, Bitstamp, Revolut and Zoomcar.
www.onfido.com
www.facebook.com/onfido
www.twitter.com/onfido
For further press information or enquiries, please contact Paul Jarratt at paul.jarratt@onfido.com