PageTiger, the fastest growing online publishing platform in the UK, has reported a clutch of new contract wins at the start of 2013.
Surrey-based PageTiger's customer base is growing by over 25% every month, with organisations including the military charity Help For Heroes and car manufacturer Jaguar choosing it to deliver their publications as interactive online magazines.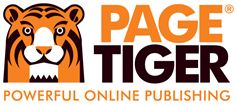 PageTiger logo
The company's page-turning technology makes it simple and affordable for individuals and businesses to convert their print media into dynamic, digital content. The technology is unique because it is HTML enabled and doesn't use Flash – so publications created using it can be viewed on Android as well as Apple smart devices
Henry Weston, Commercial Director of PageTiger, says, "From a traditional contract publishing business with less than 50 clients, we've now grown to the point where we now have over 2000 registered users."
PageTiger says part of its success is down to the reliable server hosting it gets from Maidenhead-based RapidSwitch which keeps its interactive publications online 24 hours a day.
Henry Weston explains, "RapidSwitch has given us the reliable support we've needed to expand our business. Our hosting partnership has been a fantastic foundation on which to grow."
Neil Christie, Commercial Director of RapidSwitch, says, "As PageTiger has found, we work hard to understand and accommodate the very different needs of all our clients and we're delighted to be part of its success story."
PageTiger won the award for Best Business for Innovation and Technology in 2011 which was presented to the company by Business Secretary Vince Cable.
RapidSwitch is part of UK cloud computing company iomart Group plc.
-ends-
For more information please contact:
Jane Robertson
PR Manager
iomart Group plc
jane.robertson@iomart.com
Tel: 0141 931 6400
Twitter: @_rapidswitch
Notes for editors:
About RapidSwitch
RapidSwitch is one of the UK's leading managed hosting and dedicated server companies. Based in Maidenhead, Berkshire, the company hosts over 4,000 servers for a wide range of clients and employs more than twenty staff. Founded in 1999, it has grown rapidly over the past few years, with a well-deserved reputation for excellent customer service. RapidSwitch is focused on delivering highly reliable managed hosting solutions for its clients. RapidSwitch is a subsidiary of AIM listed iomart Group plc www.iomart.com For more information about RapidSwitch visit www.rapidswitch.com