Following the success of a recent documentation webinar Open to Export, the new digital export advice service from UK Trade & Investment (UKTI) and hibu plc *, has today announced expert webinar sessions during March to help UK businesses learn more about exporting to Asia.
During March, Open to Export will host two webinars, designed to inform exporters on the 'golden rules' and provide expert advice focused around exporting into India and China. The first event takes place on the 21st March at 10.30am, focusing on China, and is followed by another on the 28th March, focusing on India. The webinars are also a chance for exporters to ask a panel of experts questions related to exporting to Asia in general.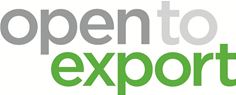 Open to Export Logo
A variety of industry specialists and small businesses make up the Asia panel. There will be a mixture of private and public sector specialists alongside small businesses who have 'been there, done that' and will be sharing their experiences with attendees. Following the presentations they will be answering questions from exporters having issues or with specific questions related to the various processes and sectors within Asia, live.
An infographic detailing interesting facts and statistics about exporting to Asia will also be available on the website from 11th March to help UK firms identify opportunities to take their products or services overseas.
With such a high demand for the last webinar and limited spaces, attendees should register in advance to reserve a place and avoid disappointment.
A confirmation email will be sent containing all the information needed to join the Webinar once successful registration is complete.
If you missed the documentation webinar in February the highlights are now available to watch on the documentation page.
Please note there are system requirements depending on the platform the attendee will be participating with.
System Requirements
PC-based attendees
Required: Windows® 7, Vista, XP or 2003 Server
Mac®-based attendees
Required: Mac OS® X 10.5 or newer
Mobile attendees
Required: iPhone®, iPad®, Android™ phone or Android tablet
The webinars and infographic are part of the latest 'Feature Fortnight' focused around Asia. Alongside this content there will be further advice from expert organisations, business case studies and details of relevant events, which the Open to Export team will be present at, all of which can help UK businesses further.
* hibu is the new company name for Yell Group
-Ends-
Notes to Editors
To view the infographic, case studies and upcoming events please visit: http://opentoexport.com/theme/spotlight-on-asia/ from the 11th March.
The hibu – UKTI partnership was announced in November 2011 by the Prime Minister, David Cameron. UKTI is committed in its strategy to deliver a digital export service. hibu (previously Yell Group) was selected as a partner by UKTI following an open competition.

Background

The Open to Export service went live in a Beta trial in June. Businesses have been provided with content around how to trade in the USA and India. The Service is now being rolled out to include other major markets.

Over the next 12-24 months it will expand to cover the other export markets that SMEs tell us they want support for. Content coverage on the service is growing with the community of users.
About UKTI
UK Trade & Investment (UKTI) is the government department that helps UK-based companies succeed in the global economy. We also help overseas companies bring their high quality investment to the UK's economy – acknowledged as Europe's best place from which to succeed in global business. UKTI offers expertise and contacts through its extensive network of specialists in the UK, and in British embassies and other diplomatic offices around the world. We provide companies with the tools they require to be competitive on the world stage. For more information on UKTI, visit http://www.ukti.gov.uk/ or telephone +44 (0)207 215 8000. For latest press releases, visit the online newsroom at www.ukti.gov.uk/media.
About hibu
hibu helps communities thrive by facilitating millions of connections each year between consumers who want to find products and services locally and the merchants who provide them.
hibu helps consumers find local businesses and shop in new, innovative ways. Its dedicated online hibu markets provide comprehensive, convenient access to local goods and services. hibu helps merchants compete in the digital world with a broad range of marketing and commerce solutions delivered online and through hibu's direct sales teams. Building on its heritage as a premier directories provider, hibu continues to offer a full range of print - and distribution-based marketing services.
hibu operates in the UK, US, Spain, Argentina, Chile, Peru and US Hispanic markets. In the year ended 31 March 2012, hibu had 1.2 million SME customers and total revenues of £1.6 billion.
For further information about hibu, visit hibu.uk.
Enquiries
For more information, copies of the infographic or video content please contact: opentoexport@propellernet.co.uk.
Eshe Brown on 01273 760 959
Simone Stevens on 01273 760 967