Redwood City, California and Chatillon, France – November 07, 2011 – Amobee, the company defining mobile advertising, is the mobile advertising partner for France Telecom's Orange Vallée, bringing mobile products to market with unprecedented success. The most recent campaign to introduce Orange Vallée's innovative voicemail and messaging application, On Voicefeed, leveraged Amobee's advanced mobile advertising solutions and services to execute a highly visible, multi-national mobile advertising initiative. The campaign resulted in millions of downloads worldwide.
With On Voicefeed, Orange Vallée has effectively reinvented contact management to facilitate and enhance communication with users' contacts on any operator. Unique features include: visual voicemail, voice-to-text transcription of voicemails, customized greetings for contact groups, text-to-speech functionality, VoiceTags and free messaging between ON users.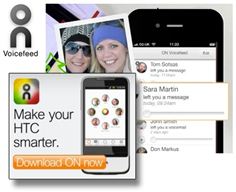 On Voicefeed
"Jean and the team at Orange Vallée are trailblazers and innovators in the mobile space. On Voicefeed is an amazing app that became an instant success with users because of the effective use of mobile advertising. We love people who think like us and we welcome Orange Vallée as the newest member of our ever increasing operator customer base," said Trevor Healy, Amobee CEO.
Jean Donadieu, Chief Marketing Officer of Orange Vallée said, "It has been great to partner with Amobee to use innovative mobile advertising campaigns to bring our products to mobile users. We needed a mobile advertising strategy that would drive multi-national awareness and result in downloads of our products. After the successful On Voicefeed campaign, Amobee continues to be our mobile advertising partner of choice."
About Amobee
Amobee, the company defining mobile advertising, offers comprehensive, end-to-end mobile advertising solutions and services for advertisers, publishers and operators. Headquartered in Redwood City, California, with offices in Europe, Asia, Latin America and the US, Amobee enables its large customers to run targeted, leading edge mobile ad campaigns on a global scale with unparalleled ROI. Amobee has financial backing from some of the biggest names in venture capital: Sequoia Capital, Accel Partners, and Globespan Capital, as well as strategic investments from Motorola, Cisco and leading operators, Vodafone and Telefónica. To learn more, please visit www.amobee.com.
About Orange Vallée
Orange Vallée is a "catalyst for ideas" within the Orange Group. This centre for innovation and development, created in 2008, works on identifying new technological uses and needs. It develops innovative services that are available to all users, whatever their mobile phone operator or Internet service provider. Orange Vallée, which initiates its projects based on a start-up approach, is also responsible for releasing and marketing its products and services in the different countries.
Media Contact:
Esther Burciaga
onechocolate communications for [a•mo•bee]
Tel: +1 415 989 9803
Email: estherb@onechocolatecomms.com