New technology, successfully trialled at Oxford's John Radcliffe Hospital, will drive significant change in baby monitoring
Oxehealth, the camera-based health monitoring company, has developed software that will enable a new generation of smart video baby monitors to measure a baby's vital signs without the need for physical contact or wearable devices.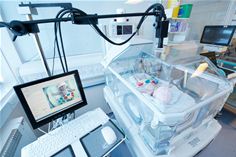 Technology will drive significant change in baby monitoring
Using its Oxecam technology, video baby monitors will be able to measure the heart and respiratory rate of a baby remotely. The technology will send accurate alerts to parents or caregivers when it detects sudden changes in vital signs, allowing them to react to potential health risks that otherwise would not be visible.
The software, which has been successfully trialled at the John Radcliffe Hospital, part of the Oxford University Hospitals Trust, demonstrated its abilities to monitor key vital signs continuously in the neonatal intensive care unit (NICU).
The accuracy of the product met the clinical standards expected of a medical product, opening the door to a whole new world of neonatal camera-based health monitoring possibilities.
"Virtually every new parent in the UK buys a baby monitor when they first have a child, and some will buy multiple monitors as they seek to find the best on the market," said Jonathan Chevallier, CEO at Oxehealth. "Many current monitors with their passive audio visual feedback do not provide warnings of problems – other than baby distress. Building vital signs monitoring into these devices would enable constant feedback to parents on the baby's heartbeat and breathing rate, providing considerable reassurance to parents and early warnings of any problems. This is a huge step forward in infant monitoring."
The Competitive Advantage of the Oxecam:
Many current video monitors only provide a video feed of the baby with no contextual health information, making it impossible for a parent to determine whether their baby is just asleep or potentially has a much more serious problem.
Monitors are designed to give parents the freedom that comes with the comfort of knowing that their baby monitors are keeping an eye on their little ones. Many video monitors currently on the market are not able to detect and alert parents to accurate signs of health related problems, meaning parents end up extensively checking their monitors and maybe even needing to do physical checks. Oxecam is able to send accurate alerts of sudden changes in vital signs which is often an early indicator of ill health giving parents what they want from their baby monitors, peace of mind.
The ability to monitor babies' vital signs without the need for contact is a significant advantage in baby safe vital signs monitoring. Contact based devices can be uncomfortable and irritate delicate skin especially amongst pre-term infants. Using camera technology we can also eliminate the need for potentially dangerous cables from mat based devices and [potentially] harmful close proximity wireless transmitters.
Utilising camera technology only, there is potential to reduce the cost for parents wishing to monitor vital signs, as contact and wearable devices may need to be replaced as they can become easily damaged, worn and outgrown and often depend on integrated rechargeable batteries which decay over time.
Contactless monitoring offers a significant benefit for active babies. While asleep or laying in their cots it can be hard to maintain reliable sensor connection in any contact-based monitors (in effect these are totally impractical) as the baby moves around.
The Oxecam can provide ongoing monitoring through the night (and day) simply – it can also alert to a number of risk factors such as the baby turning onto its stomach or covering itself in bed clothes.
Oxehealth is a spin out from the University of Oxford's Institute of Biomedical Engineering and Oxford University Hospitals NHS Trust. Its monitoring technology is also being funded to monitor patient wellbeing in other situations such as; secure hospitals (Broadmoor) and post-operative cancer and renal wards. Its technology is based on algorithms, which monitor patient movement and breathing for signs of distress, as well as heart rate and other parameters that can be measured to assess the patient's wellbeing.
"Oxehealth's technology promises to revolutionise the world of baby monitoring – turning a passive video monitor into one that provides genuinely useful health information. In a world in which people are choosing to install and use cameras in ever more settings, this is just one example of how Oxehealth's technology will invisibly monitor personal health enabling us all to live safer, healthier and longer," added Jonathan.
Notes to Editor:
Oxehealth Ltd is a biomedical software development company spun out from the University of Oxford's Institute of Biomedical Engineering in 2012. Oxehealth is focused on the continuing innovation of its Oxecam technology which turns cameras into healthcare monitors. It does this by using a range of software products with embedded intelligent algorithms which combine three key attributes: complex signal processing to allow accurate non-contact monitoring; machine learning, to provide personalised healthcare models; and clinical validation.
Initially developed at the University of Oxford in the research labs of world-leading scientist Professor Lionel Tarassenko and backed by IP Group plc., Oxehealth's patented Oxecam technology enables digital cameras to monitor individual physiology and provide accurate healthcare information with a number applications in both clinical and non-clinical settings.
Oxehealth continues to extend the potential of camera technologies for healthcare monitoring, having developed camera-based vital signs monitoring algorithms, clinically validated at the Oxford Kidney Unit and the Neonatal Intensive Care Unit, John Radcliffe Hospital.
For further information, contact Louise Fielding-Smith, at lfieldingsmith@thecommsco.com or on 01962 677 002, 07877 340671.