The Oxford Foundry will drive entrepreneurial activity across the University's 23,000 students
The Oxford Foundry, a new entrepreneurial hub at the heart of Oxford University, has officially opened its doors.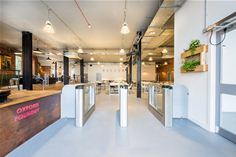 Foundry Interior
The facility will be launched today by Tim Cook, CEO of Apple, Inc. The student-centric venue aims to build a community of innovation across the University, inspiring and supporting Oxford's 23,000 students to develop their entrepreneurial skills or create and scale commercial ventures.
The Oxford Foundry will embrace students across all academic disciplines from engineering, medicine, history, philosophy and more. It will be a place for students from different backgrounds to experiment, learn from one another, and generate ideas and initiatives that address business and societal issues: whether their ambition is to launch their own start-up or to develop an entrepreneurial mind-set to drive innovation from within an organisation. Students will be encouraged to play a major role in designing and leading activities.
As a world-leading university, Oxford University has produced more founders of Unicorn businesses ($1 billion upwards) than any other in Europe, and has a strong history of students launching and establishing successful start-up companies. The Oxford Foundry will support the institution to continue to translate its academic research into innovative solutions with commercial and societal impact, on an international scale.
Building on the success and popularity of the Oxford Launchpad at Saїd Business School, which is home to the Entrepreneurship Centre and Skoll Centre for Social Entrepreneurship, the Oxford Foundry was initiated and developed by Oxford Saїd for the benefit of the whole of the University. It will support students in three main ways:
Building a community
The Oxford Foundry will bring world renowned and inspirational figures to speak to students, creating an environment that encourages the exchange of ideas and views on the role of entrepreneurship and future ways of working. The Oxford Foundry will have a student advisory board and partnerships with student societies across the University, including Oxford Entrepreneurs, Europe's largest society for entrepreneurship with over 10,000 members.
Experiential learning
Students will be able to take part in problem solving competitions and workshops on areas such resilience, leadership, and digital skills. The Oxford Foundry will also work with both community and corporate partners to try new things and put ideas into practice.
Start-up support programme
Each year the Oxford Foundry will support the starting and scaling of a select number of student ventures. Support will include dedicated working space at the Oxford Foundry, access to networks, industry experts and back office support.
The Oxford Foundry is housed in a renovated Victorian ice factory in central Oxford and is spread over two floors. It offers co-working space, presentation areas, and a café at ground level - enabling entrepreneurially-minded people to meet, collaborate, create new ventures, or build the skills to bring innovation into their careers. Upstairs, there is an incubator space for accelerating new ventures.
Ana Bakshi, Director of the Oxford Foundry said: 'Entrepreneurship is of increasing importance to students. As a generation, millennials desire to be more socially responsible, innovative and to make an impact. Whether starting their own ventures or aspiring to lead in organisations, the Oxford Foundry will develop students' entrepreneurial skills, understanding and self-efficacy. The aim is to create future leaders whatever career they pursue.'
The Oxford Foundry has been made possible by the generous support of the following major donors: Reid Hoffman, Co-founder of LinkedIn, the Amersi Foundation, EY, Barclays, Meltwater Fairhair.ai, and DeTao Education Group. An Advisory Board, chaired by Brent Hoberman, will bring expertise, insight and advice to the Foundry community.

Reid Hoffman comments: 'I am a firm believer that to solve big issues and challenges, we need more entrepreneurial thinking and development, and what better place than within education. The Oxford Foundry will act as a hub to support and develop entrepreneurship within Oxford and bring students together from lots of different backgrounds and academic areas to experiment and prototype new ideas. This will create amazing, transformative ventures that will make a real impact, and ultimately make the world a better place.'
Peter Tufano, Peter Moores Dean, Saïd Business School, concludes: 'The Oxford Foundry will be a hub for innovation and idea-generation. By inspiring and developing new generations of Oxford student entrepreneurs we can hopefully transform their lives and our collective future.'
The event will be livestreamed from 5pm here: www.sbs.oxford.edu/timcook
For further information, or photos of the event please contact:
Josie Powell, PR Manager, Saïd Business School
Mobile: +44 (0)7711 387215 Tel: +44 (0) 1865 288403
Email: josie.powell@sbs.ox.ac.uk or pressoffice@sbs.ox.ac.uk
Lanisha Butterfield, Media Relations Manager, University of Oxford
Tel: +44 (0)1865 280531
Email: lanisha.butterfield@admin.ox.ac.uk
Notes to editors
About The Oxford Foundry
The Oxford Foundry is a brand new entrepreneurial hub at the heart of the University of Oxford. It aims to support all 23,000 students across the University - whether they are lawyers, medics, engineers or philosophers - in becoming more entrepreneurial people. A key focus is to enhance employability through entrepreneurship amongst students, as well as create an ecosystem to support the starting and scaling of ventures that will have valuable social impact on our world.
About Saïd Business School
Saïd Business School at the University of Oxford blends the best of new and old. We are a vibrant and innovative business school, but yet deeply embedded in an 800 year old world-class university. We create programmes and ideas that have global impact. We educate people for successful business careers, and as a community seek to tackle world-scale problems. We deliver cutting-edge programmes and ground-breaking research that transform individuals, organisations, business practice, and society. We seek to be a world-class business school community, embedded in a world-class University, tackling world-scale problems.
ENDS