29th August 2014: Paul UK, the French Family Bakery and Patisserie, has chosen Olive Communications to manage their mobile telecoms estate following a competitive three-way tender process. Paul UK is a growing high street brand with over 30 London stores, including Covent Garden, Kings Road and Canary Wharf. The new mobile contract, delivered over the Vodafone network, covers connectivity and devices for head office staff, delivery drivers and operations teams.
Paul UK will be able to monitor their mobile spend in real time, and set policies for individual users, via Olive's OBM online tool. The tool provides dashboard-style management information and the ability to create detailed reporting as required.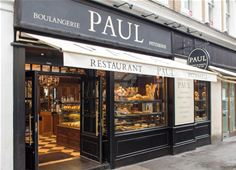 PAUL Covent Garden
Susanne Sauerland, Finance Director, Paul UK, said: "Olive's detail-oriented and committed approach stood out over the other service providers we evaluated in the tender process. They took the time to fully understand our specific needs and requirements, and then devised a commercially attractive contract which will help us operate as effectively as possible."
Sauerland continues: "As a relatively small, but growing organisation, responsiveness to our needs and quality of account management is really important to us. This is why we choose to work with a managed service provider rather than with one of the big networks directly. Olive has demonstrated that they have what it takes to offer us the best possible customer service, and we are looking forward to working with them as we grow our business."
Martin Flick, CEO, Olive Communications, said: "The telecoms market is fast moving with many deployment models and options, making it difficult for buyers to navigate with assurance. We seek to understand our customer's objectives, and then map the most appropriate and cost-effective solution from our broad portfolio of products and services, to suit. That's what's we've done with Paul UK, and we're delighted to be supporting them as a trusted partner."
About Olive
Olive provides innovative and integrated communications solutions for UK businesses, across the four cornerstones of IT infrastructure: voice, data, mobility, and applications. We work with our customers to build and implement the right solution for their unique requirements, making use of existing infrastructure where possible.