Newtec M6100 Broadcast Satellite Modulators will carry content to nearly 124 million people in the United States through PBS each month
ALEXANDRIA, VA, and SINT-NIKLAAS, Belgium, 28 August 2012 The largest public media enterprise in the United States, Public Broadcasting Service (PBS), has installed a large set of Newtec M6100 Broadcast Satellite Modulators for content distribution across its nationwide network. This is part of a major upgrade to DVB-S2 and H.264 modulators while at the same time implementing Carrier ID to reduce Radio Frequency (RF) Satellite interference. In the United States, PBS has 354 member TV stations.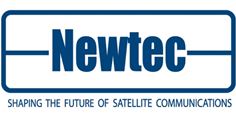 Newtec logo
Nearing the completion of its 10-year project, the PBS Next Generation Interconnection System (NGIS) project, which is set to replace and significantly upgrade the current infrastructure that enables PBS, regional distributors, and other entities to distribute programming for broadcast by public television stations. The result of the upgrade to these latest technologies allows PBS to reduce its satellite capacity requirement from four to three transponders.
Many broadcasters and satellite operators around the globe are suffering from an ever increasing amount of satellite carrier Radio Frequency Interferences (RFI). Satellite interference happens as multiple carriers are beamed into the same space segment. The impact of such interferences is most often a complete loss of service for hours or days, which is the time required to find the source of the interference. Newtec has been actively supportive in bringing together different stakeholders throughout the industry to help develop a technology standard (Carrier ID) that reduces the impact of RFI from hours or days to minutes. As a result, Carrier ID is a unique "fingerprint" on an uplink carrier which enables satellite operators to identify transmissions to their satellites and coordinate with earth station operators to mitigate signal interference.
Newtec's M6100, launched in April this year, already has this Carrier ID implementation. The M6100 is the new generation DVB-S2, DVB-DSNG and DVB-S modulator. It is specifically designed for contribution of television and radio content, which is the primary distribution of content and broadcast Direct-To-Home (DTH) distribution. The modulator interoperates seamlessly with any 3rd party DVB set-top box, professional IRDs and satellite demodulators.
Serge Van Herck, CEO of Newtec said: "2012 has been one of the most important broadcast years ever. With so many broadcasters using satellite to contribute and distribute high value content and advertisements, the risk of interference is high. Satellite interference is not only costly, but can also severely disrupt the viewers' experience. PBS has recognised this and shown foresight in addressing the developing situation and the need for Carrier ID, meanwhile saving transponder space and cutting costs."
Stefan Petrat, Vice President, Distribution Operations and Engineering of PBS said: "Our success is built on high quality reliable broadcast distribution to our viewers. We like to set an example by implementing Carrier ID across all our uplinks and we know many in our industry will follow, and we encourage others to do so. Only when the industry comes together, can we put a halt to the growing interference problem. Carrier ID allows us to reduce the risk of interference and provides an improved and more efficient service. Newtec's M6100 is the best solution for our needs."
PBS and Newtec are supporting the World Broadcasting Unions - International Satellite Operations Group (WBU-ISOG), the GVF (Global VSAT Forum) and SIRG (Satellite Interference Reduction Group) to promote and implement Carrier ID standardisation.
For further information about the Newtec M6100 Broadcast Satellite Modulator visit http://www.newtecm6100.eu/. And if you are interested in learning more about the latest key breakthroughs in video network technologies and the risk of satellite interference, join Newtec's Free Session and Discussion Panel with Industry Leading Players on September 8th at 3 pm at IBC in Amsterdam: www.newtec.eu/sessionibc2012.
- ENDS -
Your Contacts
Newtec
Kerstin Roost
Public Relations Director
Tel: +49 30 430 95 562
E-mail: Kerstin.Roost@newtec.eu
PBS
Sherry A. Pittman
Director, Interconnection Communications
Tel: +1 703 739 5767
E-mail: sapittman@pbs.org
Further Information and Videos:
Newtec's M6100 Broadcast Satellite Modulator
The Newtec M6100 Broadcast Satellite Modulator is the new generation DVB-S2, DVB-DSNG and DVB-S modulator specifically designed for broadcast direct-to-home (DTH), primary distribution to headends and contribution of television and radio content. The M6100 can be used in conjunction with set-top boxes, professional IRD's or professional satellite demodulators such as the AZ910. The M6100 is not just a modulator, it's a platform that takes a vital role in your networks, performs the best on the market and helps you evolve your business through on-going market and technology innovations.
www.newtecm6100.eu
About Newtec
Newtec (http://www.newtec.eu/) is a global industry leader, shaping the future of satellite communications. Offering state-of-the-art products and scalable, integrated solutions for broadcast, broadband access and backbone and trunking applications, Newtec helps customers achieve greater efficiency, increase performance and expand market reach.
With its passionate commitment to R&D and its strong relationship with the European Space Agency (ESA), Newtec remains in the forefront of technological development, continuing the pioneering contributions that have led to industry standards including DVB, DVB-S2, DVB RCS and iSatTV Cenelec pr EN50478.
Newtec's worldwide customer base includes the industry's most prestigious broadcasters, satellite operators, telcos, systems houses and broadcasting unions. Established in 1985 and headquartered in Belgium, Newtec has regional offices as well as additional R&D centres located in Stamford, Conn. (U.S.), Singapore (Singapore), Beijing (China), Dubai (UAE), São Paulo (Brazil), Berlin (Germany) and France.
Follow us on
Twitter
LinkedIn
YouTube
Facebook
Slideshare
About PBS
PBS, (www.PBS.com), with its nearly 360 member stations, offers all Americans - from every walk of life - the opportunity to explore new ideas and new worlds through television and online content. Each month, PBS reaches 124 million people through television and 20 million people online, inviting them to experience the worlds of science, history, nature and public affairs; to hear diverse viewpoints; and to take front row seats to world-class drama and performances. PBS' broad array of programs has been consistently honored by the industry's most coveted award competitions.
Teachers of children from pre-K through 12th grade turn to PBS for digital content and services that help bring classroom lessons to life. PBS's premier children's TV programming and its website, pbskids.org, are parents' and teachers' most trusted partners in inspiring and nurturing curiosity and love of learning in children.
Follow us on Twitter or Facebook or through our apps for mobile devices.