The rugged Panasonic Toughpad FZ-N1 handhelds are ideal for voice, data and applications for the mobile workforce
BRACKNELL, UK - PHS Compliance has equipped its Portable Appliance Testing engineers with rugged Panasonic Toughpad FZ-N1 handheld tablets to improve productivity and communications when safety testing electrical appliances across the UK. Switching from a leading PDA manufacturer, PHS Compliance chose the slim and lightweight 4.7" Panasonic Toughpad handheld for its enhanced functionality.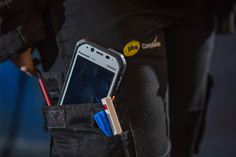 Panasonic Toughpad FZ-N1
The first phase of the roll-out saw 75 PAT engineers equipped with the new Panasonic devices. They are being used to access key applications, such as receiving jobs and downloading and transferring test results back to head office. As well as mobile telephone capabilities, the engineers can also use the new devices for access to Google Maps and central office applications, such as WebExpenses and the HR System.
The Panasonic devices are now being rolled-out to a total of almost 500 PHS Compliance mobile engineers. As well as PAT engineers, the devices will be used by teams carrying out services such as fire safety checks and project engineers installing LED lighting replacements schemes to help organisations reduce energy costs and carbon emissions.
Dan Bloor, Systems Manager, at PHS Compliance, said: "After reviewing all the market options, the Panasonic devices were the ideal choice for our mobile engineers. They are more than tough enough to stand up to the testing environment and offer all the essential computing functionality our engineers need when carrying out their duties."
Shaun Wilkinson, a PAT engineer, said: "The new Panasonic Toughpad has undoubtedly improved the way I work. I have been able to use Google maps, which I find extremely useful as I can simply click on a specific job and then on to the postcode which brings up Google maps. It has saved me time and I don't have to have more than one device on my windscreen. I have also saved time by being able to quickly download my test results and sign jobs off, whereas the older devices took considerably longer and meant clients awkwardly had to wait whilst they connected and downloaded. Overall I feel that the new devices give a professional look and I have had many clients express how they look just like a smart phone."
Nick Miller, Corporate Sales Manager, at Panasonic Toughbook, said: "With this business feature packed device and weighing approximately 50g lighter than some of its nearest 4.7 inch competitors, the Panasonic Toughpad FZ-N1 sets a new benchmark in the handheld market. It is ideal for the mobile worker that needs a tough and lightweight device to deliver all the functionality of the office while on the move."
The best of handheld and smartphone
The Panasonic Toughpad FZ-N1 with Android 5.1.1 is one of the thinnest and lightest handheld tablets in the 4.7" category. It brings together the best of handheld, smartphone and barcode reader functionality into a single rugged and hard-working tablet. The device offers features including an angled rear barcode reader which protects users from repetitive strain and enhances productivity, and an optional passive and active pen for precise handwriting and signature capture. Thanks to its fully-rugged design, with MIL-STD-810G certification, IP67 rating, 1.8-metre drop resistance and the ability to withstand as many as 1,000 tumbles from a height of 1 metre, the device delivers a long life-span and very low total cost of ownership.
Compliance for business
PHS Compliance provide safety test and inspection services for electrical, gas, fire, air conditioning and specialist medical equipment via PHS Compliance and JPen Medical. PHS Compliance also provides nationwide mechanical and electrical (M&E) installation services.
Based near Warrington and with over 400 highly qualified and experienced engineers nationwide, PHS Compliance helps over 2,000 customers across the UK achieve compliance with government legislation on health and safety at work, and its services ensure that customer employees, visitors and premises are protected by effectively managing and mitigating risk.
To view the PHS Compliance case study video click here: https://www.youtube.com/watch?v=DlZNyg08XME&index=3&list=PLTwXQpLiSw7k4g4xhpbf__IWvShuUa03T&t=0s.
Paul Smith | Director
The Amber Group
T: +44 (0)7770 828 525
E: paul@ambergroup.net
W: www.ambergroup.net
About Panasonic System Communications Company Europe (PSCEU)
Our quest is to make technology work invisibly together and free businesses to succeed. We believe technology should just work. That businesses will succeed if they can simply focus on their customers, in the knowledge that all the technologies delivering their capabilities work together. That is why we are dedicated to developing products and
solutions that are so integrated with our customer's way of working, that they are almost invisible – the workhorse in the background that powers business success.
PSCEU is made up of six product categories:
Broadcast & ProAV gives you the freedom to tell the story with its high quality products and solutions, which ensure smooth operation and excellent cost-performance across a range of remote cameras, switchers, studio cameras and ENG P2HD. The cinema camera range of VariCam models and the EVA1 are capable of true 4K and High Dynamic Range (HDR) making them the ideal solution for cinema, television, documentary and live event production.
Communication Solutions offers world leading telephony systems, SIP terminal devices and professional 'network' scanners giving you the freedom to focus on the communication and not the connection.
Computer Product Solutions help mobile workers improve productivity with its range of Toughbook rugged notebooks, business tablets, handhelds and electronic point of sales (EPOS) systems. As European market leaders, Panasonic had a 57% revenue share of sales of rugged and durable notebooks and held a 56% revenue share of sales of rugged business tablets in 2017 (VDC Research, 2018).
Industrial Medical Vision manufactures applications for various segments such as medical, life science, ProAV or industrial. The product portfolio includes complete and OEM camera systems, providing the freedom to see what can't be seen.
Security Solutions, built on a heritage of providing evidential quality CCTV footage. Delivering the highest image quality in all environmental conditions using our highly reliable, advanced technology cameras and image recording systems, giving you the freedom to feel secure.
Visual System Solutions offers the widest range of professional displays and projectors and allows Audio Visual professionals the freedom to create. It leads the European high brightness projector market with a 39% market revenue share (Futuresource >5klm FY17 Q3, excl. 4K & digital cinema).
About Panasonic
Panasonic Corporation is a worldwide leader in the development of diverse electronics technologies and solutions for customers in the consumer electronics, housing, automotive, and B2B businesses. Celebrating its 100th anniversary in 2018, the company has expanded globally and now operates 591 subsidiaries and 88 associated companies worldwide, recording consolidated net sales of Euro 61.4 billion for the year ended March 31, 2018. Committed to pursuing new value through innovation across divisional lines, the company uses its technologies to create a better life and a better world for its customers. To learn more about Panasonic: http://www.panasonic.com/global