SEOUL, SOUTH KOREA, FEBRUARY 20 - POSBANK Co., Ltd., a leading global provider of Point of Sale solutions, will showcase its newest retail POS products and solutions at EuroCIS 2018, the leading trade fair for retail technology, Feb 27 - Mar 1 in Düsseldorf, Germany.
At the show, POSBANK will present the latest Point of Sale solutions to enable retailers to maximize operation efficiency and enhance customer experiences.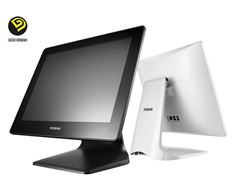 APEXA PRIME
For a retail POS solution, a supermarket POS solution will be a highlight on the show floor. The E-Gate™, IO expansion box, is the ideal device for retailers who want the simplest and easiest operation or maintenance of POS terminals.
POSBANK's Android-based and all-in-one POS terminal, the DCR™ A1, will be revealed for businesses in both retail and hospitality segments. The DCR™ A1, with a built-in printer and integrated peripherals, will allow business owners to take advantage of streamlined operation and reduced cost.
Mobile retail solutions, featuring 10-inch and 8-inch rugged IP-rated tablets supporting both Windows and Android OS, will be used as a compact Point of Sale device and enhance customer services on the shop floor.
Some of Point of Sale products and solutions featured in the booth will include;
- Retail POS Solutions focused on checkout and self-checkout service for big retailers, featuring POSBANK's POS terminal, APEXA® PRIME
- Business tablets, P TAB10 and P TAB8 designed for mobile retail solutions
- Compact POS solutions for small merchants supported by super compact POS terminal, DCR™ x86
- An array of Android-based POS terminals including DCR™ A1
- Latest POS terminals providing Intel® 6th generation Skylake technology
To experience more on POSBANK's newest retail POS solutions offering much easier operation and rich consumer experiences, please visit POSBANK booth (#D52, hall 10) at EuroCIS 2018.
About POSBANK
POSBANK is a leading global provider of Point of Sale solutions serving more than 200 customers in over 80 countries around the world. Based on customer-focused engineering and over 23 years' of experience, POSBANK offers a wide range of POS terminals, touchscreen monitors, POS printers, peripherals and POS software for retail and hospitality industries. Currently POSBANK focuses more on innovative POS terminals and custom solutions that meet specific needs of various global customers. For more information, visit www.posbank.com and contact us at sales@posbank.com.
Press Contact
Daniel Kim
Marketing manager, POSBANK Co., Ltd.
Email: marketing01@posbank.co.kr
Tel: +82-2-2626-9109