Expansion of product portfolio based on Centile's unified communications platform
High-tech offices officially launched by the Secretary of State for Wales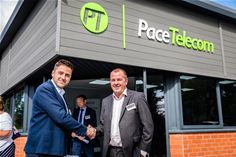 Sophia Antipolis, France, July 10 2018 – Wrexham-based telecom service provider Pace Telecom has unveiled its new telecom services, based on the ISTRA cloud platform provided by Centile, one of Europe's leading providers of Cloud PBX, unified communications and fixed mobile convergence for service providers and integrators.
Pace Telecom gave the first public demonstration of the new services at its open day on July 9th, held at its remodelled high-tech offices in Wrexham which were officially opened Alan Cairns, the Secretary of State for Wales. July 2018 also marks Pace Telecom's 25th anniversary.
The new telecom service include cloud-based call recording and call-reporting, both introduced in direct response to feedback from Pace Telecom's business customers and fully integrated into Centile's ISTRA platform. Pace Telecom is also offering its customers MOBIS, Centile's award-winning mobile app that gives Android and iOS smartphone users access to all their business communications and collaboration services, such as CRM and ERP.
Says Pace Telecom's CEO Jamie Hughes, "Centile's ISTRA platform has helped us create a scalable, flexible and innovative framework on which customers can rely on for years to come. Centile's service is reliable, it offers advanced technology, has a proven market track record and good support, which is essential to us."
Pace Telecom recruitment and acquisition strategy
Mr Hughes continues, "2018 is a pivotal year for us. As well as the new services and offices, we are actively recruiting new staff in the area and we are also embarking on an acquisition strategy, to further augment our skillset with complementary technologies and services."
Bertrand Pourcelot, Director General of Centile attended the launch ceremony and says, "We're very proud that our technology has supported Pace Telecom's rapid expansion over the past few years. It continues to be a very innovative and forward-thinking telecom service provider in the UK, with a clear understanding of what business customers want and always staying one step ahead."
About ISTRA
ISTRA supports a wide variety of services, such as PBX features, unified messaging, auto attendant, voicemail to email, boss/secretary filtering, call barring, groups management, IVRs, ACDs, audio and video conferencing with screen and file sharing, and presence. Through its integral FMC features, ISTRA also gives telecom service providers Call Line Identity (CL) for both fixed and mobile outgoing calls; convergence voicemail; mobile phone status; convergent calls history; self-care for both fixed and mobile lines; and voice call continuity.
About Centile Telecom Applications SAS
Centile Telecom Applications is the leading European developer of unified communications platforms for operators and integrators. The Centile Any3 architecture – Any service, over Any network, on Any terminal – addresses the needs of businesses and operators seeking to deliver advanced professional communications services to fixed and mobile users independent of the device they're using or the network they're connected to. In the fast-moving market for fixed and mobile communications, Centile ISTRA solutions offer customers the flexibility and agility to rapidly develop innovative new services in response to ever-changing customer requirements. Centile has been awarded the Frost & Sullivan "Cloud Communication-Value Price/ Performance Leadership" and the 2018 Internet Telephony Product of the Year Award. For more information, please visit http://www.centile.com
About Pace Telecom
Established in 1993, Pace Telecom is a leading provider of communication services – broadband, mobile, fixed wire and phone systems. As well as traditional phone systems, Pace Cloud, our own hosted VoIP (Voice over Internet Protocol) system provides businesses with increased flexibility and functionality to grow business. With offices across the UK, we are a nationwide company, with customers across a range of industries. Find out more about our products and services today. http://www.pacetelecom.co.uk
Media Contacts
Maxine Ambrose
Ambrose Communications
maxineambrose@ambrosecomms.co.uk
Tel : +44 1491 412944
Centile Telecom Applications SAS
Karine Mérouze
MarCom Manager
karine.merouze@centile.com
Tel : +33 4 97 23 12 65
Pace Telecom
Jamie Hugues
CEO
jamiehughes@pacetelecom.co.uk