Tokyo, Japan - April 3rd, 2017. The jury has reached its decision: After several days of assessing more than 5,500 products from 54 different countries, Palmo iPhone Case received the distinction "Red Dot". With Palmo, ECBB Co., Ltd. (Tokyo, Japan), a leading manufacturer and designer office of high quality made-in-Japan gadget accessories, has created an outstanding design that the expert committee for the Red Dot Award: Product Design 2017 has recognised with the internationally sought-after seal of quality.
Palmo is the only award-winning iPhone case or case for other phones in the category "Mobile phones, tablets and wearables" in the Red Dot Award: Product Design 2017. It is an ultralight anti-shock fall-prevention iPhone case specifically designed for reducing smartphone disabilities such as "text neck", "text thumb" and finger distortions. Its ergonomic design and flexible silicone material allow a finger to be gripped between the phone and the case, which not only prevent the phone to fall off a palm, but also provide improved stability with better single-hand control and reduce unconscious stress for dropping the phone. Its minimalistic X-Form design efficiently dissipates heat off the phone while it effectively protects the corners of the phone. It has been tested by a third party laboratory (Institute of Sport, Senshu Univ. - Tokyo, Japan) for reducing smartphone disabilities and psychological stress, and validated performance by the US Military for its shock/drop resistance (MIL-STD-810G). For its visually and sensually smooth design, Palmo has also won Japan's notable design award (GOOD DESIGN AWARDS 2015).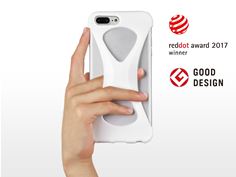 Palmo iPhone Case
Professor Dr. Peter Zec, founder and CEO of the Red Dot Award: "The Red Dot winners are pursuing the right design strategy. They have recognised that good design and economic success go hand in hand. The award by the critical Red Dot jury documents their high design quality and is indicative of their successful design policy."
Yasuhiro Matsuura, CEO of ECBB Co., Ltd:
"We are extremely honored and proud to have received such high recognition for our work at Red Dot Award. We continuously work hard to share the success and deliver this high-design product to consumers all over the world."
Palmo, with its design patented/patent-pending in EU, US, China and other major countries, is compatible for all the recent iPhone/iPad models and available for sale not only on ECBB's EM Store but also on the following Amazon marketplaces - UK, Germany, France, Spain, Italy, USA, Canada, Mexico and Japan (See also Appendix 1 for availability in each marketplace). Palmo will be exhibited at the Red Dot Design Museum Essen from July 3rd, 2017 along with other winners. The Red Dot Design Yearbook 2017/2018 also comes out on July 3rd. The international reference work for award-winning design presents all of the year's winning products including Palmo. They will also be presented on the Internet, in particular in the Red Dot online presentation, the Red Dot App and on the design platform Red Dot 21.
To share the success, ECBB is actively looking for retail and distribution partners from all over the world. In addition to press inquiries, please contact ECBB for any business inquiries as well.
About ECBB Co., Ltd.
ECBB with its headquarter in Tokyo, Japan, was founded by Yasuhiro Matsuura, CEO, in 1999 to provide engineering and IT consulting services. In 2015, ECBB enters into a manufacturing and designing space and won its first award at GOOD DESIGN AWARDS 2015 in Tokyo, Japan for Palmo iPhone case. ECBB owns its designing office in Tokyo and operates a free school in Bangladesh for orphans to help their educational development. More information is available at https://ecbb.co.jp/en.
Press & Business contact at ECBB Co., Ltd.
Yoshi Kosuge
Head of International Business Development & Marketing
AY Bldg. 2F
4-12-2 Sendagaya
Shibuya-ku, Tokyo 151-0051
JAPAN
Phone: +81 3 5369 8677
ecbb.eu@ecbbmakers.com
https://ecbb.co.jp/en/
Press contact at Red Dot:
Catharina Hesse
Communications Manager
Design Zentrum Nordrhein Westfalen
Gelsenkirchener Str. 181
45309 Essen
Germany
Phone: +49 201 30104-50
c.hesse@red-dot.de
www.red-dot.de/press
About the Red Dot Design Award:
In order to appraise the diversity in the field of design in a professional manner, the Red Dot Design Award breaks down into the three disciplines of Red Dot Award: Product Design, Red Dot Award: Communication Design and Red Dot Award: Design Concept. The Red Dot Award is organised by Design Zentrum Nordrhein Westfalen and is one of the world's largest design competitions. In 1955, a jury convened for the first time to assess the best designs of the day. In the 1990s, Red Dot CEO Professor Dr. Peter Zec developed the name and brand of the award. Ever since, the sought-after Red Dot award has been the revered international seal of outstanding design quality. More information is available at www.red-dot.org.