TOUGHPAD 4K UT-MB5
BERLIN, GERMANY 5TH SEPTEMBER 2013
Panasonic today unveiled Toughpad 4K UT-MB5, the world's first 20 inch tablet with a 4K resolution display designed for sales, marketing and media professionals as part of a groundbreaking new Ultra-High Definition Toughpad range. A specialist performance model, ideal for 3D modelling and CAD applications, for use by technical professionals such as engineers, architects and designers will follow in the first half of 2014.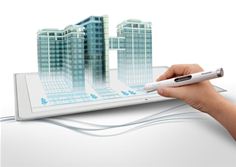 Toughpad 4K 2
Offering a new digital viewing experience called 4K which is more than four times better than HD at 3840 x 2560 pixels, the Toughpad 4K UT-MB5 is a business rugged, portable tablet that breaks new ground in digital viewing with 4K resolution, collaborative working with touchscreen capabilites and a unique Panasonic Electronic Touch Pen* for pin-point accuracy and annotation.
Designed with photographers, marketers and sales people in mind, the Toughpad 4K UT-MB5 has a large 20 inch screen with 3840 x 2560 pixels, 15:10 aspect ratio and 230 pixels per inch making it perfect for displaying large images, A3 drawings, brochures and multimedia. The advanced display and resolution also makes zooming and resizing images instantaneous and crystal clear.
Unique Panasonic Electronic Touch Pen*
The portable tablet comes with a unique new Panasonic Electronic Touch Pen* that is super intuitive and provides paper-like feel for freehand sketching, annotation or handwriting. The pen uses infrared signals to distinctly read every single pixel on the screen and communicates it with the tablet via Bluetooth, making it stand apart from commonly found capacitive digitizers. It is so accurate because it is able to recognise every individual pixel on the tablet screen, can recognize & record the pen tilt and can interpret 2048 levels of pressure, ensuring drawing or handwriting is reflected perfectly to the smallest detail.
"There are a wide range of incredible applications for this exciting new Toughpad 4K, which harnesses the stunning visual developments of 4K resolution technology," said Jan Kaempfer, Marketing Director for Panasonic Computer Product Solutions. "Photography and design studios will be able to see details and edit their images and videos better than ever before, luxury goods marketers and sales people will be able to present their products on a large screen tablet in such amazing detail that it will make customers want to reach out, touch and buy the products. With this device seeing really is believing."
World's Lightest and thinnest
With its 15:10 aspect ratio, the Toughpad 4K UT-MB5 is the lightest and thinnest portable 20 inch screen tablet, weighing in at 2.35kg and just 12.5mm thick. Powered by an Intel® CoreTM i5 vProTM CPU, up to 8GB RAM and NVIDIA® GeForce® graphics, the UT-MB5 is able to display very high resolution videos smoothly and without buffering.
Navin Shenoy, Vice President at Intel, said "I'd like to personally extend my congratulations to Panasonic. I'm excited about the launch of world's first 20 inch tablet with 4K display, the Toughpad based on Intel Core processors. I'm pleased with the partnership that Intel and Panasonic have had for many years. Panasonic is the company that keeps innovating with new form factors and user experiences and the Toughpad is the latest proof of Panasonic's innovation excellence, of course based on the Intel technology. I wish Panasonic a very successful launch event and I'm looking forward to seeing even more in the near future. Again, congratulations from all of us here at Intel on the launch of this one of a kind Toughpad".
The Toughpad 4K UT-MB5 comes pre-installed with Windows 8.1 Pro making the device future proof, allowing enterprises to use all their existing applications and Office products and enabling IT departments to migrate with ease. Combined with accessories such as the Panasonic desktop cradle and carry solution, the device can also be used as both a desktop PC and tablet, reducing the need for designers and engineers to use multiple devices.
Goran Mataic, Channel Executive at Microsoft Corp., said "It is fitting that this remarkable Toughpad 4K tablet from Panasonic uses the new Windows 8.1 operating system to bring touch to life. This product includes a great touchscreen, configurability, security, improved user interface and multimedia capabilities that commercial customers will be delighted with."
Built for Business
The Toughpad 4K UT-MB5 also offers all the necessary interfaces to make it a practical device in the business environment, including USB 3.0, SD card slot, headphone jack and optional smart card reader. The cradle also offers Ethernet and HDMI connectivity.
With a 1280 x 720 pixel built-in front camera, combined with the 20 inch screen, video conferencing becomes a simple and enjoyable experience. With 256 GB SSD and SD card slot, the device has plenty of space to store applications and data.
And to ensure you can stay connected when on the move, the device offers Bluetooth and WLAN connectivity.
Reflecting Panasonic's rugged mobile computing leadership status in Europe, the Toughpad 4K UT-MB5 is Business Rugged meaning it can withstand drops of up to 76cm (bottom side, while operating)** and temperatures from +5 to +35C**.
Performance for CAD to come
A Toughpad 4K Performance model, available in the first half of 2014, has been designed for CAD design and 3D simulation, will be equipped with a more powerful Intel® CoreTM CPU and NVIDIA® graphics. This new Performance model, which can replace the traditional CAD workstation, has received positive first impressions from CAD and 3D design software specialists Dassault Systemes.
"We are very excited about this new Panasonic tablet. It combines remarkable resolution, computing power and portability to provide support for our 3DEXPERIENCE Platform," said Laurent Cherprenet, Solution Experience Senior Director, High-Tech, Dassault Systemes "We are looking forward to the delightful customer experiences that our respective customers will be able to create".
The Toughpad 4K UT-MB5 Standard model will be available from November 2013 and will retail from GBP 3335 + vat. The availability and pricing of Toughpad 4K Performance model will be announced at later date.
The Toughpad 4K UT-MB5 Standard model will be on display at the Panasonic 4K stand (Hall 5.2/101) at the IFA consumer electronics show in Berlin from September 6th-11th 2013.
* Option
** Tested at Panasonic factory
Ends
Press contact:
Wesley Hutchins, The Amber Group
wesley@ambergroup.net
Tel: 0118 900 1133
About Panasonic System Communications Company Europe (PSCEU)
PSCEU is the European branch of Panasonic Systems Communications Company, the global B2B division of Panasonic. PSCEU's goal is to improve the working lives of business professionals and help their organizations efficiency and performance. We help organizations capture, compute and communicate all sorts of information: image, voice, and textual data. Products include PBX telephone switches, document printers, professional cameras, projectors, large visual displays and rugged mobile PCs. With around 500 staff, engineering design expertise, global project management capability and a large European partner network, PSCEU offers unrivalled capability in its markets.
The new PSCEU is made up of four business divisions:
Communication Solutions including professional scanners, multifunctional printers, telephony systems and HD video conferencing systems.
Visual System Solutions including projectors, interactive whiteboards, presentation aids and displays. Panasonic
is the European market leader in projectors with 28% revenue share.
Professional Camera Solutions including professional audio visual, security and industrial medical vision (IMV) technology. Panasonic is one of the top two professional camera vendors in Europe.
Computer Product Solutions including the Toughbook range of rugged notebooks, Toughpad business tablets and electronic point of sales (EPOS) systems. Panasonic Toughbook had 63.3% unit share of the European rugged and durable notebook market and a 29.2 unit share of the rugged business tablet market in 2012 (VDC, March 2013).
Panasonic Corporation is a worldwide leader in the development and engineering of electronic technologies and solutions for customers in residential, non-residential, mobility and personal applications. Since its founding in 1918, the company has expanded globally and now operates over 500 consolidated companies worldwide, recording consolidated net sales of 7.30 trillion yen (68 billion euros) for the year ended March 31, 2013. Committed to pursuing new value through innovation across divisional lines, the company strives to create a better life and a better world for its customers. For more information about Panasonic, please visit the company's website at www.toughbook.eu
Intel, the Intel logo, Intel Core, Intel vPro, Core Inside and vPro Inside are trademarks of Intel Corporation in the U.S. and other countries.
All other brand names shown are the registered trademarks of the relevant companies. All rights reserved.
All working conditions, times and figures quoted are optimum or ideal levels and may differ as a result of individual and local circumstances.
Specifications given herein may be changed at any time without prior notice.