Designed for the new wave of mobile data applications for emergency services personnel
BRACKNELL, UK. 18 September 2019 – Panasonic today announced that the TOUGHBOOK 33 rugged notebook is the first Microsoft Windows device to be authorised for use on the new Emergency Services Network (ESN). The accreditation means that the Panasonic TOUGHBOOK 2-in-1 detachable device, already popular with emergency services across the country, can now be used by all emergency service personnel on the new network. Panasonic has also worked closely with its modem manufacturer and the ESN test team to ensure that existing TOUGHBOOK 33 devices, already in use by the emergency services, can be easily upgraded at no additional cost.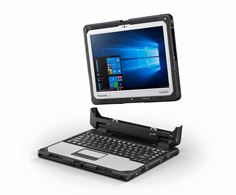 TOUGHBOOK 33
The Home Office is leading a pan departmental, cross government programme to deliver the new Emergency Services Network (ESN) critical communications system. The aim is to deliver a much better voice and data service to the emergency services. This will replace the current Tetra Network used by the emergency services in Great Britain.
Customers for the ESN include the police, fire and rescue, and ambulance services as well as a range of other users stretching from local authorities and utility services to first responders like inshore rescue. There are 300,000 frontline emergency service users who will depend on ESN, using handheld devices or operating equipment in 50,000 vehicles, 115 aircraft and 200 control rooms.
ESN will transform emergency services' mobile working, especially in remote areas and at times of network congestion. It will create a single platform for sharing data and imagery and enable faster adoption of successful mobile applications. The software that ESN runs on is being provided by Motorola Solutions and the infrastructure is being built by EE.
New mobile applications
"Panasonic TOUGHBOOK devices are already popular with emergency services across the country as a reliable mobile computing tool for critical communications," said Will Holmes, Emergency Services Corporate Sales Manager for Panasonic TOUGHBOOK. "The ability to use the TOUGHBOOK 33 device on the new network opens up a whole new raft of mobile data applications for emergency services."
As well as deployed in the front cabs of emergency vehicles as Mobile Data Terminals (MDTs), the Panasonic TOUGHBOOK 33 devices are also commonly used as demountable devices to accompany personnel when they leave the vehicles. The rugged devices with the ESN network can support teams in a range of new data driven applications when away from the vehicles. These include assisting fire crews with detailed schematics of vehicles to help rescue trapped people or quickly access safety data on chemicals or potentially harmful materials stored at a call-out site. The Panasonic devices are also ready to use with a range of new technology, including being body worn, viewing images from drones, thermal imaging and 360° cameras.
Ideal for emergency services
Panasonic TOUGHBOOK notebooks and tablets are popular with the emergency services because of their portability, optimised connectivity, clear daylight readable displays, rugged design and Panasonic's ability to design total solutions around the device, including specialist vehicle mounts and communications solutions, as well as device maintenance and management.
The Panasonic TOUGHBOOK 33 notebook is a 2-in-1 detachable rugged device with a 12.0" screen designed for use in all extreme weather conditions. With hot swappable twin batteries, detachable keyboard, and highly configurable capabilities, the device brings unrivalled flexibility and performance for emergency services mobile computing.
Press contact:
Michael Bartley
Michael@ambergroup.net
+44 (0)118 949 7750
About Panasonic System Communications Company Europe (PSCEU)
Our quest is to make technology work invisibly together and free businesses to succeed. We believe technology should just work. That businesses will succeed if they can simply focus on their customers, in the knowledge that all the technologies delivering their capabilities work together. That is why we are dedicated to developing products and solutions that are so integrated with our customer's way of working, that they are almost invisible – the workhorse in the background that powers business success.
PSCEU is made up of six product categories:
Broadcast & ProAV gives you the freedom to tell the story with its high quality products and solutions, which ensure smooth operation and excellent cost-performance across a range of remote cameras, switchers, studio cameras and ENG P2HD. The cinema camera range of VariCam models and the EVA1 are capable of true 4K and High Dynamic Range (HDR) making them the ideal solution for cinema, television, documentary and live event production.
Communication Solutions offers world leading telephony systems, SIP terminal devices and professional 'network' scanners giving you the freedom to focus on the communication and not the connection.
Mobile Solutions Business Division helps mobile workers improve productivity with its range of Toughbook rugged notebooks, business tablets, handhelds and electronic point of sales (EPOS) systems. As European market leaders, Panasonic had a 48% revenue share of sales of rugged and durable notebooks and tablets in 2018 (VDC Research, March 2019).
Industrial Medical Vision manufactures applications for various segments such as medical, life science, ProAV or industrial. The product portfolio includes complete and OEM camera systems, providing the freedom to see what can't be seen.
Security Solutions, built on a heritage of providing evidential quality CCTV footage. Delivering the highest image quality in all environmental conditions using our highly reliable, advanced technology cameras and image recording systems, giving you the freedom to feel secure.
Visual System Solutions offers the widest range of professional displays and projectors and allows Audio Visual professionals the freedom to create. It leads the European high brightness projector market with a 39% market revenue share (Futuresource >5klm FY17 Q3, excl. 4K & digital cinema).
About Panasonic
Panasonic Corporation is a worldwide leader in the development of diverse electronics technologies and solutions for customers in the consumer electronics, housing, automotive, and B2B businesses. The company, which celebrated its 100th anniversary in 2018, has expanded globally and now operates 582 subsidiaries and 87 associated companies worldwide, recording consolidated net sales of Euro 62.5 billion for the year ended March 31, 2019. Committed to pursuing new value through innovation across divisional lines, the company uses its technologies to create a better life and a better world for its customers. To learn more about Panasonic: https://www.panasonic.com/global