Voice and data capable with Microsoft Windows Embedded 8 Handheld operating system or Android
BRACKNELL, UK 24TH FEBRUARY 2014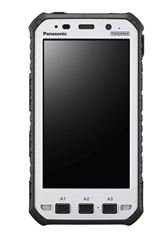 Panasonic 5
Panasonic today unveiled plans at Mobile World Congress to broaden its Toughpad range of rugged series in Autumn 2014 with a 5" rugged toughpad. The 5" device is designed for mobile workers who need a rugged device that can handle voice and data in the field or in challenging environments, including the emergency services and public safety as well as logistics, factories and warehouses.
Following the Panasonic announcement at the NRF2014 EXPO on January 13th, the 5" toughpad will be available with Microsoft Windows Embedded 8 Handheld operating system as well as Android. The rugged 5" toughpad is aimed at organisations looking for smart but durable devices designed for the mobile work environment.
The 5" toughpad promises a market leading long battery life, with hot swap capabilities and quick charging features to enable users to keep working when on the move or in the field. The glove–enabled touchscreen and outdoor viewable display with integrated high resolution camera and bar code reader will make working with the device easy in any environment. In line with the Panasonic Toughpad and Toughbook range, the new device will be built to the same rugged standards for knocks, drops, extreme temperatures, water and dust protection and deliver new benchmarks for drop and ingress protection for devices.
Following Panasonic's philosophy of delivering rugged devices with the flexibility to be tailored for specific commercial uses, the toughpad will allow peripherals to be added to the device using fixing screws or via the internally accessible micro USB port. The toughpad has also been designed for versatile and comfortable use by mobile workers with optional accessories such as hand-straps and holsters to create wearable PC solutions.
With two versions of operating system planned, including voice and data options, the 5" tablet voice version will come with Panasonic noise reduction technology to ensure crystal clear communication even in areas with loud background machine or mechanical noise.
"Many businesses are looking for solutions to their business communication needs in a work environment but haven't found it in the consumer mobile devices available," said Jan Kaempfer, Head of European Marketing at Panasonic Computer Product Solutions. "The 5" toughpad with voice is the first of a new generation of rugged devices for these workforces and promises to be one of the toughest and longest working 5 inch device in the market. The new form factor is perfect for those in emergency services and public safety as well as for logistics, transportation, facilities, construction and field engineers."
The 5" toughpad will be introduced to selective European markets in Autumn 2014 and will be the latest addition to the Panasonic Toughpad range of rugged devices. Designed to transform the way mobile workers operate and to radically improve productivity, Toughpad now offers a range of rugged devices with 20 inch to 5 inch displays.
Ends
Press contact:
Wesley Hutchins
The Amber Group
0118 900 1133 / 07585 807 905
About Panasonic System Communications Company Europe (PSCEU)
PSCEU is the European branch of Panasonic Systems Communications Company, the global B2B division of Panasonic. PSCEU's goal is to improve the working lives of business professionals and help their organizations efficiency and performance. We help organizations capture, compute and communicate all sorts of information: image, voice, and textual data. Products include PBX telephone switches, document printers, professional cameras, projectors, large visual displays and rugged mobile PCs. With around 500 staff, engineering design expertise, global project management capability and a large European partner network, PSCEU offers unrivalled capability in its markets.
The new PSCEU is made up of four product categories:
Communication Solutions including professional scanners, multifunctional printers, telephony systems and HD video conferencing systems.
Visual System Solutions including projectors, interactive whiteboards, presentation aids and displays. Panasonic is the European market leader in projectors with 28% revenue share.
Professional Camera Solutions including professional audio visual, security and industrial medical vision (IMV) technology. Panasonic is one of the top two professional camera vendors in Europe.
Computer Product Solutions including the Toughbook range of rugged notebooks, Toughpad business tablets and electronic point of sales (EPOS) systems. Panasonic Toughbook had 63.3% unit share of the European rugged and durable notebook market and a 29.2 unit share of the rugged business tablet market in 2012 (VDC, March 2013).
About Panasonic Corporation
Panasonic Corporation is a worldwide leader in the development and engineering of electronic technologies and solutions for customers in residential, non-residential, mobility and personal applications. Since its founding in 1918, the company has expanded globally and now operates over 500 consolidated companies worldwide, recording consolidated net sales of 7.30 trillion yen (68 billion euros) for the year ended March 31, 2013. Committed to pursuing new value through innovation across divisional lines, the company strives to create a better life and a better world for its customers. For more information about Panasonic, please visit the company's website at www.toughbook.eu