In full working order after flying 34,000 metres into near space, experiencing temperatures of -67 Celsius and plunging back to earth at over 250 miles per hour
BRACKNELL, UK. 6th January 2017 - Panasonic Toughpad rugged tablet and handheld devices are renowned for their durability but in the most extreme test to date two devices have survived being sent into space. Hanging from a meteorological balloon and surrounded by cameras to film the journey, the Toughpad FZ-N1 handheld and FZ-G1 tablet were sent up over 34,000 metres to near space on two separate flights. The devices survived temperatures of -67 Celsius before the balloon exploded and they plunged back to earth at speeds in excess of 250 miles per hour.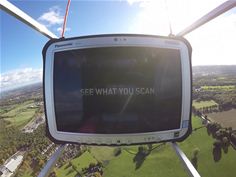 FZ-G1 Journey to Space
"We know our devices are tough but even our technical experts were not sure if the Toughpad tablets would survive this extreme test," said Jon Tucker, European Product Manager, at Panasonic Computer Product Solutions. "But they reached near space, 3 times the normal flying height of a jet and well above the Armstrong line, where humans cannot survive without pressurised suits, and then the fall to earth. Apart from a couple of knocks and scratches both devices were in perfect working order and were still recording."
The Panasonic Toughpad devices were launched by Dr Chris Rose and Dr Alex Baker from Sentintospace. The firm specialises in sending and filming objects in near space and has also sent the Specsavers bear for an out of this world advertising campaign and a portable television for a Kelvin Jones music video. The team prepares the balloon and payload, calculates the flight path, liaises with the Civil Aviation Authority for clearance and then tracks and recovers the payload when it falls back to earth.
"Sending the Toughpad tablets into near space was our biggest challenge yet," said Chris. "When the balloon explodes, the payload plummets back to earth creating some spectacular footage. I didn't believe for a moment that they would survive the extreme conditions of near space. These devices certainly live up to their reputation."
Panasonic Toughbook notebooks and Toughpad tablets and handheld devices are designed to help mobile workers improve productivity wherever they have to operate. In order to operate in harsh environments, the fully rugged devices are shock, drop and vibration tested and designed to withstand water, dust and extreme temperatures. They are used across a range of different industries and services including the military, emergency services, logistics, retail, utilities and transportation.
To see the Panasonic Toughpad devices on their near space journey, visit: http://computers.panasonic.eu/we-have-lift-off
Press contact:
Michael Bartley
The Amber Group
michael@ambergroup.net
+44 (0)118 949 7750
About Panasonic System Communications Company Europe (PSCEU)
PSCEU is the European branch of Panasonic Systems Communications Company, the global B2B division of Panasonic. PSCEU's goal is to improve the working lives of business professionals and help their organisations' efficiency and performance. We help organisations capture, compute and communicate all sorts of information: image, voice, and textual data. Products include PBX telephone switches, document printers, professional cameras, projectors, large visual displays, rugged mobile PCs and fire alarms solutions. With around 400 staff, engineering design expertise, global project management capability and a large European partner network, PSCEU offers unrivalled capability in its markets.
PSCEU is made up of four product categories:
Communication Solutions, including professional scanners, multifunctional printers, telephony systems and SIP terminal devices.
Visual System Solutions, including projectors and professional displays. Panasonic offers the widest range of Visual products, and leads the European projector market with 28% revenue share (Futuresource B2B market tracking, Q1/2014).
Professional Camera Solutions, including Broadcast & ProAV products, security, fire alarm systems and industrial medical vision (IMV) technology. Panasonic is one of the top two professional camera vendors in Europe.
Computer Product Solutions helps mobile workers improve productivity with its range of Toughbook rugged notebooks, Toughpad business tablets and electronic point of sales (EPOS) systems. As European market leaders, Panasonic Toughbook had a 66% revenue share of sales of rugged and durable notebooks and Panasonic Toughpad held a 59% revenue share of sales of rugged business tablets in 2015 (VDC Research, March 2016).
Disclaimer:
All brand names shown are the registered trademarks of the relevant companies. All rights reserved.
All working conditions, times and figures quoted are optimum or ideal levels and may differ as a result of individual and local circumstances.
Specifications, product availability and price given herein may be changed at any time without prior notice.