Cognito joins Panasonic Toughbook's Independent Software Vendor Engage Programme
BRACKNELL, UK. 22nd FEBRUARY 2018 Panasonic today announced that Cognito iQ, developer of advanced mobile workforce solutions and operational performance analytics, has joined its Independent Software Vendor (ISV) programme.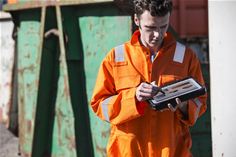 CF-20 & Cognito
The partnership will enable Panasonic and Cognito iQ to offer UK customers its best of breed mobile workflow and operational performance analytics (OPA) solutions, along with the most ergonomically designed and toughest mobile computing devices from the Panasonic Toughbook notebook, tablet and handheld range.
Dual benefits
Cognito iQ Mobile, an intelligent mobile workflow solution designed primarily for the field service, facilities management and retail logistics sectors, connects workers in the field with the back office in real time. Providing field workers with an easy to use, intuitive workflow, with access to important information to guide the worker through tasks.
The second part of the Cognito iQ solution is an analytics tool. Cognito iQ OPA, available as a stand-alone solution, provides real time analytics from the field presented in clear, easy to understand dashboards. The business process dashboard provides real time visibility of task allocation and status, first time fix rates, tasks completed within Service Level Agreements (SLA) and tasks falling outside SLA. Cognito iQ OPA also enables the comparison of past and current performance levels to identify gaps in process, regional and seasonal trends, best employee performance and how today's data compares with historic performance.
Konica Minolta proven success story
Konica Minolta Business Solutions, a leading document and print solutions and services provider, is already using Cognito iQ's software applications and Panasonic Toughpad tablets to set the industry standard for customer service.
Using the combination of Cognito iQ technology and Panasonic Toughpad tablets, Konica Minolta re-engineered the way they work to improve customer service, increase productivity and transform employee engagement.
Konica Minolta's 280 field service technicians use the Cognito iQ solution for the latest in workflow management giving them a real-time feed to and from head office via Panasonic Toughpad tablets.
The implementation of Cognito iQ OPA, the latest in field workforce analytics, has given Konica Minolta unparalleled visibility of their engineering operation; resulting in a 30% increase in productivity, increased customer satisfaction and reduced staff turnover.
Sylvaine Smith, European Business Development Manager for Panasonic Computer Product Solutions, said: "Cognito iQ's rich heritage in mobile workforce solutions and our already successful track record of delivering transformational benefits for mutual customers such as Konica Minolta meant that Cognito iQ were a natural choice for our ISV Programme, specifically in the UK. Together, we provide a total mobile workforce solution for businesses in the field engineering sector."
Georgina Barker, Channel Manager at Cognito iQ added: "Businesses need mobile workforce solutions that transform the productivity and performance of their employees and the key to getting the best from these deployments is to ensure that the hardware and software applications work seamlessly together. By choosing Panasonic and Cognito iQ businesses can be assured that they not only have the best hardware and software providers but that both organisations are also committed to collaborating together to deliver the best possible solutions for our customers."
For further information on the Panasonic Toughbook range of mobile computing solutions visit: www.toughbook.eu.
For more information about Cognito iQ visit: www.cognitoiq.com
To view the full Konica Minolta written case study please visit https://business.panasonic.co.uk/computer-product/force-download/180141/konica-minolta.pdf
To view full Konica Minolta video case study please visit: https://www.youtube.com/v/aD-w742_u0c
Press contact:
Michael Bartley
The Amber Group
michael@ambergroup.net
+44 (0)118 949 7750
About Panasonic System Communications Company Europe (PSCEU)
Panasonic System Communications Company Europe's (PSCEU) goal is to improve the working lives of business professionals and help their organisations' efficiency and performance through world leading technology. We help organisations capture, compute and communicate all sorts of information: image, voice, and textual data. With around 350 staff, engineering design expertise, global project management capability and a large European partner network, PSCEU offers unrivalled capability in its markets.
PSCEU is made up of six product categories:
Broadcast & ProAV offers high quality products and solutions to ensure smooth operation and excellent cost-performance to end-users in the areas of remote camera solutions, switchers, studio camera solutions and ENG P2. The VariCam line-up of professional digital video cameras are capable of true 4K and High Dynamic Range (HDR) which makes them the ideal solution for cinema, television, documentary and live event production.
Communication Solutions offer world leading communication solutions including professional scanners, telephony systems and SIP terminal devices.
Computer Product Solutions help mobile workers improve productivity with its range of Toughbook rugged notebooks, Toughpad business tablets and electronic point of sales (EPOS) systems. As European market leaders, Panasonic Toughbook had a 67% revenue share of sales of rugged and durable notebooks and Panasonic Toughpad held a 56% revenue share of sales of rugged business tablets in 2016 (VDC Research, March 2017).
Industrial Medical Vision provides applications for various segments such as medical, life science, ProAV or industrial. The product portfolio includes complete and OEM micro camera solutions. End-users, system integrators or distributors can choose from a range of full product solutions and component vision technology.
Security Solutions, including video surveillance cameras and recorders, video intercom systems and intruder alarms.
Visual System Solutions, including projectors and professional displays. Panasonic offers the widest range of Visual products, and leads the European high brightness projector market with a 37.20% market revenue share (Futuresource >5klm (FY16 April 2015 - March 2016, excl. 4K & digital cinema).
About Panasonic
Panasonic Corporation is a worldwide leader in the development of diverse electronics technologies and solutions for customers in the consumer electronics, housing, automotive, and B2B businesses. Celebrating its 100th anniversary in 2018, the company has expanded globally and now operates 495 subsidiaries and 91 associated companies worldwide, recording consolidated net sales of Euro 61.711 billion for the year ended March 31, 2017. Committed to pursuing new value through innovation across divisional lines, the company uses its technologies to create a better life and a better world for its customers. To learn more about Panasonic: http://www.panasonic.com/global