Panasonic rugged devices capture vital data and help keep team in touch with the outside world
Bracknell, UK. 26th July 2019 - Panasonic, Europe's leading rugged computing device provider, has equipped the scientific underwater exploration expedition "Under the Pole III" with TOUGHBOOK 33 devices. The Under The Pole expedition team is crossing the polar seas from the Arctic to the Antarctic on board the polar schooner, "WHY", in order to explore the biodiversity of the ocean twilight zone and push the boundaries of underwater exploration.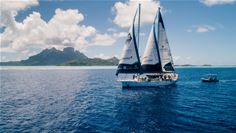 Under the Pole III expedition crossing the polar seas
To ensure the navigation software works properly and to record all the scientific data collated every day, the crew needs rugged computers capable of working 24/7 for the full 17 months that the expedition is expected to last. The TOUGHBOOK 33 is multifunctional and enables users to execute scientific topographical surveys of the expedition and access the vital elements provided by the navigation systems. Users can also connect to the Iridium satellite system in order to send and receive data which is often critical for the team's safety and the success of the expedition.
"The TOUGHBOOK 33 is an essential tool for Under The Pole's everyday operations thanks to its rugged build quality," said Bastien Brionne, Communications Director, and Erwan Marivint, Head of Partnerships, for Under The Pole expeditions. "The equipment is seriously put through its paces during exploration work. The divers sometimes have to deal with temperatures below –1°C under the water and –30°C out of the water. The TOUGHBOOK can withstand extreme temperatures, as well as knocks, bumps and humidity. We needed an exceptionally reliable computer for all of our expeditions both in the North Pole and in French Polynesia."
Press contact:
Kiri O'Leary
The Amber Group
kiri@ambergroup.net
+44 (0)118 949 7737
About Panasonic System Communications Company Europe (PSCEU)
Panasonic System Communications Company Europe (PSCEU) aims to improve the working lives of business professionals and increase their organisation's efficiency and performance using cutting-edge technology. It also seeks to enable companies to capture, compute and communicate all sorts of visual, voice and text-based data. With a team of around 350 people, its unrivalled engineering expertise, ability to manage global projects and extensive network of partners across Europe, PSCEU's capacity within its markets is unparalleled.
PSCEU comprises six product categories:
Broadcast and ProAV features high-quality products and solutions guaranteeing great performance and excellent value for money for end users in the areas of robotic camera solutions, switchers, studio camera solutions and ENG P2. The VariCam range of professional digital video cameras provides true 4K resolution and High Dynamic Range (HDR), making them the ideal solution for cinema, television, documentaries and live events.
Communication Solutions provides cutting-edge communication solutions covering professional scanners, telephone systems and HD video-conferencing systems.
Mobile Solutions Business Division helps to improve the productivity of mobile professionals with its range of rugged TOUGHBOOK laptops, professional tablets, hand-held devices and electronic point-of-sale (EPOS) systems. As the leading product ranges on the European market, sales of tough and rugged laptops and tablets accounted for 57% of Panasonic's turnover in 2017 (VDC Research, March 2018).
Industrial Medical Vision comprises products which can be used in a number of different segments, in particular the healthcare sector, life sciences, the audiovisual sector and the industrial sector. This range of products includes complete OEM micro-camera solutions. End users, systems integrators and distributors can choose between complete solutions or imaging components.
Security Solutions covers recorders and security cameras, video intercom systems and intruder alarms.
Visual System Solutions includes projectors and professional screens. Panasonic boasts the largest range of visual products and dominates the European projector market with a 37.2% share of the market (Futuresource > 5klm [financial year 2016 from April 2015 to March 2016, excl. 4K and digital cinema]).
About Panasonic
Panasonic Corporation is a worldwide leader in the development of diverse electronics technologies and solutions for customers in the consumer electronics, housing, automotive, and B2B businesses. The company, which celebrated its 100th anniversary in 2018, has expanded globally and now operates 582 subsidiaries and 87 associated companies worldwide, recording consolidated net sales of Euro 62.5 billion for the year ended March 31, 2019. Committed to pursuing new value through innovation across divisional lines, the company uses its technologies to create a better life and a better world for its customers. To learn more about Panasonic: https://www.panasonic.com/global.