Danish Superliga football club Brøndby IF's stadium is the first in Denmark to utilise facial recognition technology, provided by Panasonic, to ensure a safer stadium experience and alleviate the strain placed on staff during high profile matches.
The system is being deployed to automate the process of identifying blacklisted persons and prevent them from entering the stadium, a task which was previously undertaken manually by security personnel. Panasonic's security cameras and FacePRO facial recognition software, automatically identify any individuals registered on the list, and sends a message to staff to take the appropriate action.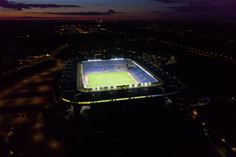 Brøndby Stadium
The system will enhance security measures and fan safety, which will prove especially important during high profile matches such as the derby against F.C. Copenhagen. Furthermore, the automated procedure at the stadium entrance will decrease congestion at the gates, resulting in a faster entrance process for fans.
Expecting an average attendance of 14,000 people per game, and up to 100 registered persons on the stadium blacklist, it allows staff to focus their attention on better assistance and service towards fans entering the stadium.
Jesper Jørgensen, Managing Director of Brøndby IF commented, "The system will significantly increase our efficiency in identifying blacklisted persons at our entrance gates, so we can ensure they do not enter the stadium. We are always trying to optimise our stadium experience for our fans, and ultimately create the best possible fan experience. This is another step into the right direction."
Protection of personal privacy
To maintain personal privacy, the facial recognition technology does not store the images or data of those who are not registered on the blacklist. Also, the data of those who are registered on the internal Brøndby server is not connected to the internet or to any other system.
"Panasonic's facial recognition system contributes to a safer stadium environment by alleviating security pressure on the ground, while ensuring that all data is protected from unauthorised external access," said Gerard Figols, head of the European security business at Panasonic. "In turn, we can offer peace of mind to football fans and Brøndby IF that our technology will improve the standard of safety even during high profile matches, something that fans have already complimented the system for."
Industry approved
Recognised by the National Institute of Standards of Technology (NIST) as having the world's highest level of facial recognition performance in independent testing. The technology can identify faces that are difficult to recognise with conventional techniques, such as those taken from an angle of up to 45 degrees to the left or right or 30 degrees up or down, and even when part of the face is concealed or hidden by sunglasses. The system also recognises faces from photographs that are up to 10 years old.
For more information on Panasonic Security Solutions, please visit: https://business.panasonic.eu/facepro
Imtiaz Mufti
European PR
pr@ambergroup.net
01189 49 7738
07534458383
About Panasonic System Communications Company Europe (PSCEU)
Our quest is to make technology work invisibly together and free businesses to succeed. We believe technology should just work. That businesses will succeed if they can simply focus on their customers, in the knowledge that all the technologies delivering their capabilities work together. That is why we are dedicated to developing products and solutions that are so integrated with our customer's way of working, that they are almost invisible – the workhorse in the background that powers business success.
PSCEU is made up of six product categories:
Broadcast & ProAV gives you the freedom to tell the story with its high quality products and solutions, which ensure smooth operation and excellent cost-performance across a range of remote cameras, switchers, studio cameras and ENG P2HD. The cinema camera range of VariCam models and the EVA1 are capable of true 4K and High Dynamic Range (HDR) making them the ideal solution for cinema, television, documentary and live event production.
Communication Solutions offers world leading telephony systems, SIP terminal devices and professional 'network' scanners giving you the freedom to focus on the communication and not the connection.
Computer Product Solutions help mobile workers improve productivity with its range of TOUGHBOOK rugged notebooks, business tablets, handhelds and electronic point of sales (EPOS) systems. As European market leaders, Panasonic had a 57% revenue share of sales of rugged and durable notebooks and held a 56% revenue share of sales of rugged business tablets in 2017 (VDC Research, 2018).
Industrial Medical Vision manufactures applications for various segments such as medical, life science, ProAV or industrial. The product portfolio includes complete and OEM camera systems, providing the freedom to see what can't be seen.
Security Solutions, built on a heritage of providing evidential quality CCTV footage. Delivering the highest image quality in all environmental conditions using our highly reliable, advanced technology cameras and image recording systems, giving you the freedom to feel secure.
Visual System Solutions offers the widest range of professional displays and projectors and allows Audio Visual professionals the freedom to create. It leads the European high brightness projector market with a 39% market revenue share (Futuresource >5klm FY17 Q3, excl. 4K & digital cinema).
About Panasonic
Panasonic Corporation is a worldwide leader in the development of diverse electronics technologies and solutions for customers in the consumer electronics, housing, automotive, and B2B businesses. The company, which celebrated its 100th anniversary in 2018, has expanded globally and now operates 582 subsidiaries and 87 associated companies worldwide, recording consolidated net sales of 8.003 trillion yen (ca. 62.5 billion Euro) for the year ended March 31, 2019. Committed to pursuing new value through innovation across divisional lines, the company uses its technologies to create a better life and a better world for its customers. To learn more about Panasonic: http://www.panasonic.com/global.