PostNL chose Panasonic handhelds for their scanning speed, long battery life and the angled barcode scanner
BRACKNELL, UK. 30th OCTOBER 2017 - Panasonic Computer Product Solutions has recently signed an agreement with PostNL, the largest parcel delivery company in Benelux, for almost 5,000 rugged Panasonic Toughpad FZ-N1 handhelds. Using the new handhelds, PostNL plans to offer customers better and more real-time tracking of their deliveries, from the sorting centers to the delivery address.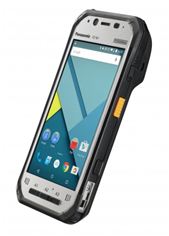 Panasonic FZ-N1
During the selection process, different devices were field tested by PostNL employees. Taking into account their feedback, the company chose the Panasonic FZ-N1 handheld. Some of the most important factors in determining the choice were scanning speed, long battery life and durability, but in particular the ergonomic design of the device with the angled barcode scanner.
Margot Lannoy, Country Manager for Benelux at Panasonic Computer Product Solutions, said: "We are pleased that PostNL has chosen this solution using one of our latest rugged handhelds. These handheld devices have been developed and optimised based on our many years of experience in the logistics market. The PostNL project confirms that we have chosen the right strategy in developing our new rugged handhelds. "
Gerrie de Jonge, Director of IT Packages & Logistics at PostNL, said: "Every day PostNL deals with more than 575,000 packages and this number is increasing. With this new mobile platform, we will continue to cater effectively for this growing e-commerce market and its impact on e-logistics. Both e-commerce companies and end-users rely on us to deliver orders in a timely and efficient manner. This new hardware enables us to further improve our service."
World's lightest fully rugged handheld tablet
The 4.7 inch Panasonic Toughpad FZ-N1 handheld tablet punches well above its less than 280g weight with a productivity feature packed device in a fully rugged and ergonomically designed package.
With its integrated, angled rear barcode reader to protect against repetitive strain and increase productivity, the device can be easily held and operated in one hand. Designed for postal and courier workers, warehouse, retail, manufacturing, field services and emergency services, the device has both voice and data capabilities. It includes the option for both a passive and an active Pen, for more accurate proof of delivery signature taking and boasts a standard battery targeting to offer up to 8 hours continuous operating time and the optional extended battery targeting to deliver up to 16 hours continuous operating time.
This lightweight and ergonomic device draws upon Panasonic's market leading heritage for ruggedness with an IP67 rating for dust and water submersion, plus the ability to withstand drops from 1.8 meters.
Press contact:
Michael Bartley
The Amber Group
michael@ambergroup.net
+44 (0)118 949 7750
About Panasonic System Communications Company Europe (PSCEU)
PSCEU is the European branch of Panasonic Systems Communications Company, the global B2B division of Panasonic. PSCEU's goal is to improve the working lives of business professionals and help their organisations' efficiency and performance. We help organisations capture, compute and communicate all sorts of information: image, voice, and textual data. Products include PBX telephone switches, document printers, professional cameras, projectors, large visual displays, rugged mobile PCs and fire alarms solutions. With around 400 staff, engineering design expertise, global project management capability and a large European partner network, PSCEU offers unrivalled capability in its markets.
PSCEU is made up of four product categories:
Communication Solutions, including professional scanners, multifunctional printers, telephony systems and SIP terminal devices.
Visual System Solutions, including projectors and professional displays. Panasonic offers the widest range of Visual products, and leads the European projector market with 28% revenue share. (Futuresource B2B market tracking, Q1/2014)
Professional Camera Solutions, including Broadcast & ProAV products, security, fire alarm systems and industrial medical vision (IMV) technology. Panasonic is one of the top two professional camera vendors in Europe.
Computer Product Solutions helps mobile workers improve productivity with its range of Toughbook rugged notebooks, Toughpad business tablets and electronic point of sales (EPOS) systems. As European market leaders, Panasonic Toughbook had a 66% revenue share of sales of rugged and durable notebooks and Panasonic Toughpad held a 59% revenue share of sales of rugged business tablets in 2015 (VDC Research, March 2016).
Disclaimer:
All brand names shown are the registered trademarks of the relevant companies. All rights reserved.

All working conditions, times and figures quoted are optimum or ideal levels and may differ as a result of individual and local circumstances.

Specifications, product availability and price given herein may be changed at any time without prior notice.