Designed in collaboration with leading automotive manufacturers
BRACKNELL, UK. 13th September 2016 Designed by Panasonic Global Design Solutions following close consultation with leading industry manufacturers, Panasonic has launched its next generation in-line testing solution for the automotive industry at Automechanika in Frankfurt, Germany. The Panasonic Automotive Mobile Test Solution (AMTS) combines the technology requested by the automotive industry for efficient vehicle production and initialisation with enterprise features for seamless integration into a corporate IT environment.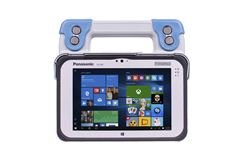 AMTS device
Designed with user and processes in mind
The device has been developed with both ease of use and automotive production processes at the forefront of the design. The AMTS, based on the market-leading fully rugged Panasonic Toughpad FZ-M1 tablet, incorporates a 7 inch capacitive multi-touchscreen display, an NFC contactless card reader, integrated high power infrared, and a 2D barcode reader which are situated within the specially designed handle of the AMTS which aids mobility in the production environment.
The solution is designed to be positioned on the steering wheel or the dashboard of the vehicle being tested due to its interchangeable, protective mounting insert. The AMTS also includes four programmable hot keys for one-touch access to important applications and functionality.
Specialised connectivity
The AMTS is built with the connectivity requirements of the automotive manufacturers in mind with dual rugged connectors that allow USB communication plus protected ODB in-vehicle charging from a VCI device. This means that the solution is ergonomic for both left and right hand drive vehicles.
The power for testing applications
To meet the processing and efficiency requirements for automotive testing, the Panasonic AMTS is powered by the Intel® Core™ m5-6Y57 vPro processor (1.1GHz up to 2.8 GHz with Intel® Turbo Boost Technology and a 4MB Intel cache) and Intel® HD graphics. It comes with the latest Windows 10 Pro operating system, which can be downgraded to Windows 7 Professional. For storage there is a 128GB Solid State Drive with 256GB optional.
For communications, the AMTS is equipped with Bluetooth™ v4.1+EDR Class 1 and an Intel Dual Band Wireless-AC 8260 WLAN capability with optional 4G mobile broadband (Gobi 5000, compatible to 3G) connectivity.
A decade of design history
"Panasonic has near a decade of experience collaborating with some of the world's leading automotive manufacturers to create rugged mobile devices designed for the industry's requirements," said Robert Blowers, Head of R&D and General Manager at Panasonic Computer Products Europe. "As a result of our relationship and collaborative approach with these manufacturers, The Automotive Mobile Test Solution is the next generation of mobile device to help deliver ever more efficient and cost effective vehicle production for our customers."
The Panasonic AMTS will be available from October 2016 and is priced from £3,490.
For further information visit: www.toughbook.eu
Press contact:
Michael Bartley
The Amber Group
michael@ambergroup.net
+44 (0)118 949 7750
About Panasonic System Communications Company Europe (PSCEU)
PSCEU is the European branch of Panasonic Systems Communications Company, the global B2B division of Panasonic. PSCEU's goal is to improve the working lives of business professionals and help their organisations' efficiency and performance. We help organisations capture, compute and communicate all sorts of information: image, voice, and textual data. Products include PBX telephone switches, document printers, professional cameras, projectors, large visual displays, rugged mobile PCs and fire alarms solutions. With around 400 staff, engineering design expertise, global project management capability and a large European partner network, PSCEU offers unrivalled capability in its markets.
PSCEU is made up of four product categories:
Communication Solutions, including professional scanners, multifunctional printers, telephony systems and SIP terminal devices.
Visual System Solutions, including projectors and professional displays. Panasonic offers the widest range of Visual products, and leads the European projector market with 28% revenue share (Futuresource B2B market tracking, Q1/2014).
Professional Camera Solutions, including Broadcast & ProAV products, security, fire alarm systems and industrial medical vision (IMV) technology. Panasonic is one of the top two professional camera vendors in Europe.
Computer Product Solutions helps mobile workers improve productivity with its range of Toughbook rugged notebooks, Toughpad business tablets and electronic point of sales (EPOS) systems. As European market leaders, Panasonic Toughbook had a 66% revenue share of sales of rugged and durable notebooks and Panasonic Toughpad held a 59% revenue share of sales of rugged business tablets in 2015 (VDC Research, March 2016).
Disclaimer:
All brand names shown are the registered trademarks of the relevant companies. All rights reserved.
All working conditions, times and figures quoted are optimum or ideal levels and may differ as a result of individual and local circumstances.
Specifications, product availability and price given herein may be changed at any time without prior notice.