The Panasonic Toughpad FZ-M1 tablet with Intel® RealSense™ 3D camera is ideal for accurate 3D measurement for a wide range of industry applications
BRACKNELL, UK. 23rd APRIL 2018 Panasonic today announced the fully rugged Panasonic Toughpad FZ-M1 tablet with integrated Intel® RealSense™ 3D camera designed to measure and process 3D dimensions on the go. The solution, launched today at Hannover Messe in Germany, is ideal for use in a wide range of industry applications including warehouse space optimisation, plant and asset maintenance, wound monitoring in healthcare and crime scene and insurance claim photos.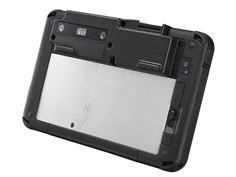 Panasonic FZ-M1 with Intel® RealSense™ D410 camera
The handy 7" Panasonic FZ-M1 with Intel® RealSense™ D410 camera is a Windows-based rugged tablet that allows field workers to take and process accurate 3D measurement on the spot and use the images with other line of business applications.
The solution is already being used by healthcare professionals around the world to measure and monitor the healing of wounds and bed ulcers. The 3D camera and a specialist application can be used to quickly take 3D wound images and measurements. The approach is much faster and more accurate than traditional methods and can be used by a wider range of nurses and clinicians.
In asset management and maintenance the solution can be used to take photos and measure cracks in bridges or buildings quickly and accurately without having to climb ladders. It can also be used to take photos of assets and plant, such as pipelines, which can be annotated for maintenance reports and repairs.
In the logistics business, the solution can be used for fast and accurate freight and cargo measurement to optimise storage space and vehicle loading.
In law enforcement and the insurance industry, the device can be used to take accurate scene of crime images or photos of car accidents for analysis and claims processing.
The Intel® RealSense™ camera has a use range from 16cm up to 10m depending on the resolution and environment conditions. It is suitable for outdoor use and has an image resolution of 1280x720. The Panasonic FZ-M1 tablet with Intel® RealSense™ can also be customised to meet the specific needs of a business. The device can be configured at purchase so that the camera can be combined with other options, such as a barcode reader, thermal camera, wired LAN, rugged LAN, Serial Port and USB 2.0.
Jan Kaempfer, General Manager of Marketing for Panasonic Computer Product Solutions, said: "To maximise the productivity of their mobile workforces, businesses need mobile computing devices that can be configured and are flexible enough to meet the specific needs of their different workers. Just like our recently launched rugged tablet with thermal camera, the Panasonic FZ-M1 tablet with Intel® RealSense™ has been designed with the needs of particular users in mind. It is an ergonomic to use, yet rugged and highly accurate 3D mobile computing device built to match business requirements."
Sagi Ben Moshe, General Manager of Intel® RealSense Group™ said: "The combination of Panasonic's market-leading rugged tablet featuring our next generation depth technology- the Intel RealSense vision processor D4 and the D410 Depth Module create the ideal mobile computing device for mobile workers requiring accurate and useable 3D box measurement."
The Panasonic Toughpad FZ-M1 tablet delivers multi-task, high-performance working capabilities with its Windows 10 Pro operating system and its 6th generation Intel Core processor. For field workers, the device has a 9 hour battery life with 20 hour option and hot swap battery capabilities. The sunlight readable display can be operated with a stylus, by touchscreen and when wearing gloves. Its fully rugged and fanless design means it is drop resistant to 180cm and IP65 rated, yet compact and lightweight enough to fit into the pocket.
The Panasonic Toughpad FZ-M1 RealSense solution is available now priced from €2,044 plus VAT.
For more information on RealSense, please visit www.realsense.intel.com
Press contact:
Michael Bartley
+ 44 (0) 118 949 7750
michael@ambergroup.net
About Panasonic System Communications Company Europe (PSCEU)
Panasonic System Communications Company Europe's (PSCEU) goal is to improve the working lives of business professionals and help their organisations' efficiency and performance through world leading technology. We help organisations capture, compute and communicate all sorts of information: image, voice, and textual data. With around 350 staff, engineering design expertise, global project management capability and a large European partner network, PSCEU offers unrivalled capability in its markets.
PSCEU is made up of six product categories:
Broadcast & ProAV offers high quality products and solutions to ensure smooth operation and excellent cost-performance to end-users in the areas of remote camera solutions, switchers, studio camera solutions and ENG P2. The VariCam line-up of professional digital video cameras are capable of true 4K and High Dynamic Range (HDR) which makes them the ideal solution for cinema, television, documentary and live event production.
Communication Solutions offer world leading communication solutions including professional scanners, telephony systems and SIP terminal devices.
Computer Product Solutions help mobile workers improve productivity with its range of Toughbook rugged notebooks, Toughpad business tablets and electronic point of sales (EPOS) systems. As European market leaders, Panasonic Toughbook had a 67% revenue share of sales of rugged and durable notebooks and Panasonic Toughpad held a 56% revenue share of sales of rugged business tablets in 2016 (VDC Research, March 2017).
Industrial Medical Vision provides applications for various segments such as medical, life science, ProAV or industrial. The product portfolio includes complete and OEM micro camera solutions. End-users, system integrators or distributors can choose from a range of full product solutions and component vision technology.
Security Solutions, including video surveillance cameras and recorders, video intercom systems and intruder alarms.
Visual System Solutions, including projectors and professional displays. Panasonic offers the widest range of Visual products, and leads the European high brightness projector market with a 37.20% market revenue share (Futuresource >5klm (FY16 April 2015 - March 2016, excl. 4K & digital cinema).
About Panasonic
Panasonic Corporation is a worldwide leader in the development of diverse electronics technologies and solutions for customers in the consumer electronics, housing, automotive, and B2B businesses. Celebrating its 100th anniversary in 2018, the company has expanded globally and now operates 495 subsidiaries and 91 associated companies worldwide, recording consolidated net sales of Euro 61.711 billion for the year ended March 31, 2017. Committed to pursuing new value through innovation across divisional lines, the company uses its technologies to create a better life and a better world for its customers. To learn more about Panasonic: http://www.panasonic.com/global