Leading rugged tablet and mobile payment providers combine for a simple and cost-effective mPOS solution
BRACKNELL, UK. 2nd May 2018 Panasonic today announced an integrated mobile point-of-sale solution for its market-leading Toughpad FZ-G1 rugged tablet at the Retail Business Technology Expo at Olympia in London, UK. The purpose-built, integrated mobile payment device holder wraps perfectly around the Panasonic Toughpad FZ-G1 tablet to allow the device to be used easily in conjunction with a world-leading mobile payment solution, such as the Ingenico iSMP4.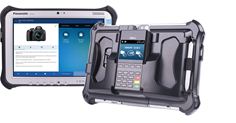 Panasonic FZ-G1 mobile point-of-sale (mPOS) solution (1)
The integrated device holder makes the Panasonic FZ-G1 the perfect mobile point-of-sale (mPOS) solution for the retail and hospitality industries for tasks such as queue busting, taking orders and payments at a table, assisted selling, in-flight purchases and in the field sales.
The first in a range of integrated mobile payment device holders for its range of rugged tablets and handheld devices, the special casing surround for the Panasonic Toughpad FZ-G1 tablet is designed to easily hold and remove an Ingenico iSMP4 or Verifone e355 payment device, and other payment devices can be accommodated on a project basis[1].
Seamless integration
Slotting seamlessly into the casing, the Ingenico payment device connects to the tablet via USB to enable reliable pairing and dual charging of both the iSMP4 & the tablet, while the Verifone device connects by Bluetooth and is charged separately.
The casing is designed to allow easy access to the battery compartment on the tablet to allow workers to hot swap batteries quickly and efficiently while working. The casing also has an integrated stylus holder, ergonomic hand grips and shoulder strap fixings for ease of use. The tablet's front and rear-facing cameras remain unobstructed and the solution can be used with a Kensington Lock for added security when not in use.
Jan Kaempfer, General Manager of Marketing for Panasonic Computer Product Solutions, said: "These purpose built payment device holders create a portable, lightweight and self-contained mobile point of sale solution for businesses combining the rugged and ergonomic design of Panasonic's most popular rugged tablet with payment solutions from the world's leading providers. It is a simple and cost effective tool for businesses that require their mobile workers to operate outdoors or in harsh and fast moving environments, with no range limitations.
Olivier Steinfels, Retail Marketing Product Manager, at Ingenico, said: "Retailers and the hospitality industry understand that a great customer experience is one of the key drivers to increased sales for their business. Our secure and efficient all-in-one device will expand mobile use cases at retail stores and restaurants globally. With this innovative Mobile Point of Sales (mPOS) solution we are combining the best of the rugged tablet and mobile payment solutions on the market to allow businesses to deliver an engaging and highly personalised shopping experience."
Designed for the mobile worker
The Panasonic Toughpad FZ-G1 tablet is a Windows 10 Pro device, with a high performance 6th generation Intel Core i5-6300u vPro CPU processor. With up to 14 hours operating battery life and hot swappable battery capabilities, the Panasonic Toughpad FZ-G1 tablet can work in the field as long as required. Its comprehensive ecosystem of accessories and peripherals ensures the device can be used in any environment, whether docked in a vehicle or carried. Like the wider range of Panasonic fully rugged devices, the tablet is designed and tested to stand up to extreme conditions with its MIL-STD 810G and IP65 ratings. As well as the mobile payment solution, with its flexible configuration options the tablet can also be equipped with a 2D barcode reader, GPS, micro SD, 2nd USB 2.0, wired LAN or a smart card reader.
The FZ-G1 mPOS solution is available now and can be easily used with existing Panasonic Toughpad FZ-G1 tablets.
[1] Ingenico and Verifone devices must be bought separately
Press contact:
Michael Bartley
The Amber Group
michael@ambergroup.net
+44 (0)118 949 7750
About Panasonic System Communications Company Europe (PSCEU)
Panasonic System Communications Company Europe's (PSCEU) goal is to improve the working lives of business professionals and help their organisations' efficiency and performance through world leading technology. We help organisations capture, compute and communicate all sorts of information: image, voice, and textual data. With around 350 staff, engineering design expertise, global project management capability and a large European partner network, PSCEU offers unrivalled capability in its markets.
PSCEU is made up of six product categories:
Broadcast & ProAV offers high quality products and solutions to ensure smooth operation and excellent cost-performance to end-users in the areas of remote camera solutions, switchers, studio camera solutions and ENG P2. The VariCam line-up of professional digital video cameras are capable of true 4K and High Dynamic Range (HDR) which makes them the ideal solution for cinema, television, documentary and live event production.
Communication Solutions offer world leading communication solutions including professional scanners, telephony systems and SIP terminal devices.
Computer Product Solutions help mobile workers improve productivity with its range of Toughbook rugged notebooks, Toughpad business tablets and electronic point of sales (EPOS) systems. As European market leaders, Panasonic Toughbook had a 67% revenue share of sales of rugged and durable notebooks and Panasonic Toughpad held a 56% revenue share of sales of rugged business tablets in 2016 (VDC Research, March 2017).
Industrial Medical Vision provides applications for various segments such as medical, life science, ProAV or industrial. The product portfolio includes complete and OEM micro camera solutions. End-users, system integrators or distributors can choose from a range of full product solutions and component vision technology.
Security Solutions, including video surveillance cameras and recorders, video intercom systems and intruder alarms.
Visual System Solutions, including projectors and professional displays. Panasonic offers the widest range of Visual products, and leads the European high brightness projector market with a 37.20% market revenue share (Futuresource >5klm (FY16 April 2015 - March 2016, excl. 4K & digital cinema).
About Panasonic
Panasonic Corporation is a worldwide leader in the development of diverse electronics technologies and solutions for customers in the consumer electronics, housing, automotive, and B2B businesses. Celebrating its 100th anniversary in 2018, the company has expanded globally and now operates 495 subsidiaries and 91 associated companies worldwide, recording consolidated net sales of Euro 61.711 billion for the year ended March 31, 2017. Committed to pursuing new value through innovation across divisional lines, the company uses its technologies to create a better life and a better world for its customers. To learn more about Panasonic: http://www.panasonic.com/global