With a 57% share of revenue sales in rugged notebooks and a 56% share in rugged tablets
BRACKNELL, UK. 27th September 2018 - Panasonic has extended its position as Europe's leading rugged notebook manufacturer for the 17th consecutive year, according to the latest market analysis from VDC Research. Its Panasonic TOUGHBOOK range maintained a leading share of the European rugged notebook market with a 57% revenue share of sales in 2017. The Panasonic Toughpad tablet range also continued to lead the European rugged tablet market with a 56% revenue share of sales. The company has now aggressively set its sights on the rugged handheld market with the launch of innovative new products for the fast growing retail, manufacturing, transportation and logistics sectors.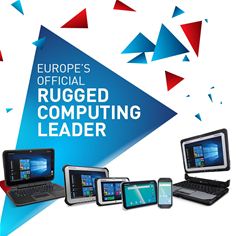 Panasonic Toughbook – Europe's Official Rugged Computing Leader
"Our success in the rugged mobile computing market has been built on the founding principles of Panasonic, celebrating its 100th anniversary this year, to listen to the needs of our customers and innovate with technology to make people's lives easier," said Kevin Jones, Managing Director of the Panasonic Mobile Solutions Business in Europe. "Our rugged computing business is a young adult by comparison, in its 20th year, but in that time we have continued to innovate to improve the productivity of mobile workforces. Our latest Panasonic Toughbook CF-33 notebook is our 7th generation rugged notebook and the first fully rugged detachable notebook with hot swappable batteries and flexible design to benefit any mobile worker."
Focus on rugged handheld
Moving forward, Panasonic has now set its sights on bringing the same rugged, ergonomic and business flexible devices to the handheld market. With more than a third of its rugged range now dedicated to the handheld sector, its latest product is the rugged Panasonic TOUGHBOOK FZ-T1 handheld for mobile workers that require a versatile device with style and substance. The eye-catching, yet durable, 5" Android device is the ideal all-rounder for mobile workforces in a wide range of roles and industries, including retail and hospitality, manufacturing, transportation and logistics.
With its voice and data capabilities and integrated barcode scanner, the TOUGHBOOK FZ-T1 handheld can be used in the retail sector for shelf stocking, assisted sales or order taking and queue busting. Its long and short range gun barcode scanning make it ideal for inventory management whether scanning from forklifts, making deliveries or from the production line. The device is also suited to the needs of field workers in repairs and maintenance, for navigation, proof of service, documentation capture and realtime inventory checking.
Specialist channel and solution support
To support its push into the handheld sector, Panasonic appointed European specialist distributor ScanSource earlier this year and has recruited 60 specialist rugged handheld resellers across the major European markets for its new dedicated Edge channel programme. Edge has been built from the ground up to offer dedicated support to resellers and Independent Software Vendors who supply fully-featured rugged handheld solutions to specialist vertical markets.
"With the rugged handheld market growing at around 4% year-on-year in the retail, manufacturing and transportation and logistics sectors, Panasonic has now turned its sights on the current growth sector of the rugged computing market," said David Krebs, of VDC Research. "The rugged handheld market has endured significant competitive consolidation over the past several years leaving fewer options for solution providers to support and end users to adopt. Panasonic with its long history of leadership in the rugged tablet and rugged notebook categories has been a welcome addition to the rugged handheld market expanding the options available to end users and solution providers alike."
Press contact:
Michael Bartley
The Amber Group
michael@ambergroup.net
+44 (0)118 949 7750
About Panasonic System Communications Company Europe (PSCEU)
Our quest is to make technology work invisibly together and free businesses to succeed. We believe technology should just work. That businesses will succeed if they can simply focus on their customers, in the knowledge that all the technologies delivering their capabilities work together. That is why we are dedicated to developing products and solutions that are so integrated with our customer's way of working, that they are almost invisible – the workhorse in the background that powers business success.
PSCEU is made up of six product categories:
Broadcast & ProAV gives you the freedom to tell the story with its high quality products and solutions, which ensure smooth operation and excellent cost-performance across a range of remote cameras, switchers, studio cameras and ENG P2HD. The cinema camera range of VariCam models and the EVA1 are capable of true 4K and High Dynamic Range (HDR) making them the ideal solution for cinema, television, documentary and live event production.
Communication Solutions offers world leading telephony systems, SIP terminal devices and professional 'network' scanners giving you the freedom to focus on the communication and not the connection.
Computer Product Solutions help mobile workers improve productivity with its range of Toughbook rugged notebooks, business tablets, handhelds and electronic point of sales (EPOS) systems. As European market leaders, Panasonic had a 57% revenue share of sales of rugged and durable notebooks and held a 56% revenue share of sales of rugged business tablets in 2017 (VDC Research, 2018).
Industrial Medical Vision manufactures applications for various segments such as medical, life science, ProAV or industrial. The product portfolio includes complete and OEM camera systems, providing the freedom to see what can't be seen.
Security Solutions, built on a heritage of providing evidential quality CCTV footage. Delivering the highest image quality in all environmental conditions using our highly reliable, advanced technology cameras and image recording systems, giving you the freedom to feel secure.
Visual System Solutions offers the widest range of professional displays and projectors and allows Audio Visual professionals the freedom to create. It leads the European high brightness projector market with a 39% market revenue share (Futuresource >5klm FY17 Q3, excl. 4K & digital cinema).
About Panasonic
Panasonic Corporation is a worldwide leader in the development of diverse electronics technologies and solutions for customers in the consumer electronics, housing, automotive, and B2B businesses. Celebrating its 100th anniversary in 2018, the company has expanded globally and now operates 591 subsidiaries and 88 associated companies worldwide, recording consolidated net sales of Euro 61.4 billion for the year ended March 31, 2018. Committed to pursuing new value through innovation across divisional lines, the company uses its technologies to create a better life and a better world for its customers. To learn more about Panasonic: http://www.panasonic.com/global