New Microsoft cloud services slash IT administration time and radically improve the user experience when deploying new Panasonic rugged Windows mobile devices
BRACKNELL, UK. 1st October 2019 – Panasonic TOUGHBOOK is the first rugged-focused mobile computing provider to join the Microsoft Cloud Solution Provider programme that enables them to offer customers more simplified deployment and management services. Customers can now slash IT administration time and radically improve the user experience when deploying new Panasonic rugged Windows mobile devices by using the Windows Autopilot cloud-based configuration and deployment service.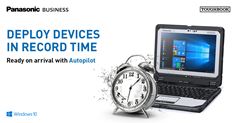 Panasonic joins Microsoft Cloud Solution Provider programme
When customers order their Panasonic TOUGHBOOK notebooks or tablets with Windows 10 Pro they can choose to manage the configuration and deployment using Windows Autopilot. Panasonic then pre-register the device hardware in the cloud from its European configuration and service centre in Cardiff. This service enables all the configuration settings for each particular device to be uploaded to the cloud. The devices are then dispatched directly to the users, who simply switch them on straight out of the box, enter their credentials and the device is configured automatically over the cloud to deliver the user's specific business set-up.
"This new deployment option is an immediate benefit for customers with users in disparate locations or with hundreds of devices to configure," explained Jon Tucker, General Manager for Solutions and Engineering at Panasonic Mobile Solutions Business Division Europe. "It removes the need for the IT teams to image each device and automates the deployment and management process – lowering effort and costs."
"Traditionally, IT pros have spent a lot of their time building and customizing the images that will be deployed to corporate devices," said Brad Anderson, Corporate Vice President, Microsoft 365, at Microsoft. "Windows Autopilot introduces an entirely new approach. From the perspective of the end user, it just takes a few simple operations to make their device ready to use. From the perspective of the IT pro, Autopilot handles the imaging and registration – the end user simply needs to connect to a network and to verify their credentials. Everything beyond that is automated."
Windows Autopilot is designed to simplify all parts of the lifecycle of Windows devices, for both IT and end users, from initial deployment through the eventual end of life. Leveraging cloud-based services, it can reduce the overall costs for deploying, managing, and retiring devices by reducing the amount of time that IT needs to spend on these processes and the amount of infrastructure that they need to maintain, while ensuring ease of use for all types of end users.
The service is one of the various staging, deployment and management services that Panasonic can provide its customers. For more information, visit: www.toughbook.eu.
Press contact:
Kiri O'Leary
The Amber Group
kiri@ambergroup.net
+44 (0)118 949 7737
About Panasonic System Communications Company Europe (PSCEU)
Our quest is to make technology work invisibly together and free businesses to succeed. We believe technology should just work. That businesses will succeed if they can simply focus on their customers, in the knowledge that all the technologies delivering their capabilities work together. That is why we are dedicated to developing products and solutions that are so integrated with our customer's way of working, that they are almost invisible – the workhorse in the background that powers business success.
PSCEU is made up of six product categories:
Broadcast & ProAV gives you the freedom to tell the story with its products and solutions, which ensure smooth operation and excellent cost-performance across a range of remote cameras, switchers, studio cameras and ENG P2HD. The cinema camera range of VariCam models and the EVA1 are capable of true 4K and High Dynamic Range (HDR) making them the ideal solution for cinema, television, documentary and live event production.
Communication Solutions offers world leading telephony systems, SIP terminal devices and professional 'network' scanners giving you the freedom to focus on the communication and not the connection.
Mobile Solutions Business Division helps mobile workers improve productivity with its range of Toughbook rugged notebooks, business tablets, handhelds and electronic point of sales (EPOS) systems. As European market leaders, Panasonic had a 48% revenue share of sales of rugged and durable notebooks and tablets in 2018 (VDC Research, March 2019).
Industrial Medical Vision manufactures applications for various segments such as medical, life science, ProAV or industrial. The product portfolio includes complete and OEM camera systems, providing the freedom to see what can't be seen.
Security Solutions; built on a heritage of providing evidential quality CCTV footage. Delivering the highest image quality in all environmental conditions using our highly reliable, advanced technology cameras and image recording systems, giving you the freedom to feel secure.
Visual System Solutions offers the widest range of professional displays and projectors and allows Audio Visual professionals the freedom to create. It leads the European high brightness projector market with a 39% market revenue share (Futuresource >5klm FY17 Q3, excl. 4K & digital cinema).
About Panasonic
Panasonic Corporation is a worldwide leader in the development of diverse electronics technologies and solutions for customers in the consumer electronics, housing, automotive, and B2B businesses. The company, which celebrated its 100th anniversary in 2018, has expanded globally and now operates 582 subsidiaries and 87 associated companies worldwide, recording consolidated net sales of Euro 62.5 billion for the year ended March 31, 2019. Committed to pursuing new value through innovation across divisional lines, the company uses its technologies to create a better life and a better world for its customers. To learn more about Panasonic: https://www.panasonic.com/global.