Helps maintain mobile worker productivity with smart battery management of Panasonic Toughbook devices
BRACKNELL, UK. 11th JULY 2018 - Panasonic today announced the industry's first Smart Battery Warranty for its Toughbook range of rugged notebooks, tablets and handheld devices to help businesses automatically maintain mobile workforce productivity.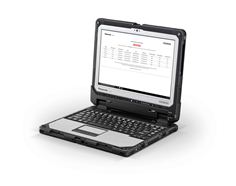 CF-33 Smart Warranty Report
The three-year Toughbook Smart Battery Warranty includes analytics, which constantly monitor the battery health and notify the administrator by email when the state of health of the battery reaches replacement levels. The administrator receives an amber warning email notification when the battery reaches a certain percentage of its original charge capacity, allowing time to be scheduled for the battery to be replaced. A further red email notification is sent when the battery requires replacement, which triggers a call from Panasonic to arrange for a new battery to be delivered.
The warranty ensures that organisations with large numbers of Panasonic mobile devices reduce the costs associated with battery replacement and downtime by always having fresh batteries available.
Jon Tucker, General Manager of Solutions at Panasonic Computer Product Solutions, said: "This pioneering smart warranty, built on Panasonic's innovations in the smart battery industry, delivers both peace of mind and real business benefits. For around half the cost of a typical rugged device battery, warranty holders have dedicated software running automatic battery monitoring as well as battery replacement when necessary during the three-year period."
Customers taking-up the Smart Battery Warranty install Panasonic's Smart Service Lite analytics software, powered by B2M Solutions' Elemez real-time analytics platform, on each device. The software monitors the state of health of the battery and flags when performance falls below optimum levels. Customers also receive a 60-day free trial of the full Toughbook Smart Service performance analytics package, which is designed to capture, analyse, store and report on the health and behaviour of the entire mobile device estate. With this cloud-based SaaS solution administrators have access to an even wider range of real-time insights to keep mobile devices working harder and longer, including information about disruptive events, application useage, network performance and signal strength.
Gary Lee, Chief Revenue Officer at B2M Solutions, said: "From our work with enterprise customers around the world, we know that having properly performing batteries is one of the top concerns of mobile workers. We are pleased Panasonic selected B2M for this critical solution for the enterprise, providing our real time analytics as part of the offering to provide Panasonic customers with complete visibility and management of the battery life of their Panasonic devices."
The three-year Panasonic Toughbook Smart Battery Warranty is available at €58 plus tax per device and brings the standard 6 month battery cover in line with the three-year standard Panasonic Toughbook warranty on all devices.
For more information about the Panasonic Toughbook Smart Battery Warranty visit: https://business.panasonic.co.uk/computer-product/protect/smart-battery-warranty
Press contact:
Michael Bartley
The Amber Group
michael@ambergroup.net
+44 (0)118 949 7750
About Panasonic System Communications Company Europe (PSCEU)
Panasonic System Communications Company Europe's (PSCEU) goal is to improve the working lives of business professionals and help their organisations' efficiency and performance through world leading technology. We help organisations capture, compute and communicate all sorts of information: image, voice, and textual data. With around 350 staff, engineering design expertise, global project management capability and a large European partner network, PSCEU offers unrivalled capability in its markets.
PSCEU is made up of six product categories:
Broadcast & ProAV offers high quality products and solutions to ensure smooth operation and excellent cost-performance to end-users in the areas of remote camera solutions, switchers, studio camera solutions and ENG P2. The VariCam line-up of professional digital video cameras are capable of true 4K and High Dynamic Range (HDR) which makes them the ideal solution for cinema, television, documentary and live event production.
Communication Solutions offer world leading communication solutions including professional scanners, telephony systems and SIP terminal devices.
Computer Product Solutions help mobile workers improve productivity with its range of Toughbook rugged notebooks, Toughpad business tablets and electronic point of sales (EPOS) systems. As European market leaders, Panasonic Toughbook had a 67% revenue share of sales of rugged and durable notebooks and Panasonic Toughpad held a 56% revenue share of sales of rugged business tablets in 2016 (VDC Research, March 2017).
Industrial Medical Vision provides applications for various segments such as medical, life science, ProAV or industrial. The product portfolio includes complete and OEM micro camera solutions. End-users, system integrators or distributors can choose from a range of full product solutions and component vision technology.
Security Solutions, including video surveillance cameras and recorders, video intercom systems and intruder alarms.
Visual System Solutions, including projectors and professional displays. Panasonic offers the widest range of Visual products, and leads the European high brightness projector market with a 37.20% market revenue share (Futuresource >5klm (FY16 April 2015 - March 2016, excl. 4K & digital cinema).
About Panasonic
Panasonic Corporation is a worldwide leader in the development of diverse electronics technologies and solutions for customers in the consumer electronics, housing, automotive, and B2B businesses. Celebrating its 100th anniversary in 2018, the company has expanded globally and now operates 495 subsidiaries and 91 associated companies worldwide, recording consolidated net sales of Euro 61.711 billion for the year ended March 31, 2017. Committed to pursuing new value through innovation across divisional lines, the company uses its technologies to create a better life and a better world for its customers. To learn more about Panasonic: http://www.panasonic.com/global