Latest version of the Panasonic Toughpad FZ-M1 mk2 tablet, Chip & Pin payment with Toughpad and vertical aligned customisations.
BRACKNELL, UK. 9TH MARCH 2016 Panasonic unveils an impressive new range of mobile retail applications and payment solutions today at the Retail Business Technology Expo in London. Building on its growing reputation for retail tablet and point of sale solutions, Panasonic is launching the latest version of its popular Toughpad FZ-M1 tablet alongside a 3D Intel® RealSense™ camera application with exciting implications for the retail and logistics industry. In addition, Panasonic will demonstrate Ingenico's iCMP, one of the smallest and lightest Chip & Pin mobile payment devices on the market, working with a range of its Toughpad tablets.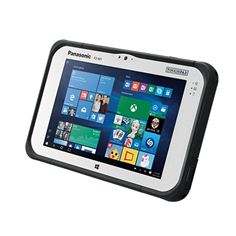 Panasonic Toughpad FZ-M1
"With the exciting new range of Panasonic Toughpad hardware, retail applications and payment solutions on show at RBTE we are demonstrating our ability to provide retailers with flexible and secure mobile technology to meet their needs today whilst continuing to invest and work with the leading players to develop the mobile retail solutions of tomorrow," said Jan Kaempfer, General Manager of Marketing for Panasonic Computer Product Solutions.
New Toughpad FZ-M1 mk2 with 3D camera application
Panasonic has updated its popular fully rugged, 7 inch and fanless Windows tablet with improved performance and communications capabilities as well as an optional 3D camera powered by Intel®'s RealSense™ technology. The RealSense™ camera has three lenses; conventional, infrared and infrared laser projector. Together these three lenses allow the device to infer depth by detecting infrared light that has bounced back from the objects in front of it. In the retail world, Panasonic sees exciting applications for this technology. For example, in a sales situation mapping, design and simulation applications could show customers how items, such as furniture, could look in their homes. In the logistics and warehousing side of retail, the camera could be used for the instant measurement of boxes for shipping through to the assessment of warehouse space and capacity.
Alongside this exciting innovation, the Toughpad FZ-M1 mk2 tablet is equipped with the latest Intel® Core™ m5-6Y57 vPro™ Processor (4MB Cache, 1.1GHz up to 2.8 GHz). This powerful new CPU delivers exceptional performance with very low power consumption, keeping heat generation to a minimum. The device now also comes with Windows 10 Pro, improved communication capabilities with Intel® Dual Band Wireless-AC 8260 WLAN and V4.1 class 1 Bluetooth and an 8 MP camera with F factor 2.0(up from 5MP). In addition, the latest Toughpad FZ-M1 mk2 is now available in an optional sleek black cabinet design to provide choice for the fashion conscious, customer facing mobile tablet user.
Weighing in at just 540g, and 18mm thin, with unrivalled inside and outside viewing quality, optional hot swappable batteries and highly flexible configuration ports and integrated business expansion module, the fully rugged 7 inch table of choice just got even better.
The Panasonic Toughpad FZ-M1 mk2 Value version of the tablet has also been upgraded with an Intel® Atom™ x5-Z8550 Processor (2MB Cache, 1.44GHz up to 2.40 GHz). The device now has Windows 10 Pro operating system and has upgraded Intel® Dual Band Wireless-AC 8260 WLAN technology with Bluetooth and camera improvements in line with the standard edition.
The Panasonic Toughpad FZ-M1 mk2 tablet will be available from now, priced at £1,216 plus tax. The Panasonic Toughpad FZ-M1 mk2 Value tablet will be available from end of March, priced at £737 plus tax.
Toughpad with Chip & Pin
Panasonic Toughpad tablets in use with Ingenico's iCMP Chip & Pin payment solution are also on show at the Expo. The choice of a Panasonic Toughpad tablet from the range, paired with Ingenico's iCMP, one of the smallest and lightest Chip & Pin mobile payment devices on the market, provides retailers with a secure and effective mobile payments solution.
Using Bluetooth technology to connect to the Panasonic Toughpad, the iCMP accepts all payment methods: EMV Chip & Pin, magstripe and contactless and meets all the payment security standards. The world's leading rugged tablets combined with Ingenico's universal payment solution provide a powerful new mobile payment solution for retailers.
Combining a POS solution, business applications and payment acceptance capabilities will enhance both the user and customer experience.
Panasonic will be speaking at the Expo in more detail about this initiative at its RBTE bootcamp presentation entitled Mobile POS and Secure Payments In One Device: Thought leadership from Panasonic at 10.45am on March 9th and 10th. To sign-up to attend the presentation visit: http://www.retailbusinesstechnologyexpo.com/whats-on/retailer-bootcamps
Press contact:
Michael Bartley
Amber Group
0118 949 7750
michael@ambergroup.net
About Panasonic System Communications Company Europe (PSCEU)
PSCEU is the European branch of Panasonic Systems Communications Company, the global B2B division of Panasonic. PSCEU's goal is to improve the working lives of business professionals and help their organisations' efficiency and performance. We help organisations capture, compute and communicate all sorts of information: image, voice, and textual data. Products include PBX telephone switches, document printers, professional cameras, projectors, large visual displays, rugged mobile PCs and fire alarms solutions. With around 400 staff, engineering design expertise, global project management capability and a large European partner network, PSCEU offers unrivalled capability in its markets.
PSCEU is made up of four product categories:
Communication Solutions, including professional scanners, multifunctional printers, telephony systems and SIP terminal devices.
Visual System Solutions, including projectors and professional displays. Panasonic offers the widest range of Visual products, and leads the European projector market with 28% revenue share. (Futuresource B2B market tracking, Q1/2014)
Professional Camera Solutions, including Broadcast & ProAV products, security, fire alarm systems and industrial medical vision (IMV) technology. Panasonic is one of the top two professional camera vendors in Europe.
Computer Product Solutions helps mobile workers improve productivity with its range of Toughbook rugged notebooks, Toughpad business tablets and electronic point of sales (EPOS) systems. As European market leaders, Panasonic Toughbook had a 66.4% revenue share of sales of rugged and durable notebooks and Panasonic Toughpad held a 50.4% revenue share of sales of rugged business tablets in 2013 (VDC Research, March 2014).
Disclaimer:
All brand names shown are the registered trademarks of the relevant companies. All rights reserved.
All working conditions, times and figures quoted are optimum or ideal levels and may differ as a result of individual and local circumstances.
Specifications, product availability and price given herein may be changed at any time without prior notice.