Combines notebook and tablet capabilities with sleek yet durable design and powerful business functionality.
WIESBADEN, GERMANY, 23rd APRIL 2015 Busy business executives that make the most of their mobile technology and want quality with style have a new champion with the introduction of the Panasonic Toughbook CF-MX4 flipover convertible. It combines notebook and tablet capabilities with a sleek yet durable design, housing the latest 5th Generation Intel® Core™ i5-5300U vPro™ Processor, continuous working capability and all the business functionality you could need.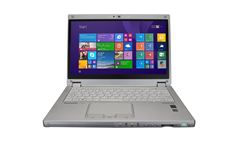 CF-MX4
Ideal for Corporate Executives, Sales People, Creative Professionals or Market Researchers, the 2-in1 laptop and tablet, with its own stylus, can easily slip between business meetings, office work, creative applications, presentations and data entry to provide the perfect business working companion.
Multi-touch with embedded thin nib stylus
With full Windows 8.1 Pro support, the Panasonic Toughbook CF-MX4 has a 12.5" IPS Full HD Capacitive 10-finger multi-touch display to make the most of the latest screen technology. In addition, for the first time in a business rugged Panasonic Toughbook, an embedded thin nib stylus for hand written notes has been included.
Latest 5th Gen Intel® CPU
Users will have all the computing power they need with the latest state-of-the-art Intel® 5th Generation Processor, Intel® Core™ i5-5300U vPro™ Processor (3 MB cache, 2.3 GHz up to 2.9 GHz with Intel® Turbo Boost Technology). To ensure the mobile worker has enough space for all their applications and documents, the device has 4GB or 8GB RAM and 128GB or 256GB SSD storage so customers can select at the time of purchase based upon their usage condition.
Business Tough with world's first commercialized use of UHD alloy
Despite its high performance capabilities, the Panasonic Toughbook CF-MX4 has a lightweight and slim design (1.14 kg [1] and 21 mm thick) combined with the business rugged capabilities and three-year warranty that you expect from the Toughbook range. This Panasonic Toughbook's upper chassis of the keyboard unit is made of a new magnesium alloy called UHD alloy. UHD alloy combines carbon with magnesium to create a new lightweight yet tough material. The device is designed to take the knocks and scrapes that frequent travelling can deliver and it has been tested to withstand a 76cm [2] fall and 100-kgf [3] of pressurized vibration. Rapid and regular conversion from clamshell to tablet will also be no issue with its innovative and durable 360°hinge design.
Business Ready
Equipped with a rich set of business interfaces and wireless connectivity, the Panasonic Toughbook CF-MX4 ensures the user is always connected whether at their desk or in the field. Business ports include 2x USB 3.0, 1x HDMI, 1x LAN, 1x VGA, 1x SD card slot and an optional smart card reader. For fast data transfer the device includes Wireless LAN a/b/g/n/ac (up to 866.7 Mbps), Bluetooth® and 4G LTE as option. Ideal for web conferencing, there is also a 2MP webcam with stereo microphones.
Continuous operation
Designed to work as long as the busy executive, the Panasonic Toughbook CF-MX4 can operate for up to 13 hrs [4] and has an end-user removable, hot swap battery to allow continuous operation without interruption.
"Today's busy executive has a new work hero in the Toughbook CF-MX4," said Jan Kaempfer, General Manager of Marketing for Panasonic Computer Product Solutions. "It offers the best of both worlds with its tablet and laptop capability packed into a tough exterior with knock-out looks and unrivalled functionality."
The Panasonic Toughbook CF-MX4 will be available from end of April 2015 (ex-factory) and prices start at ₤1504 (excluding VAT).
[1] Could vary slightly depending on configuration.
[2] Operating mode, bottom-side drop test and this performance test does not guarantee against damage or malfunction.
[3] This performance test does not guarantee against damage or malfunction.
[4] MobileMark 2007 at 60 cd/m2. Varies depending on the usage conditions, or when an optional device is attached. When Economy Mode(ECO) is enabled, the operating time becomes approximately 20% shorter than when it is disabled.
Ends
Press contact:
Michael Bartley
+ 44 (0) 118 900 1133
michael@ambergroup.net
About Panasonic System Communications Company Europe (PSCEU)
PSCEU is the European branch of Panasonic Systems Communications Company, the global B2B division of Panasonic. PSCEU's goal is to improve the working lives of business professionals and help their organisations' efficiency and performance. We help organisations capture, compute and communicate all sorts of information: image, voice, and textual data. Products include PBX telephone switches, document printers, professional cameras, projectors, large visual displays, rugged mobile PCs and fire alarms solutions. With around 400 staff, engineering design expertise, global project management capability and a large European partner network, PSCEU offers unrivalled capability in its markets.
PSCEU is made up of four product categories:
Communication Solutions, including professional scanners, multifunctional printers, telephony systems and SIP terminal devices.
Visual System Solutions, including projectors and professional displays. Panasonic offers the widest range of Visual products, and leads the European projector market with 28% revenue share. (Futuresource B2B market tracking, Q1/2014)
Professional Camera Solutions, including Broadcast & ProAV products, security, fire alarm systems and industrial medical vision (IMV) technology. Panasonic is one of the top two professional camera vendors in Europe.
Computer Product Solutions helps mobile workers improve productivity with its range of Toughbook rugged notebooks, Toughpad business tablets and electronic point of sales (EPOS) systems. As European market leaders, Panasonic Toughbook had a 66.4% revenue share of sales of rugged and durable notebooks and Panasonic Toughpad held a 50.4% revenue share of sales of rugged business tablets in 2013 (VDC Research, March 2014).
Disclaimer:
• All brand names shown are the registered trademarks of the relevant companies. All rights reserved.
• All working conditions, times and figures quoted are optimum or ideal levels and may differ as a result of individual and local circumstances.
• Specifications, product availability and price given herein may be changed at any time without prior notice.