Dedicated Panasonic handheld channel programme to be launched to support and incentivise Value-Added Resellers
BRACKNELL, UK. 25 JANUARY 2018 - Panasonic today appointed global technology provider ScanSource to help accelerate its growth in the European rugged handheld market. ScanSource has been a long-time partner with Panasonic in the United States and will bring its extensive experience to support Panasonic's business in the rugged handheld market, where it aims to build on its leadership in the European rugged notebook and rugged tablet market.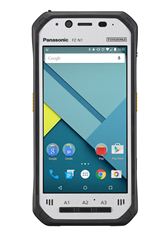 Panasonic - FZ-N1
In addition to the ScanSource appointment, Panasonic will be launching a dedicated handheld channel programme, called Edge, designed to support and incentivise value-added resellers (VARs) in the sector. The Edge programme will offer resellers dedicated marketing, sales and technical support in return for meeting qualification criteria.
"With almost a third of our rugged range now dedicated to the handheld market, the appointment of ScanSource further underlines our commitment to this sector," said Kevin Jones, managing director, Mobile Solutions Business Division – Europe Connected Solutions Company, Panasonic Corporation. "A leader in this area, ScanSource brings a wealth of knowledge and expertise to our customers, including access to additional programs and services. In combination with Panasonic Toughbook's Independent Software Vendor (ISV) programme, ScanSource delivers a strengthened business solutions focus for different industry sectors. Together we can offer a combination of the right handheld hardware, business applications and support to any organisation, in any industry, anywhere across Europe."
Marcus Ollenbuttel, vice president of vendor management, at ScanSource POS and Barcode in Europe commented: "Panasonic has an exceptional pedigree and reputation in the rugged Toughbook notebooks and Toughpad tablets market. We are pleased they have now turned their focus to further developing their position in the rugged handheld market. We look forward to bringing our depth of expertise and our international channel partner network together to work with Panasonic to help resellers meet their end-users' needs."
VDC Research reported Panasonic year-on-year growth of 176% in the rugged handheld sector in 2016. Devices such as the Panasonic Toughpad FZ-F1 & FZ-N1 handheld tablets, with their unique angled rear barcode reader to protect against repetitive strain and enhance user productivity, have already begun to establish a reputation in industries such as transportation and logistics, retail and manufacturing.
ScanSource is a leading global provider of technology products and solutions, offering pan-European shipping to more than 65 countries, specialised technology teams, 24/7 online ordering and a range of value-added services for its channel partners.
About ScanSource, Inc.
ScanSource, Inc. (NASDAQ: SCSC) is a leading global provider of technology products and solutions, focusing on point-of-sale, payments, barcode, physical security, unified communications and collaboration, cloud and telecom services. ScanSource's teams provide value-added solutions and operate from two segments, Worldwide Barcode, Networking & Security and Worldwide Communications & Services. ScanSource is committed to helping its customers choose, configure and deliver the industry's best solutions across almost every vertical market in North America, Latin America and Europe. Founded in 1992, the Company is headquartered in Greenville, South Carolina and was named one of the 2017 Best Places to Work in South Carolina. ScanSource ranks #647 on the Fortune 1000. For more information, visit www.scansource.com.
About Panasonic System Communications Company Europe (PSCEU)
Panasonic System Communications Company Europe's (PSCEU) goal is to improve the working lives of business professionals and help their organisations' efficiency and performance through world leading technology. We help organisations capture, compute and communicate all sorts of information: image, voice, and textual data. With around 350 staff, engineering design expertise, global project management capability and a large European partner network, PSCEU offers unrivalled capability in its markets.
PSCEU is made up of six product categories:
Broadcast & ProAV offers high quality products and solutions to ensure smooth operation and excellent cost-performance to end-users in the areas of remote camera solutions, switchers, studio camera solutions and ENG P2. The VariCam line-up of professional digital video cameras are capable of true 4K and High Dynamic Range (HDR) which makes them the ideal solution for cinema, television, documentary and live event production.
Communication Solutions offer world leading communication solutions including professional scanners, telephony systems and SIP terminal devices.
Computer Product Solutions help mobile workers improve productivity with its range of Toughbook rugged notebooks, Toughpad business tablets and electronic point of sales (EPOS) systems. As European market leaders, Panasonic Toughbook had a 67% revenue share of sales of rugged and durable notebooks and Panasonic Toughpad held a 56% revenue share of sales of rugged business tablets in 2016 (VDC Research, March 2017).
Industrial Medical Vision provides applications for various segments such as medical, life science, ProAV or industrial. The product portfolio includes complete and OEM micro camera solutions. End-users, system integrators or distributors can choose from a range of full product solutions and component vision technology.
Security Solutions, including video surveillance cameras and recorders, video intercom systems and intruder alarms.
Visual System Solutions, including projectors and professional displays. Panasonic offers the widest range of Visual products, and leads the European high brightness projector market with a 37.20% market revenue share (Futuresource >5klm (FY16 April 2015 - March 2016, excl. 4K & digital cinema).
About Panasonic
Panasonic Corporation is a worldwide leader in the development of diverse electronics technologies and solutions for customers in the consumer electronics, housing, automotive, and B2B businesses. Celebrating its 100th anniversary in 2018, the company has expanded globally and now operates 495 subsidiaries and 91 associated companies worldwide, recording consolidated net sales of Euro 61.711 billion for the year ended March 31, 2017. Committed to pursuing new value through innovation across divisional lines, the company uses its technologies to create a better life and a better world for its customers. To learn more about Panasonic: http://www.panasonic.com/global
Press contact:
Michael Bartley
The Amber Group
michael@ambergroup.net
+44 (0)118 949 7750