Improved performance and communication capabilities with longer battery life
BRACKNELL, UK. 28th JUNE 2016
The 4th generation of the fully rugged Panasonic Toughpad FZ-G1 tablet launched today features improved performance and communication capabilities with an increased 14 hour battery life and the Windows 10 Pro operating system to further enhance its reputation with mobile workforces as the 10.1 inch tablet of choice. The Toughpad FZ-G1 has proved popular with a wide range of industries including retail and manufacturing, as well as organisations with large workforces in the field, such as utilities, logistics, assessors and field service as well as the emergency services.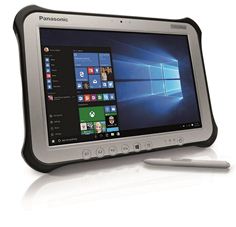 FZ-G1 mk4
This latest device delivers more performance for less power than its category competitors with an upgraded 6th Generation Intel® Core™ i5-6300U vPro™ Processor (3 MB cache, 2.4 GHz up to 3.0 GHz with Intel® Turbo Boost Technology). Improved graphics performance is delivered by the built-in Intel® HD Graphics 520 GPU.
Since its introduction 2013, the standard battery operating life of the Toughpad FZ-G1 tablet has almost doubled from 8 to 14 hours, with the optional larger battery now delivering 28 hours of working activity.
The latest communication capabilities have been included with Intel® Dual Band Wireless-AC 8260 WLAN and Version 4.1 Class 1 Bluetooth®. The 8MP rear camera presents the clarity and detail for documentation capture and photos.
"This latest upgrade to the Panasonic Toughpad FZ-G1 tablet is a perfect example of Panasonic's approach to sustainable mobile business computing," said Jan Kaempfer, General Manager of Marketing for Panasonic Computer Product Solutions. "We continue to deliver regular performance and functionality improvements for our rugged Toughpad tablet and Toughbook notebook devices, whilst maintaining the wide variety of accessories and peripherals for the product, such as vehicle docking mounts, desk cradles, batteries, chargers and power adapters. This approach allows our customers to invest in a Panasonic mobile device with confidence, knowing that our rugged designs are built to last, that each model will continue to be developed and the investment in peripherals and accessories will remain compatible for the long-term."
The fully rugged Toughpad FZ-G1 tablet with Windows 10 Pro sets the new benchmark for outdoor viewable tablets making it ideal for field workforces in outdoor scenarios. With its capacitive 10-finger multi-touch display, waterproof IP55 digitizer pen for efficient usage even in rain and flexible configurable ports, this device can be used to view high definition documentation and images in the field and is equipped with the connectivity options to stay in touch wherever the location. The flexible configuration port gives business users the legacy port options they require in a compact, fully rugged and lightweight form factor.
Availability and pricing
The latest Toughpad FZ-G1 mk4 will be available from July at a starting price of £1,700 + tax. For further information, visit: www.toughbook.eu
Press contact:
Michael Bartley
The Amber Group
michael@ambergroup.net
+44 (0)118 949 7750
About Panasonic System Communications Company Europe (PSCEU)
PSCEU is the European branch of Panasonic Systems Communications Company, the global B2B division of Panasonic. PSCEU's goal is to improve the working lives of business professionals and help their organisations' efficiency and performance. We help organisations capture, compute and communicate all sorts of information: image, voice, and textual data. Products include PBX telephone switches, document printers, professional cameras, projectors, large visual displays, rugged mobile PCs and fire alarms solutions. With around 400 staff, engineering design expertise, global project management capability and a large European partner network, PSCEU offers unrivalled capability in its markets.
PSCEU is made up of four product categories:
Communication Solutions, including professional scanners, multifunctional printers, telephony systems and SIP terminal devices.
Visual System Solutions, including projectors and professional displays. Panasonic offers the widest range of Visual products, and leads the European projector market with 28% revenue share. (Futuresource B2B market tracking, Q1/2014)
Professional Camera Solutions, including Broadcast & ProAV products, security, fire alarm systems and industrial medical vision (IMV) technology. Panasonic is one of the top two professional camera vendors in Europe.
Computer Product Solutions helps mobile workers improve productivity with its range of Toughbook rugged notebooks, Toughpad business tablets and electronic point of sales (EPOS) systems. As European market leaders, Panasonic Toughbook had a 66% revenue share of sales of rugged and durable notebooks and Panasonic Toughpad held a 59% revenue share of sales of rugged business tablets in 2015 (VDC Research, March 2016).
Disclaimer:
All brand names shown are the registered trademarks of the relevant companies. All rights reserved.
All working conditions, times and figures quoted are optimum or ideal levels and may differ as a result of individual and local circumstances.
Specifications, product availability and price given herein may be changed at any time without prior notice.
.Android, Google, and other marks are trademarks of Google Inc.