High Wycombe, UK, 6 October 2017 - International POS printer manufacturer Star Micronics is pleased to announce that it will be part of the large range of POS solutions that Partner Tech is exhibiting at Gitex Technology Week (8 - 12 October 2017, Dubai World Trade Centre). Partner Tech will be demonstrating a range of software and hardware POS solutions encompassing the Star brand as well as its established E-PoS brand in Hall 3 Stand E3-1.
Since 1990, Partner Tech has become one of the worldwide leading companies of PC-based point of sale systems and peripherals. The product portfolio offers cutting edge products for a range of environments from compact all-in-one systems to mobile ordering terminals. Innovative Partner Tech products are in use by major customers across retail and hospitality globally.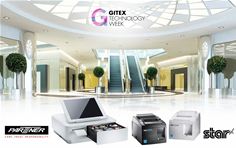 Star Micronics at Gitex Technology Week 2017
Following its acquisition of E-PoS International, a leading distributor of POS solutions from Star Micronics for over 15 years, Partner Tech has enhanced its POS portfolio to offer solutions from both E-PoS and Star.
The solutions from Star that will be on display on the Partner Tech stand at Gitex Technology Week feature the stylish mPOP™ combined Bluetooth printer and cash drawer solution, as well as the Star TSP143IIIU with the unique ability to communicate and charge simultaneously and directly via a cable with an iPad, iPod or iPhone. By removing the insecurity of wireless connection, this solution seamlessly combines the flexibility and cost savings of tablet POS with the reliability of traditional POS.
Managing a large estate of multiple tablets and paired Bluetooth devices means that it can be operationally difficult to maintain the right connection between the right peripherals and devices. The TSP143IIIU changes all this. As well as working with a traditional POS terminal, this printer can connect directly to an iPad, iPod or iPhone using the Apple supplied lightning cable for reliable USB communication as opposed to previous iOS wireless only technologies. Furthermore, this is a cost-effective solution given that a USB printer is cheaper to purchase than a Bluetooth or WiFi version.
For a cost-effective all-in-one tablet POS solution, mPOP is a unique combined Bluetooth printer and cash drawer mobile point of purchase station that is low cost and lightweight at just 10cm high and 30cm wide with a sleek design. With the POPPack option that includes a high quality black or white tablet stand (alternative colours are available if required) and metal plate, users can successfully create a stylish mPOS station. The POPPack design provides a flexible option with the extra security required within a busy retail environment, whilst retaining the mobile element. This provides the ability to securely store or transport the mPOS station at the end of trading.

Arjun Wadhwani, Managing Director, E-PoS International, states: "We are pleased to have Star Micronics on the Partner Tech stand at Gitex Technology Week. Having worked with Star for many years, we recognize that its pioneering solutions feature the very latest in POS printing technology and are shaping the future of the POS industry."
"The retail landscape is rapidly evolving", states Nick Harrison, Divisional Manager - Eastern Europe, Middle East, India and Africa, Star Micronics EMEA. "While traditional POS solutions have the usual important role to play we are witnessing a distinct shift towards tablet POS solutions. Star has developed an extensive portfolio that responds to these market changes. In particular, the unique TSP143IIIU printer is a true game changer allowing operators of all sizes to benefit from the very latest tablet POS technology in the knowledge that connectivity will be maintained at all times."
Background Information on Star Micronics
Founded in 1947, Star Micronics is one of the world's largest printer manufacturers and has facilities for worldwide production, marketing and support. Employing over 1900 staff and achieving turnover in excess of £250 million, Star Micronics has developed a POS printer portfolio that spans thermal and dot matrix printers and mechanisms, designed for printing barcodes, ticketing, receipts and labelling. Star's proven technology is also being utilised to install print mechanisms in multimedia kiosk environments. The Star Micronics' range is available internationally via a distribution channel comprising distributors and dealers.
-oOo-
For further information, please visit www.Star-EMEA.com or contact:
Annette Tarlton
Marketing Director
Star Micronics EMEA
Tel: +44 (0)1494 471111
Email: Atarlton@Star-EMEA.com
Claire Smith
PR Manager
Star Micronics EMEA
Tel: +44 (0)1494 471111
Email: Csmith@Star-EMEA.com