New joint offering combines the analytic power of Paywizard Agile with the marketing execution capabilities of Diagnal's Engage platform
Utilises Paywizard's Decision Moments framework with Diagnal Engage's ability to deliver real-time social media and digital marketing campaigns to target customers at the right time for the right business outcomes

Combined proposition to debut at NAB Show 2018, where demos will be available on the Paywizard stand
London, 28 March 2018 – Paywizard, the pay-TV subscription, billing and customer relationship management (CRM) specialist, and Diagnal, the expert in marketing technology solutions for Internet TV service providers, have announced a strategic partnership that enables pay-TV and over-the-top (OTT) TV operators to take an intelligent, data-driven approach to delivering real-time customer communications and dynamic multichannel marketing campaigns.

The new strategic partnership brings together the power of both the Paywizard Agile and Diagnal Engage platforms, providing operators with a robust set of tools to deliver social media and direct marketing campaigns in real-time, drawing customer data analysis to drive user acquisition, ensure revenue conversion and improve customer retention.
At NAB Show 2018, demonstrations of the new joint Paywizard and Diagnal proposition will highlight how operators can quickly execute proactive customer communications across multiple channels – including social media, email and in-app notifications – by leveraging rich data insight and predictive analytics to engage with subscribers more effectively at the eight critical 'Decision Moments' in the customer journey (identified as Find, Join, Consume, Upgrade, Downgrade, Bill, Leave and Win Back).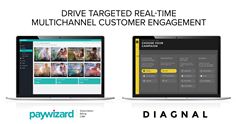 Paywizard Diagnal dashboards
Bhavesh Vaghela, Paywizard's Chief Executive, comments: "A key to consistently providing consumers with the best possible customer experience is engaging with them through the right channel at the right time in the customer journey. Joining forces with Diagnal gives our clients campaign execution tools for intelligent customer engagement, allowing them to maximise the robust Decision Moments framework we've established, so that operators can identify audiences proactively and get the most effective communications out to their customers in real-time."
Reuben Verghese, Diagnal's Chief Executive, adds: "Paywizard's Decision Moments is a well thought out framework for any pay-TV and OTT operator serious about managing their customer journeys. It made perfect sense for Diagnal to partner with Paywizard to extend Agile's understanding and insight into action through Engage. Diagnal Engage now allows operators to take real-time actions as users reach specific Decision Moments, putting them right back into the driving seat in the customer relationship. By creating highly targeted, personalised and content aware campaigns via the Paywizard and Diagnal partnership, TV operators can now reduce both acquisition costs and customer attrition – while building subscriber loyalty and revenue."
The combined technology enables pay-TV and OTT operators to:
Target customers with ease – based on their behaviours, profiles and position within the customer lifecycle
Drive engagement fast – identifying subscribers in the right moment, building marketing campaigns that can be triggered proactively in real-time
Improve their approach continuously – analysing success, to learn more about customer behaviour and take action to evolve your TV service
Verghese notes: "Our joint offering empowers TV operators to tap into data insights and predictive analytics, to make the right marketing engagement decisions and to continuously monitor success."
Vaghela concludes: "This strategic partnership opens opportunities for TV operators to ensure they are talking to the subscribers in the way they need to – just when the timing is optimal. What's more, it is critical for operators today to have the flexibility and ability to drive personalised offers and promotions, test different approaches to different customer segments and geographic markets, and drive further content consumption."
If you would like a demonstration of joint Paywizard Diagnal offering the at NAB Show 2018 at the Las Vegas Convention Centre April 7-12, come visit Paywizard at the show (Booth SU10306CM) or book a meeting by clicking this link https://www.paywizard.com/diagnal.
Media Contact:
Darcie Farrell
Platform Communications
T: +44 (0)20 7486 4900
darcie@platformcomms.com
Notes for Editors on 'Decision Moments'
Decision Moments addresses the critical pay-TV subscriber engagement points most likely to evoke positive or negative emotional reactions and to impact relationships between operators and subscribers during the customer journey. The eight consumer Decision Moments identified by Paywizard and validated by independent research commissioned by the company are:
'Find': Deciding on a service to sign up to, that best suits the consumer's content and cost requirements
'Join': The process of signing up, as easily and quickly as possible
'Consume': Seamless viewing of appealing content, at any time, location and on any device
'Upgrade': Flexibly upgrading your services package, as and when you like
'Downgrade': Flexibly downgrading your services package, when it suits
'Bill': Receiving accurate, clear and timely bills, using a favoured payment method
'Leave': Cancelling a subscription with as little hassle as possible
'Win Back': Re-joining a service again, at any time, without re-registering.
About Paywizard
Paywizard has been supporting subscription-based businesses for over 19 years. Our experience is real. Helping over 100 Pay-TV operators including: ITV, eir Sport, BT Sport, BoxNation. We know what it takes to acquire, grow and retain paying customers. This insight is deeply embedded in all that we do. With over ten million customers acquired, our Paywizard Agile platform delivers advanced subscription, billing and CRM with performance marketing modules.
When combined with our consulting services and expertise, we've helped our clients deliver inbound acquisition rates of up to 90%, outbound campaigns driving up to 25% conversions, and churn reduction programmes achieving turn-around figures of up to 60%. Ultimately, we deliver personalised experiences across each customer moment. The result: happy and engaged customers.
For more information about Paywizard, please visit http://www.paywizard.com/

About Diagnal
Founded in April 2015 and headquartered in Hong Kong, Diagnal is a specialist provider of services and solutions for the Internet TV industry with a strong track record of delivering positive business outcomes for its customers. Diagnal solutions include its CREATE application development and systems integration services to quickly launch Internet TV services at scale and ENGAGE an innovative industry first marketing platform to drive user growth and customer retention for Internet TV providers.
For more information about Diagnal, please visit www.diagnal.com