Turkish low-cost airline, Pegasus Airlines, has enjoyed dramatic savings of €135,000 per aircraft, per year thanks to its partnership with Panasonic. The relationship, which has seen Pegasus Airlines' flight crews equipped with fully rugged Panasonic Toughpad FZ-G1 tablets, coupled with Electronic Flight Bag (EFB) software, has resulted in annual savings of €11m thanks to reductions in paper, printing and copying costs as well as the crew's ability to work in a faster, more dynamic and cost effective manner.
The Panasonic Toughpad FZ-G1 is approved for Electronic Flight Bag (EFB) use in the aviation industry. EFB's are designed to replace paper-based reference materials often found in the pilot's carry-on flight bag, including the aircraft operating manual, flight-crew operating manual and navigational charts. In addition, the EFB can host purpose-built software applications to automate other functions normally conducted by hand, such as performance take-off calculations.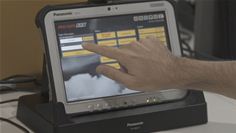 Pegasus - Panasonic FZ-G1
Why Panasonic
Prior to its collaboration with Panasonic on the EFB project, Pegasus Airlines, which undertakes 3000 flights per week, transporting 25,000,000 guests per year to 100 destinations, would carry all documents critical to navigational safety in the cockpit. These documents could often weigh up to 50kg and required every update to be made manually, resulting in increased workloads and higher costs. The introduction of the Panasonic Toughbook FZ-G1 tablet with EFB software has dramatically reduced barriers to work and increased pilot productivity.
Pegasus Airlines Captain Pilot Aydın Yumrutaş commented: "With the introduction of the Panasonic Toughpad FZ-G1 tablet, windows operating system and cloud technology into our inventory, the EFB system has become truly flawless and is now an indispensable part of every one of our flights."
Pegasus Airlines chose the Panasonic Toughpad FZ-G1 10 inch tablet to effectively replace bags of documents weighing tens of kilos. Additionally, detailed tests confirmed that the Panasonic Toughpad FZ-G1 tablet could withstand the effects of impact, water, dust and vibration and could even survive extreme temperatures. This, coupled with its highly responsive screen, readable in direct sunlight, convinced Pegasus to partner with Panasonic.
"In the past, electronic sheets and electronic flight plans were time consuming to prepare and approve," said Aydin Yumrutaş. "With the improved EFB system we now receive flight plans through the system, approve them and send them back. Performance calculations crucial to flight safety are now also made through this system and we can accurately monitor their accuracy during the flight. We are able to free our cockpits of the kilos of documents we used to have to carry and now we have extra cockpit space to store manuals mandated by the civil aviation agency and keep important reference documents within easy reach. Consequently I believe that at Pegasus airlines we have gained tremendous benefits in terms of safety, regulatory compliance and savings."
Watch the film that shows how the Panasonic Toughpad FZ-G1 has simplified the normal working day for employees at Pegasus here: https://www.youtube.com/watch?v=B0vMeE0z4nU&feature=youtu.be
Press contact:
Michael Bartley
The Amber Group
michael@ambergroup.net
+44 (0)118 949 7750
About Panasonic System Communications Company Europe (PSCEU)
Panasonic System Communications Company Europe's (PSCEU) goal is to improve the working lives of business professionals and help their organisations' efficiency and performance through world leading technology. We help organisations capture, compute and communicate all sorts of information: image, voice, and textual data. With around 350 staff, engineering design expertise, global project management capability and a large European partner network, PSCEU offers unrivalled capability in its markets.
PSCEU is made up of six product categories:
Broadcast & ProAV offers high quality products and solutions to ensure smooth operation and excellent cost-performance to end-users in the areas of remote camera solutions, switchers, studio camera solutions and ENG P2. The VariCam line-up of professional digital video cameras are capable of true 4K and High Dynamic Range (HDR) which makes them the ideal solution for cinema, television, documentary and live event production.
Communication Solutions offer world leading communication solutions including professional scanners, telephony systems and SIP terminal devices.
Computer Product Solutions help mobile workers improve productivity with its range of Toughbook rugged notebooks, Toughpad business tablets and electronic point of sales (EPOS) systems. As European market leaders, Panasonic Toughbook had a 67% revenue share of sales of rugged and durable notebooks and Panasonic Toughpad held a 56% revenue share of sales of rugged business tablets in 2016 (VDC Research, March 2017).
Industrial Medical Vision provides applications for various segments such as medical, life science, ProAV or industrial. The product portfolio includes complete and OEM micro camera solutions. End-users, system integrators or distributors can choose from a range of full product solutions and component vision technology.
Security Solutions, including video surveillance cameras and recorders, video intercom systems and intruder alarms.
Visual System Solutions, including projectors and professional displays. Panasonic offers the widest range of Visual products, and leads the European high brightness projector market with a 37.20% market revenue share (Futuresource >5klm (FY16 April 2015 - March 2016, excl. 4K & digital cinema).
About Panasonic
Panasonic Corporation is a worldwide leader in the development of diverse electronics technologies and solutions for customers in the consumer electronics, housing, automotive, and B2B businesses. Celebrating its 100th anniversary in 2018, the company has expanded globally and now operates 495 subsidiaries and 91 associated companies worldwide, recording consolidated net sales of Euro 61.711 billion for the year ended March 31, 2017. Committed to pursuing new value through innovation across divisional lines, the company uses its technologies to create a better life and a better world for its customers. To learn more about Panasonic: http://www.panasonic.com/global