Indie Game Studio Recognises Version Management's Crucial Role in the Project
Wokingham (UK), September 9, 2014 – Perforce Software today announced that Godus—the highly anticipated god simulation game from 22cans that launched on the App Store for iPhone, iPad and iPod touch was developed using Perforce's suite of version management solutions. The company credits Perforce with reducing overall operational costs of creating the game and enabling rapid releases of ongoing game updates.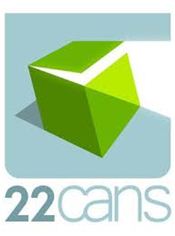 22cans logo
"Perforce has played an integral role at every stage of the game's evolution, from pre-release development to post-release operations," said Tim Rance, cofounder and CTO at 22cans. "As a team of 22 developers, we had limited resources to produce an AAA-quality game, so we learned early on that the right tools and processes are almost as important as the code itself."
Godus is the second game from 22cans, a UK-based studio founded by industry veterans Peter Molyneux and Tim Rance. In the game, players act as gods of their worlds, creating environments and civilisations that connect to other players' worlds.
Continuous Delivery of New Features
22cans' Perforce repository contains 1.5 TB of ever-changing code. Because of Perforce's ability to handle large files and its superior branching features, the 22cans team can continuously update the game with what they call "Short Features" – minor releases made in response to user data, constantly fine-tuning the game to improve player experiences.
"With a freemium game that requires constant updates to keep our players engaged, it's important to have our software in a constantly releasable state with feedback, testing, automation and version history all incorporated," said Rance. "Perforce, together with the Jenkins plug-in, is perfectly suited to support our rapid development of Godus, and I'm confident this will continue to be the case no matter how big the game gets."
Grown on the Perforce 20/20 Program
22cans started using Perforce through the Perforce 20/20 Program, which allows start-ups and small companies to use Perforce products free of charge for up to 20 users or 20 workspaces, and includes access to Perforce's award-winning technical support.
"We've always believed in helping young companies version their most valuable assets in the same way that the most recognised brands in the world do," said Christopher Seiwald, founder and CEO of Perforce. "We're proud to support 22cans and join them in celebrating the success of Godus being available for mobile game players."
###
About 22cans
Founded by industry legend and creator of the god game genre, Peter Molyneux, 22cans Ltd is a new start-up independent videogame developer focusing on multi-platform and mobile. 22cans creates games for the world, with innovation at its heart, and the journey has only just begun. For more information, visit: http://www.22cans.com/ or https://twitter.com/22Cans.
About Perforce Software
Perforce offers the industry's most advanced version management and collaboration platform. Perforce protects its customers most valuable IP and enables teams to collaborate without conflict on any type of file—from source code to industrial designs to business documents. The company's technology is unique in its ability to manage large binary content while scaling to support globally distributed teams—a vital capability for organisations looking to produce better products faster through Continuous Delivery practices. Perforce serves more than 10,500 customers, from start-ups to the most innovative and impactful brands in the world such as Samsung, NVIDIA, SAP, Pixar, National Instruments, Salesforce.com and the New York Stock Exchange. Perforce offers all of its products as well as access to its award-winning technical support free of charge for up to 20-users. According to an independent study, companies that migrate to Perforce improve developer productivity by 15% and release their products 25% faster. The company is headquartered in Alameda, California, with offices in the United Kingdom, Canada and Australia, and sales partners around the globe. For more information, please visit www.perforce.com.
Media Contacts:
UK/Europe
Maxine Ambrose/Nicola Males
Ambrose Communications
Ph: +44 1491 412944
maxineambrose@ambrosecomms.co.uk
Global
Ivana Gaspic
Perforce Software
Ph: +1 510-473-3186
Mob: +1 415-955-7483
igaspic@perforce.com
US
Michael Thomas
Edelman
Ph: +1 312-233-1361
Mob: +1 773-822-6182
michael.thomas@edelman.com