London, July 21st 2015, Moixa Energy Holdings, a pioneering energy services and technology company, announced today a global patent license with Pilot Inc. (USA) - a global leader in automotive and electronic accessories.
The worldwide license relates to Moixa's smart USB rechargeable battery technology, which is becoming pervasive across a range of battery and portable devices. The global royalty-bearing agreement is for the life of the patents, and provides exclusive rights to manufacture and sell a new segment of USB battery versions.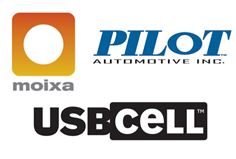 Moixa & Pilot logos
Calvin Wang, CEO of Pilot Inc. said, "Pilot has a long established reputation of introducing innovative and new products to market and to wide USA and world distribution. This license agreement helps provide improved features and battery solutions for customers."
"We are pleased to welcome PILOT Inc., to our licensing program," said Simon Daniel, CEO of Moixa Energy Holdings. "Moixa has been innovating new battery technology since 2004 and holds a growing international patent portfolio on consumer battery technology, USB DC power and micro-grid technology, and grid-edge energy storage systems." Moixa has also launched the MASLOW residential energy storage system, which is the largest deployed in the UK, and was covered by the BBC at the TESLA battery launch.
About Pilot: (www.pilotautomotive.com)
Pilot is a Multi-market innovator of automotive and consumer electronics products that make a difference in consumers lives. Through personalization and convenience Pilot products deliver on their promise and value.
About Moixa. (www.moixa.com)
Moixa is a UK based pioneering Energy Services and Technology company, specializing on new battery, consumer, home and grid services. The company has the largest deployed network of residential energy storage in the UK, and has recently launched a crowd-funding campaign: www.crowdcube.com/moixa to scale solutions internationally.
Press/Media contact
For Pilot: scottwebb@pilotautomotive.com or Pilot: +001-800-237-1560
For Moixa: david@moixaenergy.com or Moixa (UK): +44-207-734-1511