Mobile version of hit Facebook game allows players to take their villages wherever they go
Manchester UK, 23rd October 2013 – Playdemic has launched a mobile version of their Facebook hit Village Life, creating a full cross-platform experience to allow players to look after their villagers on Facebook, iPhone and iPad.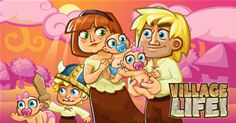 Village Life now on mobile
Village Life on Facebook has over 1million monthly active players worldwide and since its launch in December 2012 has had over 17 million installs, becoming one of the top grossing games on Facebook. Playdemic hope the mobile version will prove to be a similar hit on the App Store.
In Village Life, players nurture their villagers from the moment they are born, taking care of their needs and guiding them through life's big events including first date, marriage, childbirth and old age. In a uniquely social twist, Village Life is the first social game where characters look to have relationships and children with other players' villagers, inheriting physical attributes and skills from their parents.
Ian Livingstone CBE, Chairman of Playdemic said: "Village Life has enjoyed great success on Facebook. More recently, a growing number of fans have been asking to play the game on their mobile devices as well as on Facebook. So I'm delighted to announce they can now play Village Life on both platforms. We are extremely excited about bringing Village Life to a whole new mobile audience."

Key features of the game include:
FREE TO PLAY!

Amazing high resolution graphics!

Name your villagers and help them grow from birth through to first date, marriage, childbirth and old age!

Build a thriving village and care for your villagers' every need

Harvest food and collect resources to craft tools, toys and buildings

Your villagers date and marry your friends' villagers and have babies of their own!

Innovative villager artificial intelligence

Unique time of day and weather effects

Play seamlessly across Facebook and iOS
-ENDS-
Download the Village Life iOS app at: https://itunes.apple.com/app/village-life/id616655687?mt=8
The game is free to download and play, but also offers the ability to use in-app purchases.
Requirements: Requires iOS 5.0 or later. Compatible with iPhone, iPad, and iPod touch. This app is optimized for iPhone 5.
You can find out more about Village Life from the Playdemic website at www.playdemic.com, or alternatively check out:
Village Life Facebook game: https://apps.facebook.com/villagelifegame
Village Life Facebook Fan page: http://www.facebook.com/VillageLifePlaydemic
Village Life Facebook App Centre page: https://www.facebook.com/appcenter/villagelifegame
Download press pack images: http://www.playdemic.com/blog/?attachment_id=136
Village Life Trailer: http://www.youtube.com/watch?v=sWUiJyBzLGM
About Playdemic
Playdemic is one of Europe's leading social games companies. Employing 65 staff at their Manchester UK studio, their vision is to create innovative, meaningful cross-platform social games with high production values, that deliver a uniquely social, incredibly fun and shared experience for our players. Playdemic is owned and run by a team of highly experienced Game Industry professionals with a strong track record of success in casual online and social gaming over the past 15 years. You can find more information about Playdemic and its games at www.playdemic.com, or follow them at www.facebook.com/playdemic and @playdemicstudio
For media enquiries, please contact:
Simon Franks
Playdemic
simon.franks@playdemic.com
+44 (0)1625 530 934