Hit Facebook game expanding
Manchester, UK, 18th July 2013 – Playdemic has announced plans to expand its hit Facebook game Village Life by giving players the first of many new lands for their villagers to explore and colonize from August.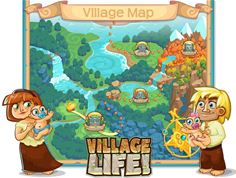 Village Life Map
Village Life has over 2.5 million monthly active users worldwide and has had over 17 million installs in the past nine months. The launch of the new first area, called Lakeside, is just the start of a massive expansion for the game which will see additional areas, including Mountain and Beach, released before the end of the year with plans for many more to follow in 2014.
The new location will give players the chance to grow their Village Life population more than ever before and enable villagers to use new fun items, build new homes and grow, catch and eat different foods whilst moving freely between villages via a new 'Map' screen.
Playdemic CEO, Paul Gouge, said: "Village Life has been a huge success with our players and as a result we want to make sure they can continue to enjoy the expanded Village Life universe. By creating lots of new locations for our players to explore with brand new content in each, we have added many months of new play into the game. The release of an iOS version of Village Life by Q4 will also mean Village Life fans can play on iPhone and iPad and therefore keep their villagers happier for longer."
-ENDS-
About Village Life:
In Village Life, players nurture their villagers from the moment they are born, taking care of their wants and guiding them through life's big events including first date, marriage, childbirth and old age. In a uniquely social twist, Village Life is the first social game where characters look to have relationships and children with other players' villagers, inheriting physical attributes and skills from their parents. Each new generation blends the DNA of the previous to create a more diverse and better skilled community that can complete quests with greater ease.
You can find out more about Village Life from the Playdemic website at www.playdemic.com, or alternatively check out:
Village Life Facebook game: https://apps.facebook.com/villagelifegame
Village Life Facebook Fan page: http://www.facebook.com/VillageLifePlaydemic
Village Life trailer video: http://www.youtube.com/watch?v=kjV92SHLU4w
About Playdemic:
Playdemic is one of Europe's leading social games companies. Employing 65 staff at their Manchester UK studio, their vision is to create innovative, meaningful cross-platform social games with high production values, that deliver a uniquely social, incredibly fun and shared experience for their players. Playdemic is owned and run by a team of highly experienced game industry professionals with a strong track record of success in casual online and social gaming over the past 15 years. You can find more information about Playdemic and its games at www.playdemic.com, or follow them at www.facebook.com/playdemic and @playdemicstudio
For media enquiries, please contact:
Simon Franks
Playdemic
Simon.franks@playdemic.com
+44 (0)1625 530 934